Activities
Fine MotorBaby2 Comments
Help your baby explore touch and build fine motor skills with a fun baby felt play activity from Julie! 
Have you ever noticed that your baby loves to pull on things? Those little fingers just love to grab and pull!
Sometimes it's your hair or your necklace, ouch! In this baby activity, you'll give your baby something fun and safe to practice those pulling skills!
Take a look at this easy and colorful baby felt play activity.
Try this mirror reflections activity for baby play!
Baby Felt Play Materials
one long, thin felt piece
several felt shapes
blanket
Want more baby play ideas? Check out these simple baby activities to do this week.
Baby Felt Play
This activity is so simple, it will take you less than five minutes to prepare.
First, cut slits in each felt shape, and pull the shapes onto the long piece of felt.
Then, lay out a blanket on your floor. Your baby will likely be doing a lot of rolling and moving, so you want to protect those elbows and knees as much as possible.
Need to keep baby busy while you cook dinner? Try this genius idea!
Place your baby on the floor, with the felt pieces in front of her. Watch her explore and test out those fine motor skills!
Here is how I helped my baby to get the most out of this baby felt play activity:
Place the felt piece slightly out of reach to encourage scooting, rolling, and crawling.
Talk to your baby about what you see. "I see a white cloud. Here is a green rectangle!" She can't speak back for now, but she is absorbing all those wonderful words!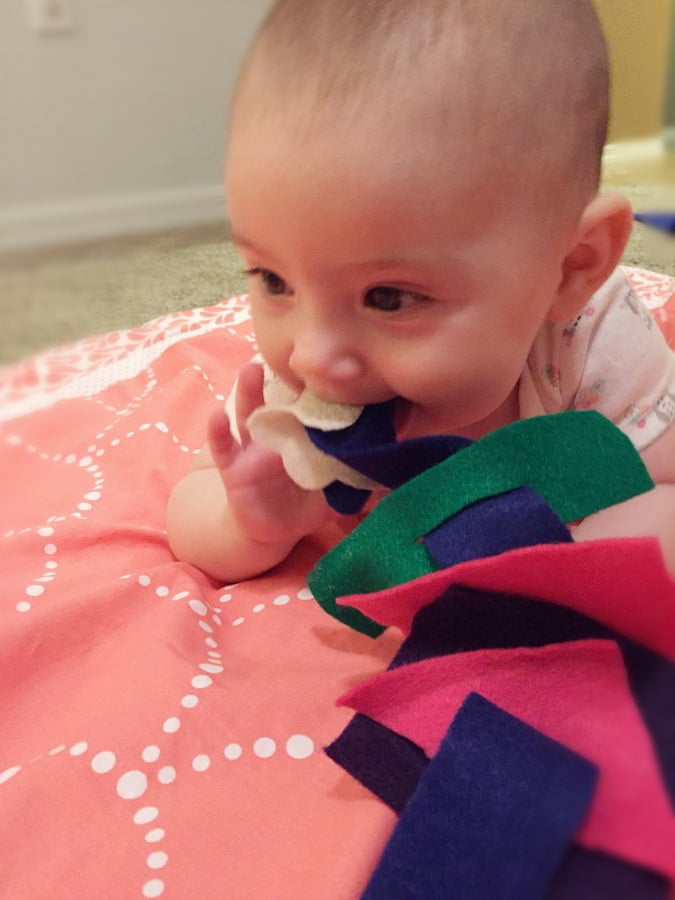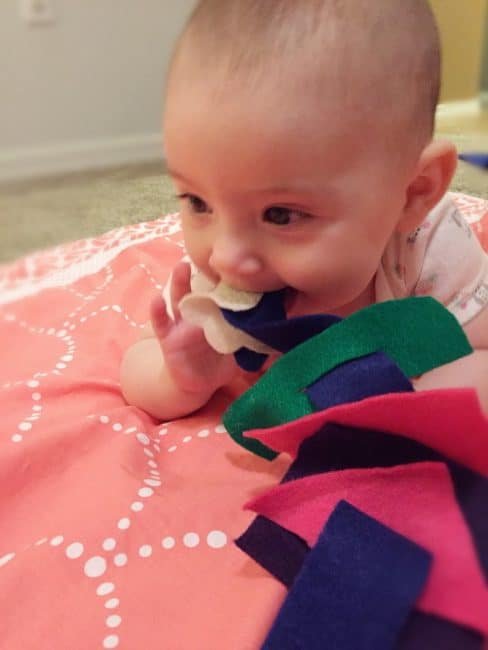 Watch as your baby becomes a problem solver. Is it quicker to use my hands to pull the pieces off? What happens if I try to pull them off with my mouth?
Count out loud as you point to each shape in the row.
Roll your baby on her back and dangle the felt pieces over her tummy. Watch as she experiments with yet another way to pull the pieces off!
If your baby loves sensory play, you should try this painting with baby food activity!
How do you play with your baby?