Crafts
Literacy & ABCs
Move & LearnGrade SchoolKindergartnersPreschoolersLetters
Name
Nature
Painting6 Comments
Go on a nature hunt to create alphabet rocks and make this unique name craft with you little ones! Super simple activity full of creativity.
My kids love any activity that involves going outside and exploring nature.
It will keep them busy for hours on end!
If your kids also love to play outside.
Here are lots of other nature activities that are sure to keep them entertained.
However, sometimes getting kids outside can seem daunting.
But once you get them out there, they will play forever. Mine, especially!
Kids can learn and create so much from exploring and investigating nature.
Alphabet Rocks Name Craft Keepsake
This alphabet rocks activity is so much fun and engaging for kids.
My girls loved it!
To create your own Rock Name Keepsake Craft you will need:
a piece of wood or drift wood
rocks (equal to the number of letters in your child name)
acrylic paint
sharpie marker
Nature Hunt to Create Your Own Alphabet Rocks Name Craft
First, grab a bucket and go on a hunt for rocks and a piece of wood.
We leave near a lake so nature hunting is really exciting for my girls. They love nature hunts!
To be honest, what kid doesn't like nature hunts!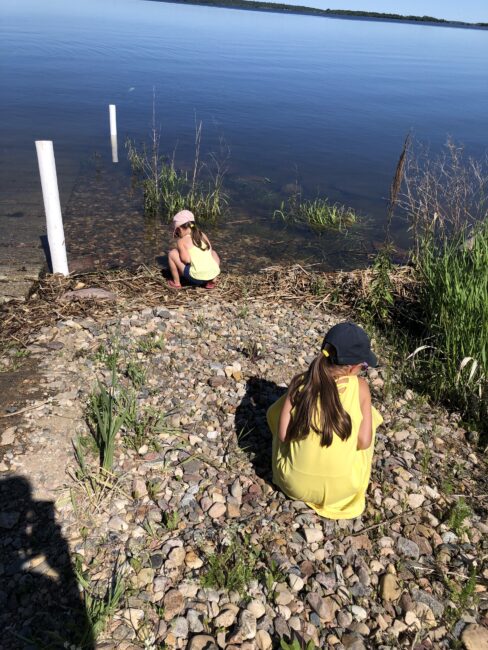 Next, we washed our rocks that we collected with old toothbrushes.
Who knew that washing rocks could keep my kids entertained for 30 minutes!
I sure didn't expect that!
They were enthralled!
Next, we chose some paint colors for our alphabet rocks.
I was originally thinking rainbow colors would look awesome!
However, my girls had a different idea.
They chose colors to match each of their rooms.
Wow! I was impressed! That was a great idea!
Once the rocks were dry, we placed them on the drift wood.
The girls rearranged the rocks a few times until they we happy with what it looked like.
Great creativity!
Add the Personal Touch to Your Alphabet Rocks
Next, they added their personal touch – their names!
A child learning to spell their own name is a huge milestone in their lives. Here are some other amazing activities for more name practice.
Finally, we used tacky glue to glue the alphabet rocks to the drift wood. Gluing is amazing fine motor practice.
This name craft was now complete!
A beautifully finished personalized keepsake!
I loved how it turned out!
This activity involved the kids in multiple tasks: a nature hunt, washing rocks, painting and name practice.
What more could you ask for!
What other nature activities have your kids enjoyed doing? We'd love to hear them. Share your ideas below.