Gross MotorGrade SchoolKindergartnersPreschoolersToddlersBalloons
Indoor Activities3 Comments
Here are 2 super simple and fun balloon games for kids to play indoors using household supplies and feet!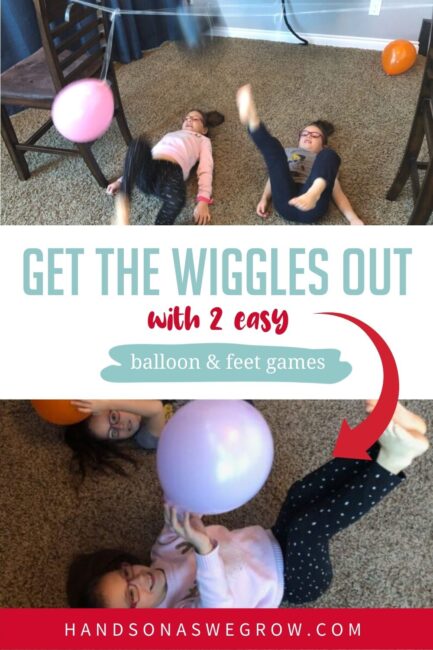 Balloons, balloons, balloons! The more, the better!
Colourful, soft, light, bouncy and a whole lot of fun!
We have so many balloons activities because, let's face it, who doesn't like balloons.
From just straight up fun games, to creating art, to experimenting with them, balloons can provide hours of entertainment for kids.
One long winter day, the kids were really getting antsy and needed something to get those wiggles out.
So I came up with a couple indoor balloon games that use their feet instead of their hands.
Indoor Balloon Blast Off Game for Kids
When my girls were younger, I used to take them to a local program called Rhyme Time where we would sing lots of fun and simple songs.
By far, their favourite song was "Zoom, Zoom, Zoom".
I incorporated this song into a game for my kids using only balloons for supplies.
Grab a blown up balloon and have your child lie on their back, feet in the air, with the balloon in their hands.
At this point we sang our song.
"Zoom, Zoom, Zoom, we're going to the moon, Zoom, Zoom, Zoom, we're going to the moon, If you want to take a trip, Climb aboard my rocketship, Zoom, Zoom, Zoom, we're going to the moon. In 5, 4, 3, 2,1, blast off!"
At blast off, the girls used their feet to blast their balloons into the air.
So many giggles were heard from my kids while we played this indoor balloon game!
"Let's do it, again, Mommy!"
Sure, why not!
Again, and again, singing our song!
Hanging Balloon Kick Game for Kids
To set up this kids balloon game, you will need some string and a place to tie it to.
You can set this balloon game up indoors or outdoors!
We did ours indoors.
I used two dining room chairs back to back with a big gap between. (See picture below.)
For this game have your kids lie on their backs under the balloon and then kick it.
Oh my goodness, the giggles had me giggling!
My girls had so much fun kicking their balloons.
Up, down, sideways, around, any which way they wanted!
The kids really went crazy with this balloon game!
I must say, though, at times the balloons got a little tied up together so we had to take a short break to fix it.
No big deal, though.
I love the fact that these two indoor games used the kids feet to move the balloons instead of their hands.
Trying to think outside the box when it comes to activities can be a challenge, but I must say these were a win in my books!
Balloons provide endless hours of fun. Here's another new way to use balloons. This one helps your child learn their name while having some balloon fun!
Go ahead and give these activities a try! We'd love to hear about your experiences!