LearningToddlersResources
Shapes12 Comments
We've been having a little bit of fun lately doing some hands on shape activities!
George is on a shapes kick right now, anytime he asks for an activity, he's been asking for 'shapes'. Can't say no to that!
I keep the shapes we work on pretty basic. Usually the square, triangle, circle. And then I usually sneak in an odd one here and there just to introduce it, like the octagon (my kids seem to catch on to that one quickly because of stop signs), oval and rectangles.
First comes recognizing the shapes and then labeling them. Building and making shapes is a plus for toddlers, as well as drawing and tracing them.
Or find 50 activities that are perfect for your toddler here.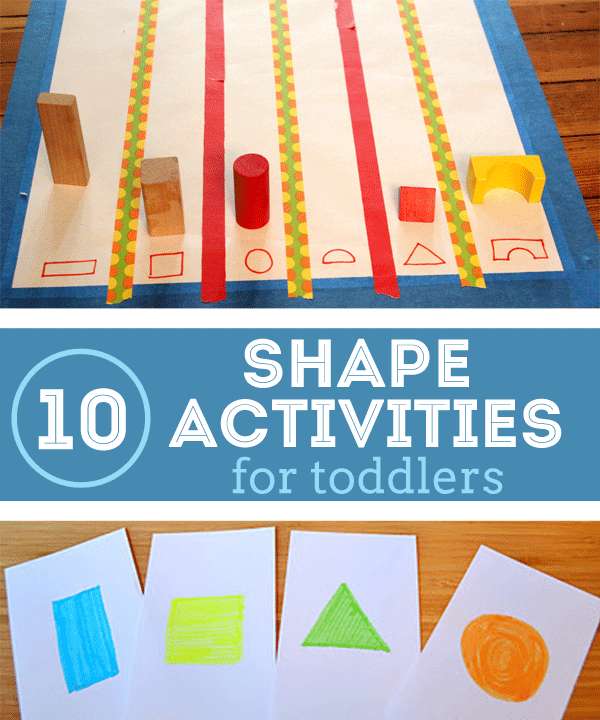 These are ten hip shape activities for toddlers!
All very hands on and fun, the learning is just a plus!
I tend to stray away from printables and worksheets, so these activities pass my 'hands on' learning test that all get toddlers very involved in learning shapes.
For more learning activities for toddlers, check out these 14 activities that focus on shapes, letters, colors and numbers.
7-Day Activity Challenge to Do with Your Toddler
Say YES! I will do activities with my TODDler this week.
Enter your email here to get access to the 7-day challenge of activities for your toddler. You'll get 7 days of activities that are perfect to do with your toddler and will spark your creativity and fun! You can unsubscribe at any time.