Learning
Literacy & ABCs
SensorySensory
Shapes
Water Activities2 Comments
Add water play to a seek and find shapes activity, from Lisa, for a fun, hands-on learning opportunity for children! 
Splashing around is so much fun! Plus it's also a wonderfully calming, sensory experience.
We love incorporating water play into our every day learning. Adding a shapes activity into something we already love to do was just a natural fit.
Toddlers and preschoolers will love this seek and find shapes activity. Best of all, your sensory activity is easy to set up with materials that you already have on hand!
It also utilizes those very important fine motor skills!
Super Simple Seek and Find Shapes Water Activity for Toddlers
For this shape hunt, we ended up using all materials we had on hand in our kitchen.
To set up your own seek and find shapes activity, you'll need:
A clear baking dish
A clear glass or plastic cup
Food coloring or paint
Water
A piece of paper and marker
We focused specifically on shape recognition for this activity.
It is so easy to customize to what your child is learning. You could use this same activity for letter or number recognition, sight words or even colors!
Seek and Find Shapes Together!
The set up of water play is so much fun and children love to be involved in preparation as much as possible. For our activity, my three year old loved deciding the color of our water and pouring it into the baking dish.
Using the marker, draw out on your shapes on the plain white sheet. Then, place the paper under your clear baking dish.
Add two to three drops of food coloring or paint to your water and pour into your clear dish.
Set your clear plastic cup inside your baking dish, upside down.
This is such an easy, self directed activity for preschoolers!
Explore shapes with a fun water activity to erase the shapes!
I called out each shape that I wanted him to find and he moved the cup along at his own pace.
You could also have matching shapes in a basket beside your child for them to pull out independently and find.
Go on a scavenger hunt for shapes with your toddler!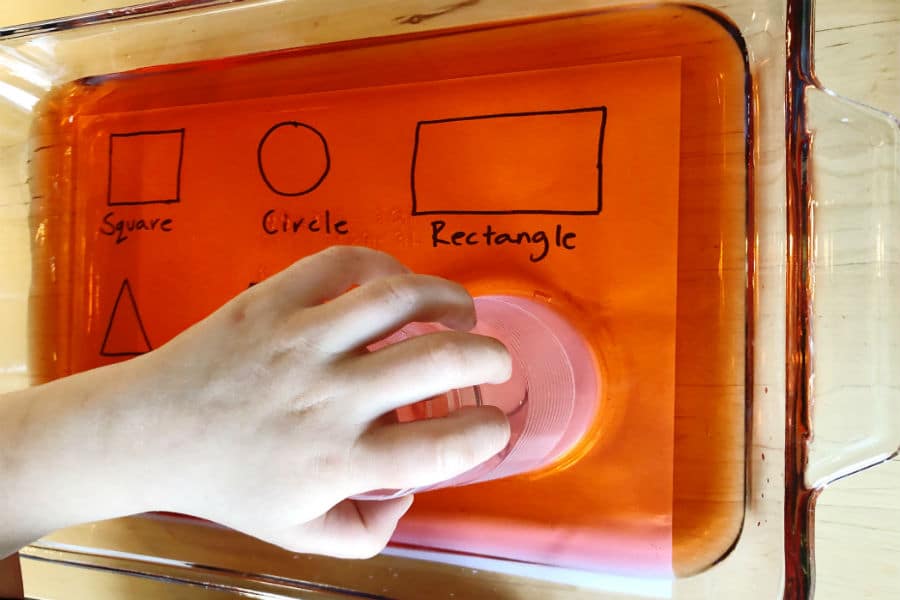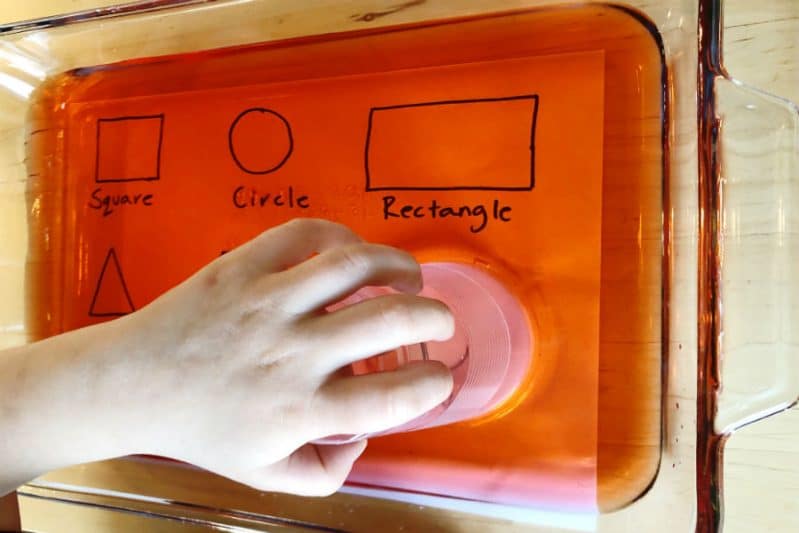 He loved the vacuum seal and suction that the cup created as he moved it along the bottom of the tray! Because the cup was clear, it reinforced the shape he was seeking as well.
This was such a calm, low frustration activity. I'm all about ways that I can make our hands-on play simpler and less stressful!
He also really enjoyed learning while playing with water. Honestly, water is always a great addition to our playtime!
We love adding water to our playtime! How have you brought water into your activities?