Literacy & ABCs
Math & 123sToddlersABCs
Colors
Letters
Numbers
Resources
Shapes6 Comments
Learning activities for toddlers are pretty much as basic as it gets when it comes to intentional learning activities.
These learning activities are more to introduce a concept to the toddler then to test his knowledge on it.
Some basic things an older toddler will start to learn are:
Differentiating colors
Differentiating shapes
Recognizing letters
Recognizing numbers
I've collected a few activities to get your wheels turning on how to help a toddler start to recognize these.
14 Learning Activities Geared Toward Toddlers: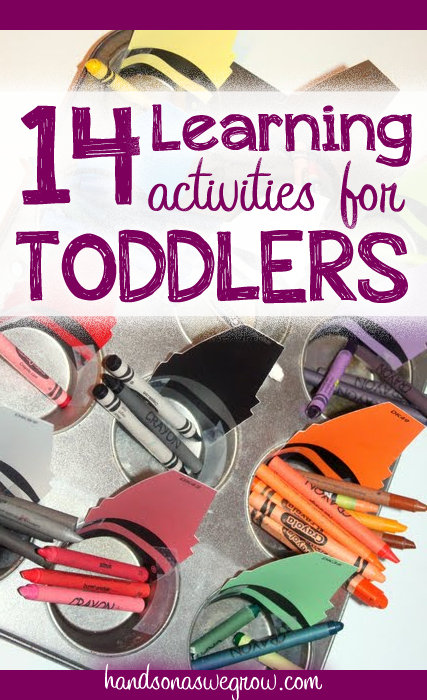 Toddler Activities for Learning Colors & Shapes:
Toddlers Activities to Learn ABCs and 123s:
Don't forget to check out these other toddler resources!
If your toddler already has a good start at his ABCs and 123s, check out these additional resources for more advanced kids activities:
I've been trying to brainstorm all the areas that toddlers are learning. Obviously, they're learning all the time and any activity is a learning activity to them. But I'm curious what specific areas does a toddler learn in besides the ones I mentioned above?
What is your toddler learning?
Find more 10 indoor toddler activities!
The DISCOVER + PLAY eBooks have a combined 10 weekly plans of activities that are perfect for the toddler age. Fun ways to get one and two year olds moving, work on fine motor, do arts and craft projects and have fun as a family! Each weekly plan includes a handy supply list and activities broken down to know exactly what to do in a simple sentence or two.
Fill every week with activities using the planner.
Receive access to the free activity planner and keep the fun going! You'll also receive activities every week in your email. You can unsubscribe at any time.
Get the complete resource of activities. Activity plans that are actually doable and a super quick way to be more present with your kids. Make it super easy to have fun with your kids and be the parent you keep dreaming you will be. (Digital PDF eBooks)  More information.