The Activity RoomAll AgesMom Feature
Moms Parenting AdviceLeave a Comment
Often, you'll see that I address you as a parent… or more specifically (and, yes, I'm gender-stereotyping), Mom.
But as you probably know, it's not just Mom and Dad that do activities with their kids.
Who is spending the most amount of time with the kids?
While most of our members in The Activity Room are Moms, there are others who are not, including our September member of the month, Heather.
Heather is a nanny to twin boys that are about 18 months old.
We also have grandparents, day care providers and I'm sure the list goes on. If you are interested in doing activities with your kids on a regular basis and need the encouragement, reminder, and the idea of what to do each day, then The Activity Room is perfect for you.
As for Heather, she has her hands full with two 18-month old boys every day and fills her days with many activities. She takes the activity of the day from The Activity Room calendar and puts her spin on it to work for her boys (who are very different in their sensory explorations)!
Let's learn a little bit more about Heather and hear her best tip for doing activities with these kids!
Meet Heather!
How many kids do you have and how old are they?
Twin boys, 16 months (I nanny these boys)
How long have you been in The Activity Room?
Since February 2017
What is your favorite activity you've done in The Activity Room?
I suppose it would be the one the boys enjoyed the most: the Kleenex pull!
What's your favorite thing to do with your kids when you get a few moments?
Sing and read books.
What's your best tip for doing activities with your kids?
For children this young, realize their attention span is short and the first 2-3 minutes will be the best with them.
Share your favorite quote:
"Children are our silver linings in life." – Y. Sutherland 
Heather also shared her favorite activity with us, which is featured in more detail in the September activity plans in The Activity Room.
Mess-Free Finger Painting
Finger painting certainly is not new. My problem is that the boys get upset when they get strange substances on their hands.
I needed to come up with a way for them paint happily.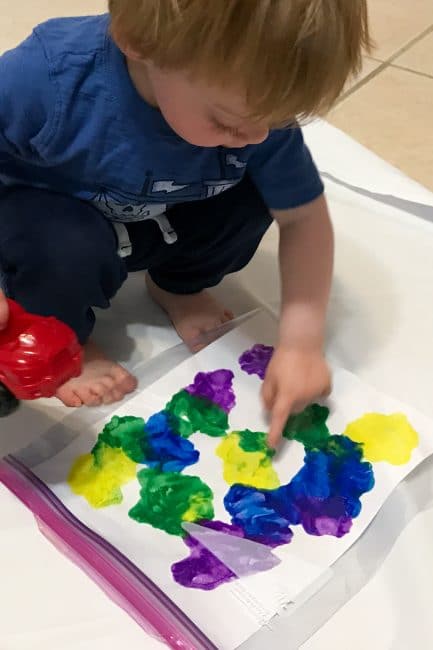 I put their papers with globs of paint on them in large baggies. I taped them down to the work area as that plastic slides around.
When the boys were finished with their pictures I cut the sides off the bag and carefully peeled the plastic off starting with the original opening.
Though not ideal finger painting, they were still able to experience this fun activity and have an introduction to paints and colors.
Thanks for sharing, Heather!