Gross MotorToddlersGrade SchoolKindergartnersPreschoolersChalk
Jumping
Outdoor
sidewalk chalk1 Comment
Looking for a fun gross motor game remix? This trampoline hopscotch game is easy to set up and so much fun for kids!
My kids love jumping around and playing games on the trampoline. It's really great for every age and provides a fun outlet for gross motor movement.
Sometimes, though, we need a fresh idea to keep things interesting as we play outside.
This fun kids trampoline game is a simple way to get those gross motor skills going!
For more gross motor inspiration, check out this super simple sidewalk chalk gross motor obstacle course.
Why is gross motor play important for kids?
Gross motor play is so important for kids of every age.
We use gross motor skills to do important tasks every day. From balancing and getting dressed in the morning, to running across the playground.
Gross motor skills help your child succeed and become more confident.
Gross motor skills are also the foundation for fine motor skills.
Finding ways to engage in gross motor play gives your child the building blocks for skills like writing, and other small complex movements.
If you feel like your child struggles in the area of gross motor skills, give them plenty of opportunities at home to expand those skills in fun, meaningful ways.
Get creative! Gross motor games are all around you!
Looking for inside gross motor ideas? Check out these indoor energy busters.
Trampoline Hopscotch Game For Kids
For this trampoline hopscotch activity, you'll need:
Try this simple gross motor game to get your kids active and engaged on the trampoline!
Set up Your Trampoline Hopscotch Court
To set up this activity, grab some chalk and you're ready to go!
Set up takes only one or two minutes. I drew a simple hopscotch court on the trampoline.
If you want to challenge your kids, try creating the trampoline hopscotch game course all the way to twenty!
Don't worry, the chalk will wash off with water or rain!
This no-prep indoor apple tree picking game is perfect for building gross motor skills!
Get Moving with this Trampoline Hopscotch Game for Kids!
After a quick set up, you're ready to get moving!
My kids jumped right in, taking turns on the trampoline to see who could jump through the hopscotch course the quickest.
Encourage your kids to be as accurate as they can!
Get your kids to play this trampoline game with the one foot, two feet, one foot, two feet pattern.
This is a fun way to help them gain more control over their bodies!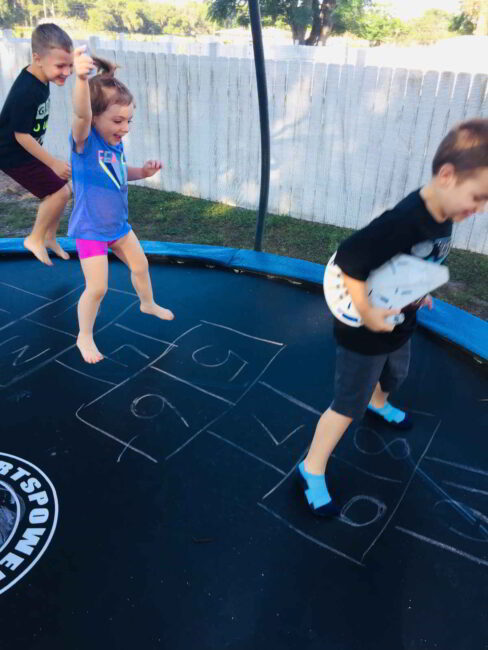 Extend Your Kids Trampoline Game
If your kids need more extension, don't be afraid to get creative! Here are some ideas my kids tried to get more out of our trampoline game.
Create a gross motor obstacle course with jumps, spins, and crawls. Cover the whole trampoline with a chalk course!
Challenge kids to complete the hopscotch course backward or sideways.
Create teams and complete the course with two kids joined together. Hilarious!
Teach your toddler to count as she jumps on the numbers.
Teach older kids to skip count as they jump. When they jump on 1, say "10", 2 say "20."
For more gross motor learning ideas, try these gross motor activities for preschoolers.
Your Turn
What is your family's favorite gross motor game? A trampoline is a great jumping off point for fun gross motor skills! What's next for your family?
Share with us in the comments below!