Fine Motor
Math & 123sTape2 Comments
Grab some cotton balls for a simple toddler fine motor activity, from Julie, that adds in counting and sensory elements, too!
My daughter loves fine motor activities. And like most toddlers, she also loves to line things up!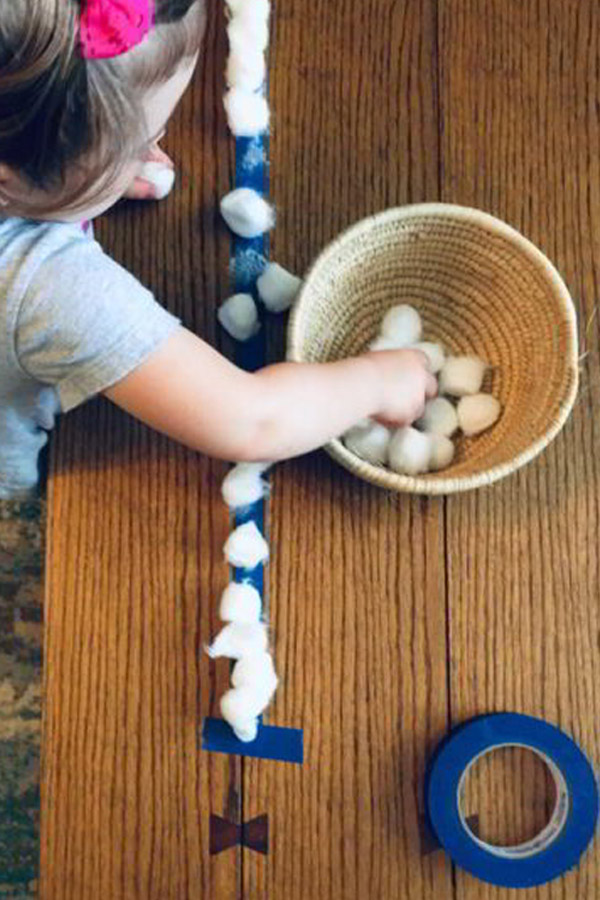 That's why this simple cotton ball lineup was the perfect low-prep fine motor activity for a rainy day!
Try a no-prep fine motor pipe cleaner activity for your child!
Quick Cotton Ball Toddler Fine Motor Activity
For this toddler fine motor activity, you'll need:
painter's tape
cotton balls
bowl
flat space to play
To get started, place a long piece of painter's tape sticky side up on the table. Secure it down with two smaller pieces on each end.
Next, place a handful of cotton balls in a bowl. The bowl comes in handy so you don't end up with cotton balls all over the living room!
Toddlers love this simple fine motor activity with paper clips!
Then you're ready for your child to play!
Counting & Sensory Fun for Little Hands
Here are a few ideas we used to get started:
Count and Squish: Have your toddler line up the cotton balls on the tape, counting each one while she squishes the balls onto the tape.
Make counting part of your play with these easy toddler math ideas!
Make a Pattern: I helped my daughter practice a pattern. Squish and remove a cotton ball to make a dot, then place a whole cotton ball on the next space.
"Dot, ball, dot, ball, dot, ball!"
Walking on Clouds: We also practiced toddler fine motor skills by using our fingers to "walk on the clouds" down the line of cotton balls.
Try this super fun fine motor toothpick activity!
We repeated this quite a few times and my daughter loved it! She asked to "do it again" three or four times!
It really takes no time at all to place a new line of tape on the table.
It doesn't get any easier than painter's tape and cotton balls, and your toddler is sure to love it!
What is your favorite simple fine motor activity for toddlers? We'd love to check out your ideas!