ThanksgivingKindergartnersPreschoolersInternational Delight
Upcycle
Yarn
Do you ever end up sitting around the dinner table at Thanksgiving and twiddling your thumbs? Or worse yet, your kids are getting antsy while you're talking to all the adults.
Thanksgiving is right around the corner. That means Thanksgiving crafts and activities are at an all time high around here. We came up with this Thanksgiving turkey ring toss just seemed fun to do, but it would be an excellent activity for the kids to do on Thanksgiving, maybe even the adults would like to join!
I love Turkey crafts and I have a few International Delight bottles saved up, this International Delight activity came together easily. And it's the perfect way to celebrate Thanksgiving!
MORE ACTIVITIES YOU MIGHT LIKE
Working with International Delight over the past year has been so much fun! There are so many amazing things you can do with the bottles. We made a catch the ball toy, sorting cups and even used one bottle for pouring pancakes.
For this project I enlisted the help of my niece, Jordyn. She is 4 years old.
Make the Thanksgiving Turkey Ring Toss
To make the rings we used paper plates, feathers and white glue. To make the turkey base we used International Delight Bottles, brown yarn and a glue gun.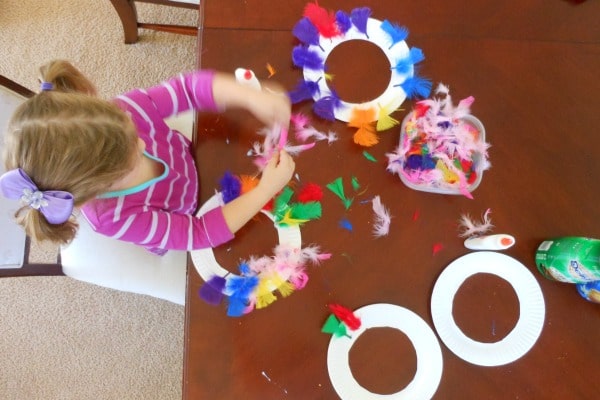 I cut holes in the middle of four paper plates and offered Jordyn different colored feathers.
I love watching kids use glue bottles. There is so much fine motor work going on as they learn to control the amount of glue they use.
If you have a little one who tends to use large amounts of glue, try having them work on a cookie sheet. That will make the mess a little more manageable.
Once the feather rings were made and drying, we started working on the turkey base for the ring toss.
I was not planning on having Jordyn peel the label from the bottles… that was her idea.
I cut a slit at the top and she spent quite a bit of time working to peel the labels. It was harder than she expected and took patience. (Love surprise practice with patience!)
I used a hot glue gun to glue the brown yarn around the bottom.
Jordyn and I worked as a team to wrap the yarn up towards the top.
I used a small amount of hot glue to hold the yarn in place a few times as we went up the bottle.
Once at the top, I glued the yarn in place.
We twisted the cap on and had adorable turkey bodies ready for our turkey ring toss Thanksgiving game.
Play the Thanksgiving Turkey Ring Toss Game
With the Turkey base made and the feather rings dry (plan for overnight drying) we were ready to play!
I spread the turkey bodies out and handed Jordyn the four feather rings.
She had so much fun tossing the rings over the bodies.
And I couldn't get enough of how cute the turkey ring toss turned out! Gobble gobble.
Have you found a favorite way to use International Delight bottles? Tell me about it in the comments.
Check out these unique and yummy recipes using International Delight, I see a few I can't wait to try this holiday season.
This is a sponsored conversation written by me on behalf of International Delight. The opinions and text are all mine.