Crafts
Learning
Valentine's DayToddlersButtons
Colors
Sorting29 Comments
This heart button craft is a colorful and pretty Valentine craft and can be a fun learning activity for kids too!
I know I said the Valentine Tissue Wreath was one of my favorite Valentines craft, but this button craft is my favorite!
I absolutely love how this looks on my mantel right now. It glimmers and shines in the light.
Henry started with sorting buttons in a muffin tin. (I was planning on only using reds, pinks, and whites.) This would be a great way activity for older toddlers learning colors, I've shared a bunch of toddler learning activities for colors, shapes, letters and numbers.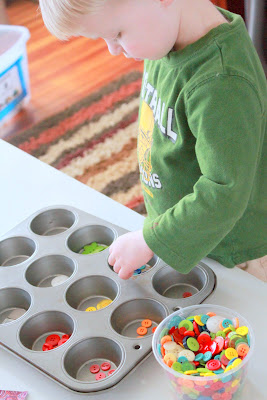 What you'll need to make this Heart Button Craft:
1 Red 12×12 piece of scrapbook paper
1 Pink 12×12 piece of scrapbook paper
School Glue
Buttons in all different colors and sizes (the brighter the better!)
I cut out a large heart from the red piece of 12×12 scrapbook paper and made a swirl design in glue around and around the shape of the heart.
Henry just added buttons as he liked all around the heart until it was filled up. I joined him in adding buttons just as an activity for us to do together.
Henry wouldn't have it with my previously mentioned color selection and used every single color. But I think that adds a lot of character to the heart as compared to if it was all reds and pinks. This surely brightens it up a lot!
Then I glued the completed button heart onto the pink piece of scrapbook paper at and angle to make it fit nicely and then 
propped it up against a picture frame on my mantel… and its oh-so-pretty.
Carrie Elle made a hanging button heart that I got this inspiration from!
What else can we do with buttons?