Crafts
Fine Motor
SensoryGrade SchoolKindergartnersPreschoolersToddlersBirthday
Cardboard Box
Pretend Play
Shaving Cream1 Comment
I'm sure your first thoughts when you hear the words 'shaving cream sensory play' are, "Oh no, way too messy!".
Rest assured, yes, shaving cream can be messy but it provides an amazing sensory experience that all children love!
Be prepared for a bit of mess and you'll be surprised at how much smoother the activity will go.
I have to say it feels good to just let go (with these tips) sometimes!
Shaving Cream Box Cake Sensory Play Activity
This shaving cream sensory play activity was such a great hit that we've actually done it twice!
And it's so simple and easy that children from toddler age to grade school can have creative texture fun with it!
To create your own Shaving Cream Box Cake Sensory Play, you will need:
shaving cream
container to hold the shaving cream (we used a foil pie plate)
liquid water colours or food colouring
paint brush
loose parts as decorations (pom poms, cut up straws, cut up pipe cleaners, pony beads, buttons, candles etc)
cardboard box
How to Prep Your Shaving Cream Sensory Play Box Cake Activity
First, fill your container with shaving cream then add a few drops of food coloring.
Let your kids get involved in preparing the shaving cream "icing" for their sensory play activity.
you can even let them drop the food coloring in the shaving foam themselves if you trust them too.
My kids couldn't wait to see what were going to do at this point.
They instantly asked to mix up the shaving cream. Absolutely, why not!
I love it when my kids just want to get in there! It's so exciting!
Especially when it's a sensory play activity like this box cake!
Create Your Shaving Foam Birthday Cake!
When I explained to the girls that we were going to decorate a cake and the shaving cream was the icing, they were in awe!
Birthdays are the perfect time to do this activity! What better way to celebrate a birthday than to decorate your own messy cake!
Give your child a paint brush and let play pretend as they add the sensory shaving cream to the box.
Then they can decorate their cake with the loose craft parts.
My girls were enthralled with this sensory activity!
The giggles were contagious!
Watching the box cake get decorated was really super cool!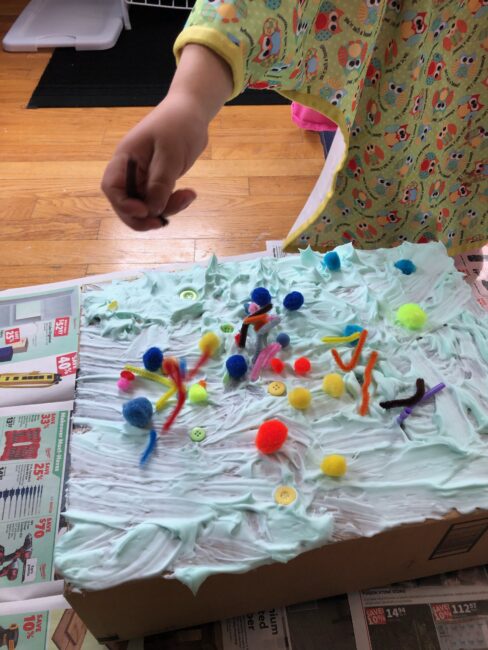 It came together so awesome!
However, I must say that once they finished decorating their cakes, the sensory fun wasn't over yet!
Things started to get silly!
I'll admit my girls definitely don't mind getting messy!
In fact, they love it!
All the tactile textures really keep toddlers and preschoolers engaged.
That's why this sensory play box cake with shaving cream was the perfect activity for my home!
Yes, it was definitely bath time after this but the mess was worth it to see their smiles!
Definitely a priceless activity full of memories!
What activities have you done where you just let go of things?
Share your experiences with us.
We'd love to hear all about them!