Learning
Math & 123sMoney
Pretend Play2 Comments
A low-prep pretend shopping trip from Erin will have your preschoolers and school-age kids eager to practice their skip counting skills! 
I'm always on the hunt for ways to connect play to real life and learning. Luckily, it's so super easy with pretend shopping.
My kids love to go "shopping" in their play food or even in my non-perishable pantry items. The addition of a little math just made a favorite game into a learning activity!
It's super fun to use real money to learn and play.
Go Skip Counting on a Pretend Shopping Trip in the Pantry!
For this activity, you will need:
food from your pantry or plastic pretend food
label stickers or tape that you can write on
nickels, pennies, or dimes
paper on which you can write a shopping "price sheet"
toy purse and shopping basket (optional)
First, create a shopping price list. Since we were working on skip counting by 5s, I made sure that all of our "prices" were multiples of 5.
Quick tip: unless you are training your kids for "The Price is Right," don't worry too much about making super-accurate prices. Go ahead and sell bags of Reeses' peanut butter cups for 10 cents.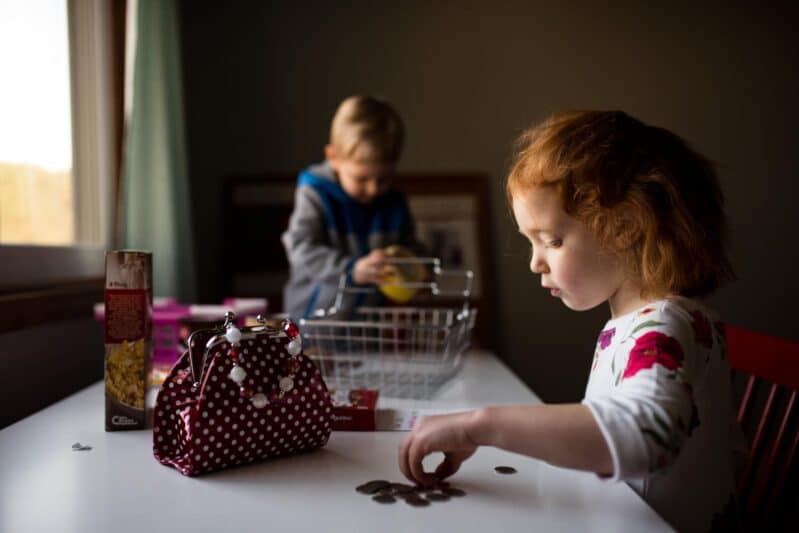 Next, give your child a jar or toy purse filled with nickels – or whatever coins you're using. If you have a toy shopping basket, let them select an item and place it in their shopping basket.
Then, have them "check out." This step requires them to count the coins they will need in order to "pay" for their food.
Adapt Check Out for Different Age
This is a great opportunity to work on counting several different ways:
Ones: counting pennies is perfect for little kids
Fives: preschoolers and primary school aged kids might be up for a challenge
Tens: another harder counting method for young math geniuses
Combo: really make it harder for older kids by asking them to make interesting combinations of coins and use pennies, nickels, and dimes to pay
If you're shopping with a mixed-age group, you might consider making individual or age group specific lists. Easier prices using just one type of coin for younger kids and lists that need all the coins for older kids.
Another idea might be to give kids the coin type(s) they'll need for their purchases. Like just pennies for a child counting by ones, but just nickels for someone counting by fives.
Get Involved in the Pretend Shopping Fun
Make this cashing out step extra fun for your kids by playing the part of the eager cashier.
Ask them – in a dramatically enthusiastic way, of course – if they found everything they needed or if they have any coupons, and tell them to have a great day when they are done!
For some reason, my three-year-old got super excited about being able to take an uncooked rotini noodle out of the box. Not pictured: him licking that uncooked rotini noodle.
Your noddle-loving kids might also like noodle painting or noodle stamping!
Am I failing him as a parent that he went for that and not the York peppermint patty?
When he was done licking the pasta, I handed him a stack of pennies and let him play, too. This way, he got to practice his counting as well, but by ones instead of fives.
You can also use dimes to practice skip counting by tens. This simple game also uses dimes to practice skip counting!
I loved the way that this simple pretend shopping trip was easily adaptable for both my kids. Plus, it's so super simple to set up and play!
What are your favorite ways to teach counting skills? We'd love to try some of your games!