Math & 123sCounting
MoneyLeave a Comment
Teach your kids to skip count by 5 with nickels in this low-prep math activity using a common household item, from Erin. 
My five year-old recently announced that she wants a watch.
Presumably, this is so she can remind me that it is almost time for library. Maybe I should think about brushing my teeth and donning something more socially acceptable than flannel cat pajamas.
One of the skills she will need to tell time on an analog clock is counting by 5s. I thought that nickels would be a fun and logical tool to use to teach her this skill, and sure enough, she was all about it.
Simple Activity Learning to Count by 5 with Nickels
For our first activity learning to skip count by 5 with nickels, I made a quick chart with 20 boxes in it. Together we counted by 5s up to 100 and I filled in each box of the chart.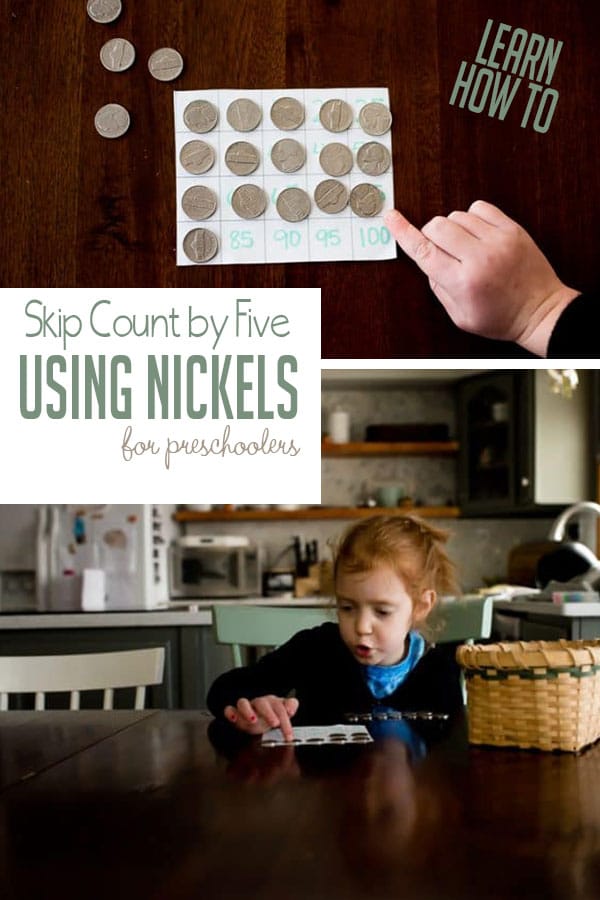 And this upcyled clock craft would be great to do along with this nickel activity if your goal is to teach a child to tell time!
She then began the task of digging through an old basket of coins, searching for nickels to use.
The excitement at finding one was a lot like my excitement at finding a Twix buried in a basket of lesser chocolate. (I'm looking at you, Milk Duds.)
She covered up each number with a nickel. I then gave her a number to count to by 5s (for example, "Can you count to 65?") and she had to point and count: "5, 10, 15, 20…".
Have younger kids around too? Check out these counting activities for preschoolers.
When she got to the number I had given her, she stopped and lifted up the coin to see if she was correct. The surprise of the reveal to check her work got big smiles not only when she was right, but also when she was wrong!
Looking for more activities that will teach kids about money? Check out this game and this collection of three easy activities using real money!
How do you use common objects to teach your child? Share your favorite ideas with us!