Math & 123s
Move & LearnPreschoolersScavenger Hunts
Shapes
Technology40 Comments
I've wanted to do a photo scavenger hunt with the kids for a long, long time. I always love any kind of scavenger hunt. And the boys love taking photos.
But the boys don't have their own camera, and all I have is my DSLR that I use (affiliate link) and I don't want to hand that over to the boys (I'm nervous of it breaking… and I couldn't go without it until I got it replaced).
I finally realized that the iPad mini (affiliate link) that we have can be used! Duh! It took me forever to come up with this solution.
Even better, it let me put the photo scavenger hunt right on the iPad for the kids to search for and then have George take photos of what he found.
I decided to hunt around the yard to find different shapes of objects. A square, circle, triangle and rectangle.
Triangles were the hardest to find, but found them in spokes of the cars and bikes.
Squares I found in our porch railing and skirting.
Circles were everywhere! I found a bell on their bikes, the ends of hoses, wheels of the million toys we have.
I took about a dozen photos of shapes I found around the yard and stored them in an album on the iPad for George.
George then took the iPad around the yard to find those shapes.
Once he found it, he switched over to the camera app to snap a photo of it too.
I have a collection of both my photos and his photos and its fun to compare the two!
Below is my photo for the triangle (I didn't have the red triangle and text in the photos, I just added that for this post to be clear).
And below is the photo that George took of the triangles he found.
He got the shape and object in every photo. But definitely not the same photo!
Below is my rectangle photo of a brick on the side of our house.
And below is George's version of the rectangle.
He didn't crop up nearly as close (maybe because I've told him time and time again to stay out of my plant beds and he's finally learning to listen).
This is the photo I took of the circle, a bell on his bike.
George tried to get it just the same! He did awesome hunting for them and finding the shapes!
This is his photo of the circle bell.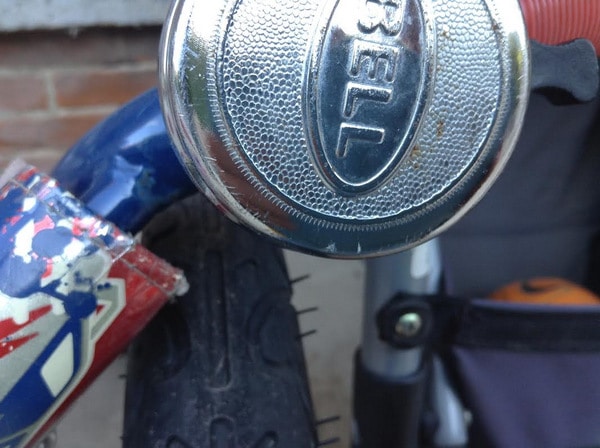 This photo scavenger hunt for the kids wasn't nearly as daunting as I thought it would be to put together. It took all of five minutes for me to walk around and find the shapes and snap the photos.
George loves anything to do with technology, so using the iPad to go on the scavenger hunt was a winner. Plus he got to take photos which he loves to do with it.
Got a hunter? The kids will love to go on any of these 32 ideas for scavenger hunts!
And in the meantime, he practiced his shapes. Triangles are still tough for him, but he's got squares and rectangles down now!
More move and learn ideas: