BlogHer
Campaign
Parenting
SponsoredGrade SchoolKitchen438 Comments
I can't believe that back to school is already right around the corner! Crazy how this summer flew by so fast. I guess it's true what they say, time does fly when you're having fun!
At the beginning of every school year, our kids' teachers dutifully ask if we want to help out and volunteer during the year (and how often, which I love that they ask that). I always love to do whatever I can to help out at school.
I often end up going on field trips with the kids (except, apparently my oldest decided last year – third grade – that he was too cool to have his mom tag along now… boooooo.)
Field trips are my favorite!
The kids are so excited to go on a trip, any trip really. I don't think they really care where they go. The bus ride there is most of the adventure.
And eating a lunch in a park somewhere is always the perk they love the most.
But packing lunches is not my favorite thing.
I am partnering up with GoGo squeeZ® applesauce to pack some goodness on the go!
I don't normally pack lunches for school – they eat the school lunch (and that's how they've gotten introduced to new foods and aren't nearly as picky eaters as they used to be…)
But I am tired of packing peanut butter and jelly sandwiches whenever I have to pack a lunch.
Seriously. If you pack your child's lunch every day for school, props to you! Because I don't know how you do it.
Field trips are a little different than regular school days though. There are a few obstacles they don't normally have:
There's no refrigeration on the bus. And it's likely to be sitting out on a hot bus for hours…
There's no microwave available to heat anything up.
I've done a little asking around and searching and am getting prepared for the upcoming field trips this year will bring.
First of all, a couple of tips for field trip lunches:
Include an ice pack; if not possible, freeze their drink before packing.
Use packaged food like GoGo squeeZ® applesauce (still 100% fruit and no artificial ingredients). I like it for ease on my end and my child's end for eating and no lost dishes. It also keeps without needing to be cold.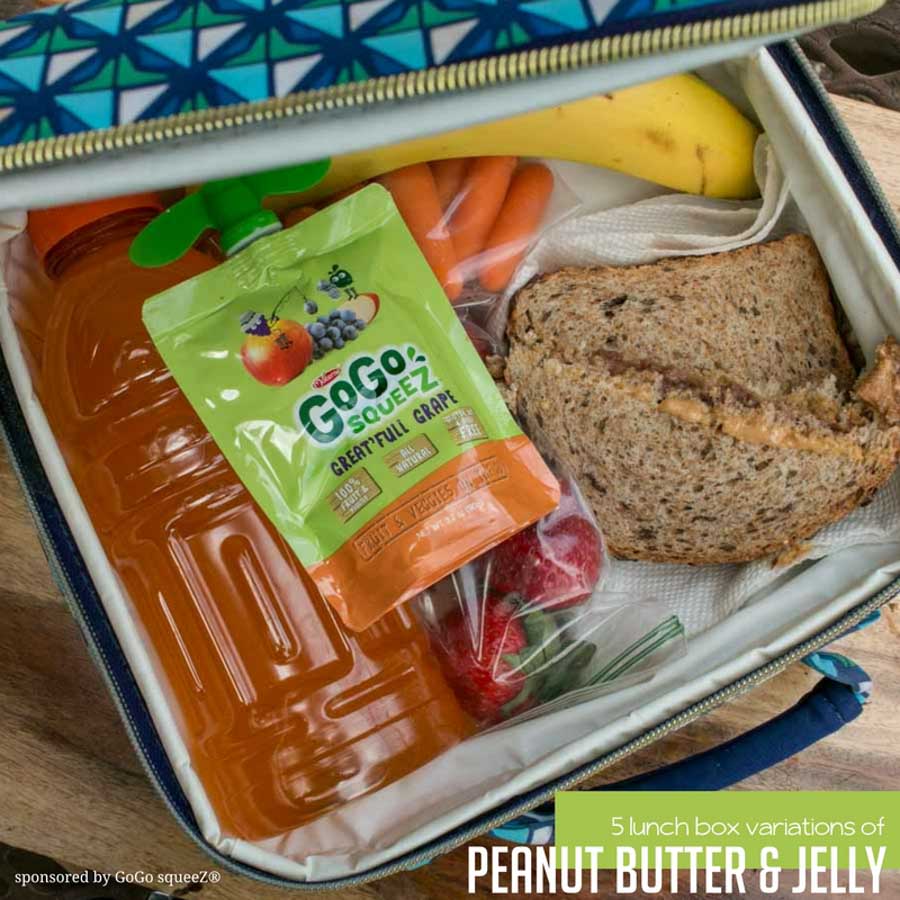 My kids always pick peanut butter and jelly for their lunches. It's always easy for me, because nothing is perishable and it can sit out for hours.
We decided to try out some peanut butter alternatives that we could pack for field trip lunches!
5 alternatives to Peanut Butter & Jelly:
Choose your favorite nut butter (ours is good ol' natural creamy peanut butter) & use a pouch of Great'full Grape GoGo squeeZ® applesauce in place of any of the Jellies listed. It works great and they're 100% fruit, with no artificial ingredients, and a taste that kids absolutely love.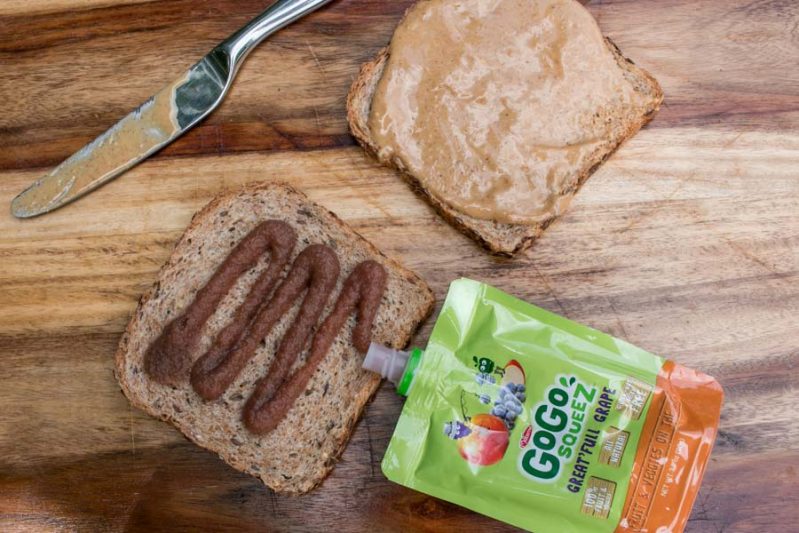 For field trips, I always pack everything in sandwich baggies so everything can be thrown away after it's eaten. The only thing that should be left when they come home is the lunch box itself.
And just a reminder for safety:
From FoodSafety.com: Avoid high-risk foods including meat (unless it's dried meat), dairy products like soft cheese, and anything that you would expect to find in the grocery store's refrigerated section.
What do your kids ask to have in their lunchbox?
Comment your answer for a chance to win a $100 Visa gift card!
Entry Instructions:
No duplicate comments.
You may receive (2) total entries by selecting from the following entry methods:
1. Leave a comment in response to the sweepstakes prompt on this post
2. Tweet (public message) about this promotion; including exactly the following unique term in your tweet message: "#Sweeps" and "#SweepstakesEntry"; and leave the URL to that tweet in a comment on this post
3. Blog about this promotion, including a disclosure that you are receiving a sweepstakes entry in exchange for writing the blog post, and leave the URL to that post in a comment on this post
4. For those with no Twitter or blog, read the official rules to learn about an alternate form of entry.
This giveaway is open to US Residents age 18 or older (or nineteen (19) years of age or older in Alabama and Nebraska). Winners will be selected via random draw, and will be notified by e-mail. The notification email will come directly from SheKnows via the [email protected] email address. You will have 2 business days to respond; otherwise a new winner will be selected.
The Official Rules are available here.
This sweepstakes runs from 8/8-9/30/2017
Be sure to visit the brand page on SheKnows.com where you can read other bloggers' posts!