Art ProjectsPreschoolersKindergartnersGrade SchoolMixing Colors
Water Activities4 Comments
You know I love a simple activity. There's something magical about this paper towel art. Seriously. And it's so simple.
This is one of those activities that I see every once in awhile go through my feed on Pinterest, or I think I saw it in the Huddle not too long ago.
I have always wanted to do it, but honestly, never have because its one that I can't come up with an alternative way to do it besides how I see it always done.
But this day… I said, why wouldn't I do it just because its always done this way? It looks like so much fun!
And it is!
All three of my boys loved this art activity! I don't have Henry in any of the photos because he was at school during this round, but we did it again later where he did it too.
We made art on a paper towel! So simple.
I took this outside, because it was an absolutely gorgeous day. Wherever you do it though, put down something to protect the surface, it will soak through, and will stain whatever it is below… (yeah, my new patio now has a nice blue hue.)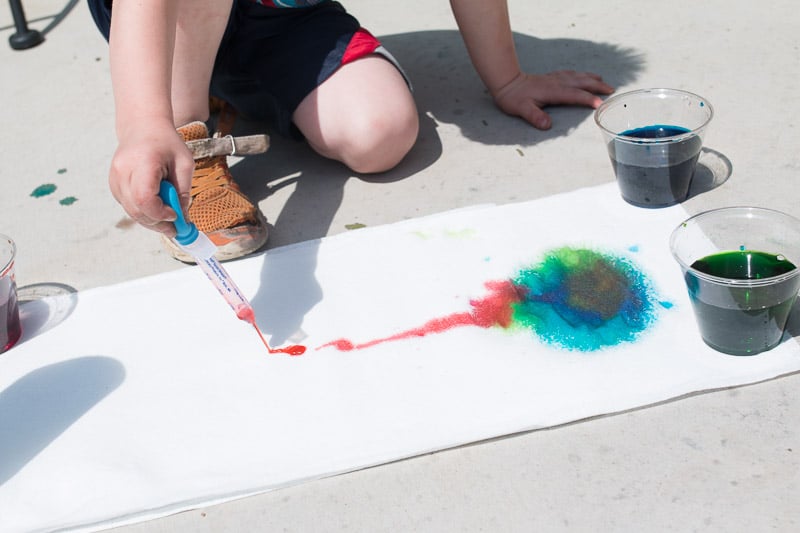 I put down three layers of paper towels.
We made colored water with a cup of water and food coloring.
Then with an eye dropper, the boys sucked up the water (pinching it) and then released it onto the paper towel.
Louis was the first one to do the paper towel art.
It took him a couple tries to get the hang of the eye dropper, but soon he mastered it.
We had a windy day, so I had to pin down the corners of the paper towels to keep them from blowing away. I just used our colored water cups.
Louis loved testing to see how far he could squirt the water.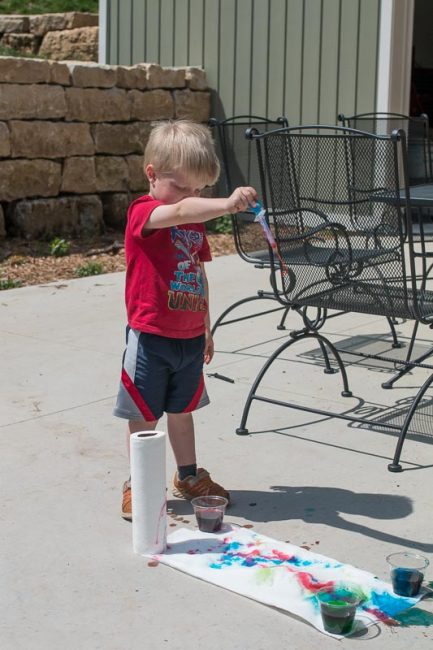 We used three colors, red, blue and green.
You could make this about mixing colors if you'd like and only do two primary colors to see what they make when squirted on each other.
When George joined in, we added more canvases of paper towels.
I cannot believe that I don't have any more eye droppers (so I'm ordering this pack, affiliate link).
In place of an eye dropper, we used cut up sponges. I had these from a long time ago when I made sponge bombs (have you seen them on Inner Child Fun?).
The sponges proved to be very, very messy for their hands (it does stain, so don't be doing these before you're heading off to a wedding that afternoon).
The boys took turns…. yeah, okay, I'll be honest, they fought over who got to use the eye dropper. The sponge just wasn't nearly as captivating.
But all in all, this paper towel art was super fun for them.
My kids will do anything to play with water… and food coloring is right behind that. So it was a definite win!
Plus the paper towels are super pretty in the end!
Just be sure to clean up your area as soon as you're done to prevent as much staining as possible.