Literacy & ABCsPreschoolersLetters
Lowercase Letters2 Comments
Letters are a funny thing. They're just a shape, a squiggle, a design… but they mean something.
Getting kids to recognize letters takes repetition. In the past, we've done an activity similar to this many times, this is a simplified variation.
This idea came during a recent 7 Day Challenge when a challenger suggested laminating a pumpkin to be able to redo it over and over with different letters.
I suggested to her to write four letters around a paper plate (several times) and just call out which letter to find and paper clip it.
This is another variation on that. Simpler because it doesn't take the refined fine motor skills of using a paper clip or clothespin.
I wrote one letter on one side of a paper plate (e) and another letter on the other side (c).
Around the paper plate, I then wrote those two letters all around the edge (plus the letter 'a' for this plate, but that was to make it more advanced).
Then I cut between each letter.
MY LATEST VIDEOS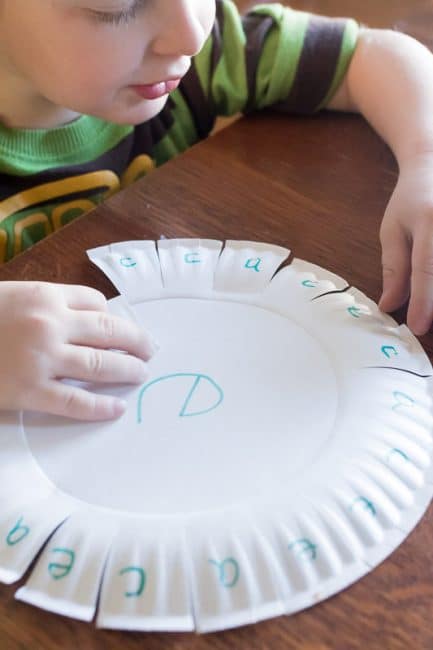 Then I gave the plate to Louis. He laid it with the letter 'e' side up first.
Remember how I said that letters are just marks, squiggles and such? Well, that's true to a preschooler that doesn't know what they mean yet.
Your job while doing letter learning activities is to put meaning to the squiggles.
Before starting the activity, introduce those squiggles to your child.
I showed Louis the plate and said:
This is the letter 'e', can you find any letter e's that look the same around the edge of the plate?
He found the letter e's on the plate and folded them toward the center.
When he was done, he flipped it over and we did the same thing with the letter 'c' on the other side.
It's so quick to prep, that I made another plate with the letters 's' and 't'.
For this paper plate letter learning activity, I chose to have Louis work on lowercase letters. For no other reason then to introduce him to them.
You could make this paper plate activity with anything though! Numbers, shapes, sight words, you name it!
Maybe even quick addition/subtraction facts that my oldest could be working on. I would put the total, like 15, in the center of the plate and then he's find all the problems that add/subtract to equal 15.
What would you  make this paper plate learning activity about?