Fine Motor
Literacy & ABCs
Valentine's DayPreschoolersLetters
Lowercase Letters5 Comments
Valentine's Day doesn't have to be only about crafts for the kids to do. We usually use it as an opportunity to sneak in some lovely learning activities too!
Plus, this one works on fine motor skills.
I adapted this find the letter activity from a previous activity we did in the fall that I shared on PBS Parents, that was A is for Apple.
The point of this activity was to work on lowercase letters a little bit.
I knew George had the uppercase letters down pat.
And I am pretty sure he has most of his lowercase letters figured out too. But I know they're still new to him, so I want to work on them just a bit. In a super fun way, of course.
Here are more ways to have fun learning lowercase letters.
Making the Find The Letter Heart
I cut out a large heart from 12×12 scrapbook paper. Pink, of course.
In the center, I wrote:
H is for Heart
h is for heart
Twice, because I wanted him to find both the upper and lowercase H's.
And then around the outside of the heart, I first wrote a bunch of H's and h's spaced out and then I filled it in with random upper and lowercase letters.
I made a toddler version for Louis too. Working on shapes instead of letters though. Just a simple 'Find the Heart Shape' version instead.
For both of them, I included a fine motor element.
Paper clips for George and clothespins (affiliate link) for Louis.
I thought the paper clips would be too tough for Louis to figure out.
Turns out the clothespins are still too hard. Louis struggled a lot with them.
I helped him pinch them open (along with him, so he'd see and also work his fingers a little still). He'd point to the heart and I'd help put the clothespin on.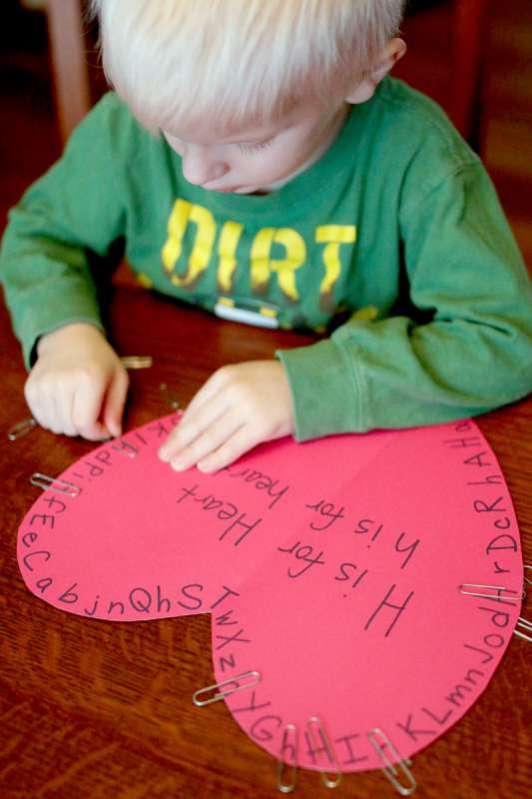 George clipped each of the letter H's around the heart with a paper clip.
Not tricky enough for him! He found them all with no problem. Upper and lowercase. Way to go George!