Easter
Learning
SponsoredPreschoolersLeave a Comment
Special thanks to our sponsor, Spin Master.
This year, add even more colorful fun to your Easter egg hunt with a Hatchimals CollEGGtibles color hunt! Kids love CollEGGtibles; adorable collectible Hatchimals that come inside small, speckled eggs.
The best part is that with a Hatchimals CollEGGtibles hunt, the fun doesn't end once the hunt is over.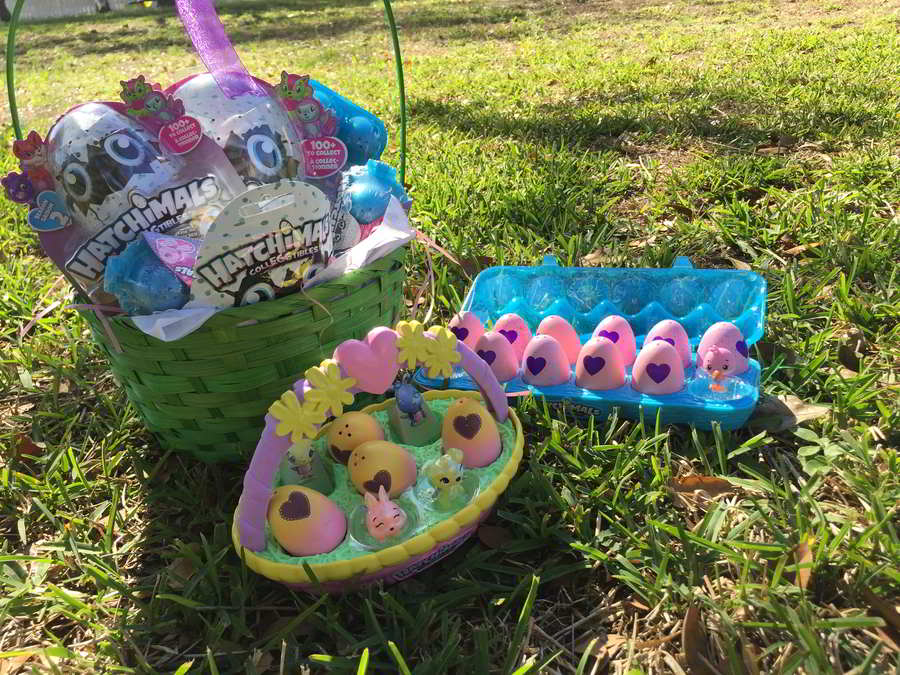 Who's inside? It's a surprise! What a fun way to add excitement to your egg hunt! Here's how we added a bit of color and magic to our Easter egg hunt.
Hatchimals CollEGGtibles Easter Egg Color Hunt
We set up a simple Easter egg color hunt with our Hatchimals CollEGGtibles. First, take simple color cards, or paint color sample chips, and punch holes in them to string them together – we clipped ours onto a ring! Have some fun Easter stickers on hand, your Hatchimals CollEGGtibles, and you're ready to go!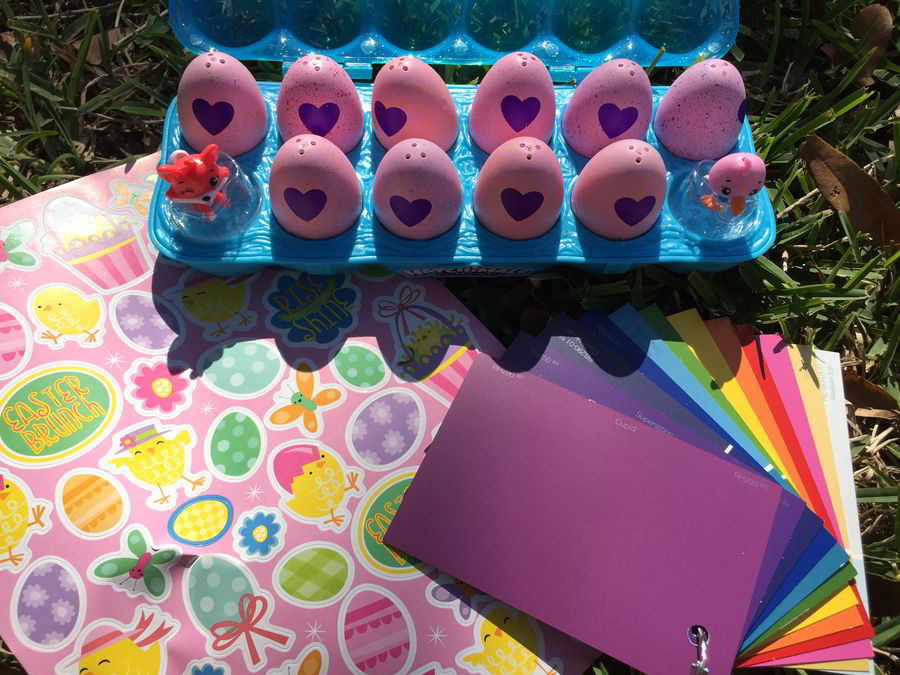 Setting up the Easter egg color hunt is simple. Just hide Hatchimals CollEGGtibles around your yard instead of traditional plastic eggs.
Next, give each child the ring color cards. We loved that we could even hook the ring we used on ours to a belt loop so it wouldn't get lost in the fun!
On your mark, get set, go! Race to find the Hatchimals CollEGGtibles!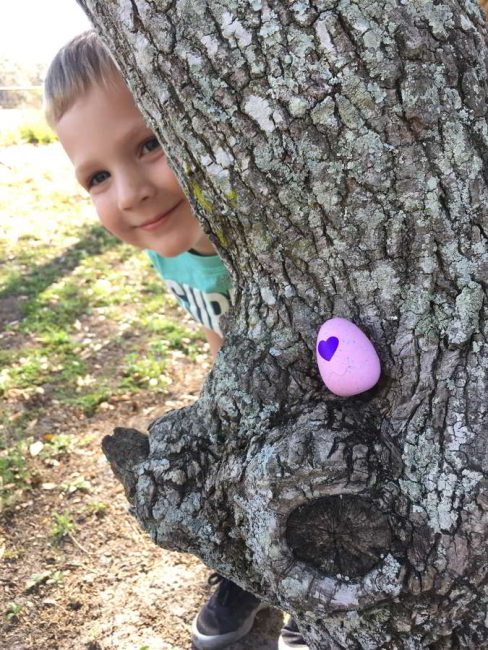 Once your child finds a Hatchimals CollEGGtible, have them look at the colored specks on the outside of the egg.
Help your child match the color of the speckled part of the egg to a color chip on his ring.
Place a sticker on a color card for each Hatchimals CollEGGtible they find!
It's fun to compare colors with friends once all the Hatchimals CollEGGtibles are found.
Which colors did each child find? Every Hatchimals CollEGGtible is different!
Can't wait for it to hatch?
Pro Tip: The colored of the speckles on the egg shows you which family your Hatchimals CollEGGtible belongs to before they hatch. Be sure to use the collector's list and map for more clues!
How to Hatch your Hatchimals CollEGGtibles
After the Easter egg color hunt, it's time to hatch those Hatchimals CollEGGtibles! But they can't hatch on their own. You have to love them to life!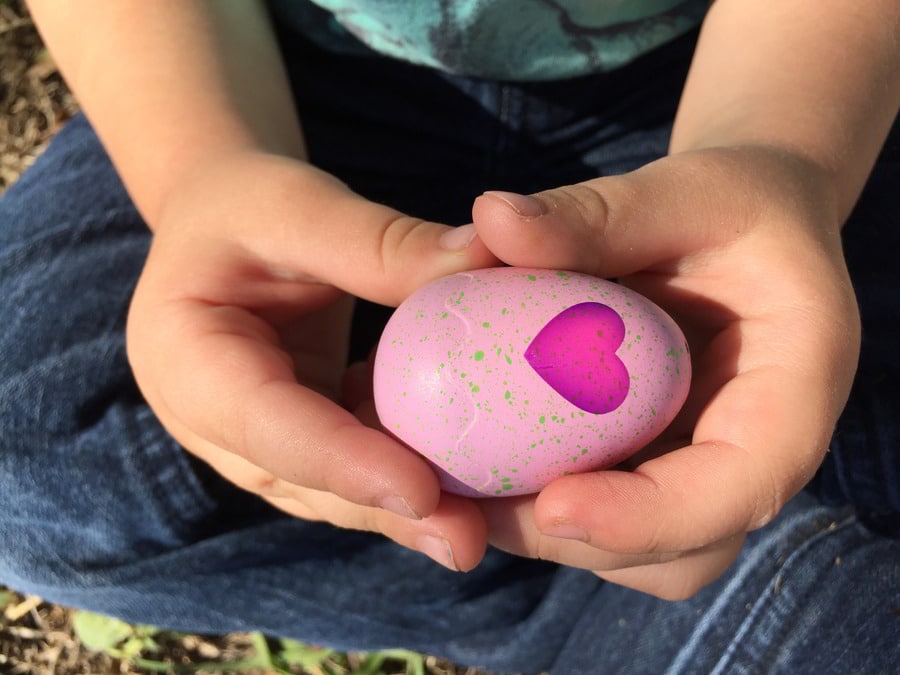 Here's how to hatch your Hatchimals CollEGGtibles with love and care:
Hold the egg in your hands and rub the heart with love.
When the heart changes from purple to pink, it's ready to hatch!
Press on the egg to crack it open. It's a surprise!
It's Playtime!
The magic doesn't stop after the Easter egg hunt. How can you play with your Hatchimals CollEGGtibles once they are hatched? The possibilities are endless!
With the new Secret Scene Playset, you can hold the beautiful egg up to the light and look through the flower to see 1 of 3 Glittering Garden Secret Scenes. This Secret Scene also comes with its own exclusive Hatchimals CollEGGtible to add to your collection. With 15 places to play and display, give your exclusive CollEGGtible a ride on the slide, a spin on the merry-go- round, or a push on the swing!
And lastly, to give your Hatchimals CollEGGtibles a home, you can create a nest by peeling down the egg shell until you reach the wavy lines.
Our boys made a nature-inspired nest for their Hatchimals. The CollEGGtibles looked adorable nestled in a bed of leaves and twigs. They loved pretending and playing with their Hatchimals!
Will you make this year's Easter egg hunt one to remember?
Try this Hatchimals CollEGGtibles color hunt twist to add a bit of magic to your celebrations!