Math & 123sToddlersKindergartnersPreschoolersMeasurement
Ribbons2 Comments
We love hands-on learning! This simple measure with ribbon activity is perfect for exploring measurements while you play a game together.
For more math fun, try this easy Measuring Activity: How Far Does it Roll & Slide?
What do you do with a rainy day?
Are your kids stuck inside with nothing to do?
Get busy with indoor hands-on learning!
We love finding new activities and creative ways to use things around the house.
This simple measuring activity uses ribbon, toys, and household objects to build understanding of size, measurement, and math vocabulary.
If your toddler or preschooler is like mine, she loves playing with ribbon and comparing objects.
Measurement is one of the earliest concepts that toddlers and preschoolers learn. "I'm taller than you! You have more toys than me."
It's all measurement!
For toddlers and preschoolers it's OK to still use non-standard units of measurement. They'll get to inches and centimeters later, no rush!
For now just have fun exploring the basic building blocks of comparing sizes and experimenting with measurement concepts.
In this simple measuring activity, your child will take that awareness of measurement and apply it!
For more measuring fun, be sure to try this simple Toddler Busy Play: Measuring Cups & Pots.
Measuring Activity: Measure with Ribbon!
For This Measuring Activity, You'll Need:
random household objects
marker
First thing to do for this measuring game is have your child run around the house to collect a few objects for the activity.
Get some extra energy out to help keep them focused.
Try to grab a few objects that have varied lengths and sizes.
Next, take a long length of ribbon.
We marked a tiny star at one end of the ribbon so that we could remember where our "start" end was.
You can help your child hold it up to the objects one by one.
Carefully line up the star with one end of the object and stretch the ribbon straight toward the other end.
For little ones, it may take a few tries to learn how to hold the end of the ribbon up to the object correctly.
Give those little hands plenty of practice!
Love fine motor fun? Try this easy Clothespin Activity for Toddlers: Fine Motor Exploration.
As you measure each object in this activity, use the marker to make a mark at the length or height.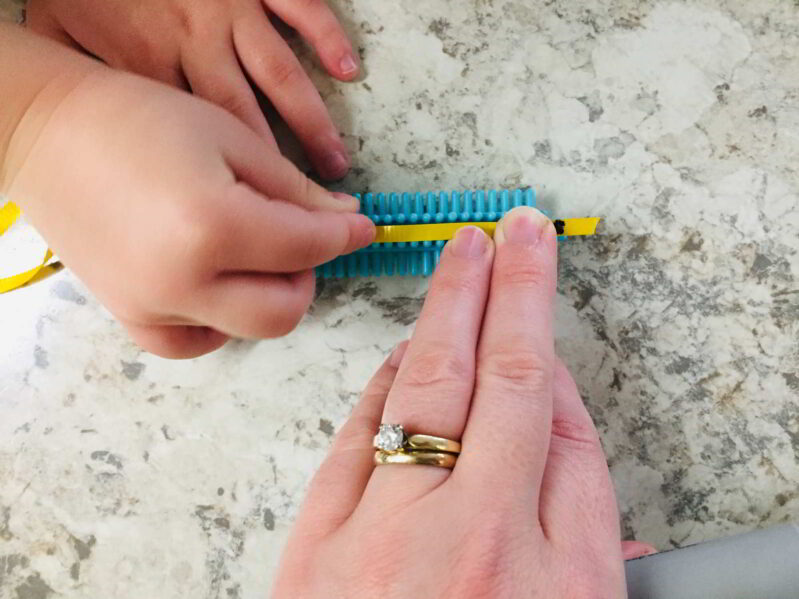 Once your objects are all measured and marked, take a look at your ribbon.
Look at all the different lengths and heights!
More ribbons! Check out this Ribbon Fine Motor Play for Toddlers.
Talk about vocabulary words such as "longer, shorter, taller, etc."
Ask questions to get your child thinking and problem solving. "How can you tell which is taller? What else could we use to measure something?"
More Games to Play with this Measuring Activity:
Match it up! Point to a mark on the ribbon and have your child match the mark to the object that matches the size.
Line it up! Place the objects in order from smallest to biggest.
Measure up! Take your ribbon again and measure your child from top to bottom. Is she taller or shorter than the objects you measured?
Share your ideas in the comments below!
What are your favorite ways to encourage math and measurement skills?
What's your favorite measuring activity or game remix?