Math & 123sToddlersKindergartnersMeasurement
Water ActivitiesLeave a Comment
I challenged my newsletter subscribers to doing a water activity last week.
Yesterday, I shared the blowing water bubbles that was a huge hit, and so simple to set up (um, just a cup of water and a straw)… today is another basic water activity that we did.
I set out two large bowls of water (not very full at all) with measuring cups, teaspoons (and the like) as well as a baby bottle.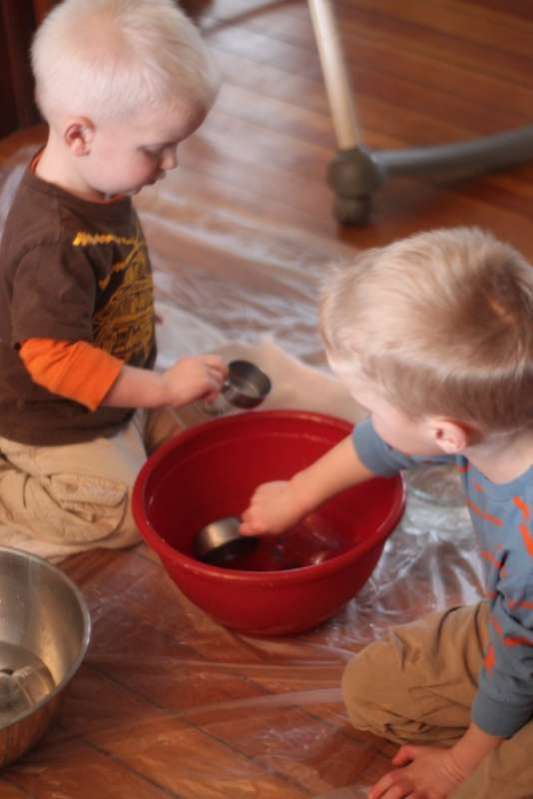 It was a simple water transfer activity for the boys to be occupied with.
The added element of adding the baby bottle gave the activity some measuring fun!
It wasn't very accurate (not at all…) but Henry began to understand the concept of 'How many cups does it take to fill to 4 oz?" (told you, not very accurate).
We did this indoors, so I set out a shower curtain on the floor. But that barely contained the mess, so if you can take it outside, I'd recommend doing that! The boys poured a lot of water back and forth, with a lot of spills on the way… it stayed mostly on the shower curtain, but some strayed a little… and I needed a towel to soak up what was on the curtain too. As part of a rule I have, the boys helped with soaking up their mess… though they weren't entirely pleased with me about it this time…
Make summer fun & easier on yourself:
There are several water activities included in the Camp Mom: Summer Activities Pack that will be officially released tomorrow, May 15th! Until then, you can pre-order it now and get a 15% discount with 'earlybird'.