Fine MotorToddlersClothespins6 Comments
Clothespins! They are perfect for those little toddler fingers! This is a super simple clothespin activity for toddlers to explore and strengthen their fine motor skills.
I was thinking about pinching the spring-type clothespins and how great that would be for hand strengthening.
But, I found that I had a bunch of these old-fashioned peg clothespins too (we had both types out).
This Clothespin Activity is Ridiculously Simple
All you need for this simple clothespin activity is a bucket of some fashion with a small lip at the top and some clothespins — or pegs. (Both affiliate links so you can see what type of clothespins I'm talking about.)
That's all it takes for some toddler exploration, and some great fine motor practice (even for preschoolers!).
Fine Motor Strength Comes in Time!
When it comes to this pegs activity for toddlers to do, remember that fine motor strength builds over time and really at this age we should be focusing in on their gross motor skills. Those aide in the growth of their fine motor muscles.
When we did this, I started by showing George (who was 22 months old at the time) the regular, spring-type clothespins, but he struggled with opening and closing them far enough to pinch anything.
Henry had a lot more luck with them since he was 4 years old. It definitely takes time to build strength in their fingers.
But that doesn't mean that toddlers aren't gaining fine motor skills!
Use Peg Clothespins for Younger Toddlers
George loved using the old-fashioned peg kind of clothespins though. It seems so simple to think about how easy this is.
Simply sliding the clothespin on the side of the bucket.
Awesome Hand-Eye Coordination with this Clothespins Pegs Activity for Toddlers
But it takes a lot of concentration for a toddler to do it.
It definitely takes a lot of hand-eye coordination to accomplish it!
It also gave George a huge amount of satisfaction with every clothespin he pinned onto the bucket! His look to me for approval was priceless each time.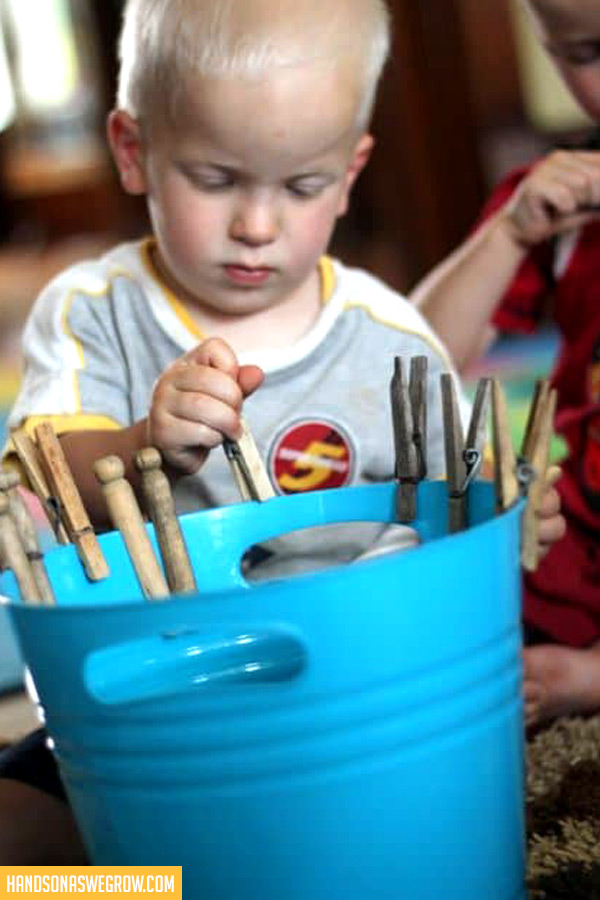 Isn't this such a simple clothespin activity?
I love this type of play for toddlers especially. Exploring an object and how it works. I often overlook the simplicity of it. But always love these activities the most when we do them.
For more ideas on objects toddler can explore, check out that section in the 50 activities just for your toddler.