Fine Motor
Sensory
ThinkingGrade SchoolKindergartnersBlocks3 Comments
Looking for a fun way to mix it up with LEGO? You'll love this building blindfold activity. Get those creative juices flowing with this sensory building challenge for kids!
You'll also love this easy 2D LEGO artwork for kids!
My son loves everything LEGO and building. He'll disappear for hours in his room, building rocketships, cities, and robots. The possibilities are endless when building with blocks!
Needless to say, he jumped at the chance to try out a new LEGO building activity that challenged him. If you have a LEGO fan in your house, they'll be sure to love this building activity as well!
It's a great way to build fine motor skills while also enhancing your child's senses.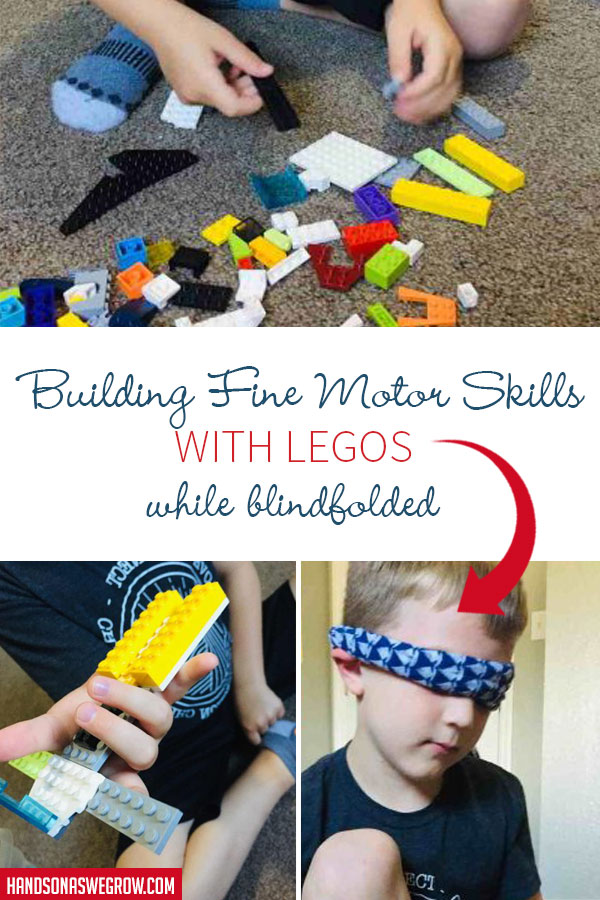 Plus, your child will love the chance to be creative and show off his building skills with this challenge twist!
It's really a blindfold activity!
For this building blindfold activity you'll need:
LEGO or Duplo bricks (you can also do this with other blocks too!)
timer (your timer on your phone will work)
blindfold (a long sock or towel will work just fine!)
(optional) word cards or a picture book
Building Challenge: The Blindfold Build!
First, gather your materials. Set out a fair amount of blocks in front of your child.
Spread them out on the table or floor so they can easily find them once you put the blindfold on.
Get a timer ready on your phone or grab your kitchen timer!
Explain the challenge to your child how this blindfold activity will work.
"You'll have one minute to build whatever object I call out! No peeking, and use your creativity."
Check out this activity with block patterning with LEGO for preschoolers!
For a different spin, use vocabulary word cards or picture books to show your child a picture of an object. Give them 15 seconds to study the picture, then start the building challenge.
Start the Blindfold Building Challenge
Ready to start the challenge?
Call out an object or show a picture to your child.
Put on their blindfold, and set the timer for one minute!
For younger kids, you can add more time or choose really simple builds.
You can also put the bricks they need right in front of them so they don't have to search as long.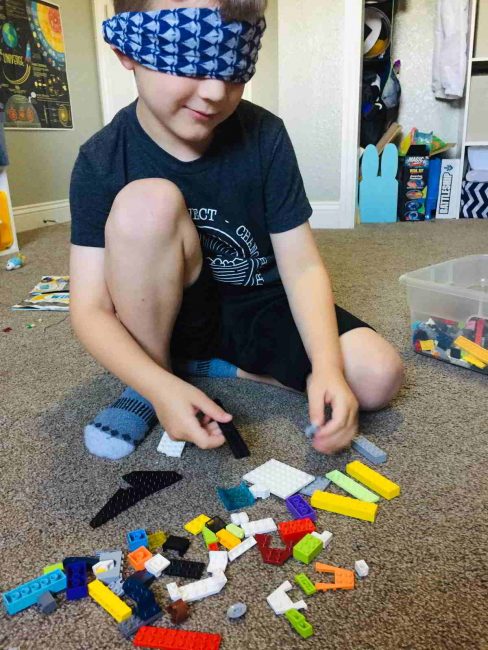 What can your child build blindfolded?
How about an airplane?
Or a motorboat?
This activity is great because it encourages kids to hone in on their sense of touch.
When they can't use their sense of sight, the other senses will be developed more!
They'll also begin to use their knowledge in new ways.
For example, your child might think, "I feel this piece is long, this could work for the airplane wing. This brick is short and thick. I'll add it for support underneath."
Building with blocks and Lego encourages fine motor skills. Those tiny bricks are perfect for building strong fine motor muscles!
You'll also love this huge list of fine motor materials and activities!
Your child will also have a wonderful opportunity to be creative.
If you had a line of kids complete the same blindfold building activity, I guarantee you that no two builds would be the same!
This challenge is a great way to allow creative expression and originality.
What do you think about this blindfold activity?
What's your child's favorite way to build with blocks?
Let us know in the comments below!