Math & 123s
Move & LearnPreschoolersGrade SchoolKindergartnersCounting15 Comments
Dandelion season has begun! Our yard is filling up fast with those yellow spots.
My kids absolutely love them. They think they're special.
Me… well, I'd rather they weren't spotting my front yard… but hey, I don't have a green thumb to make them all go away. So instead, we found a fun race to get the kids to pick them all.
And when I say we, I mean my husband. He gets credit for coming up with this dandelion counting race.
The boys were playing with sidewalk chalk earlier and drew some lines all the way down the sidewalk. I went back and made it a grid, a column for each of the boys.
There were a couple rules to the race:
Race to fill up your column with dandelions
Each grid spot in your column had to be filled with X number of dandelions.
X was determined by each child's age. George had to fill each of his with 4, Henry 7, Louis 2.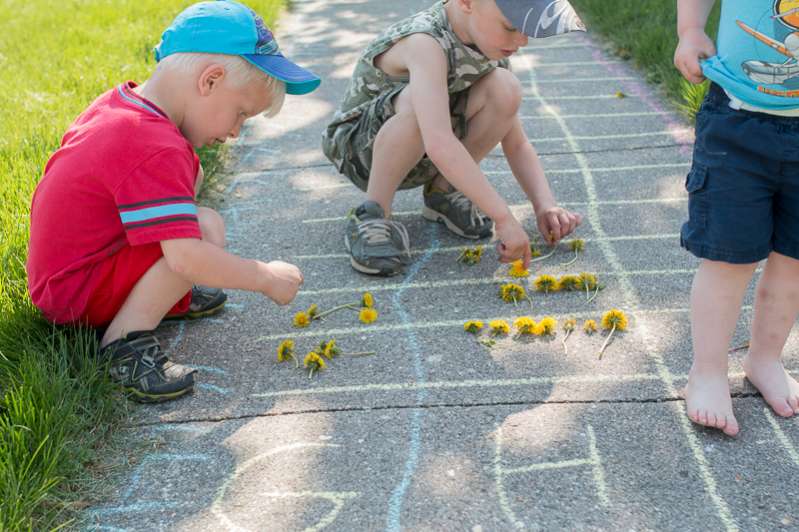 Instead of using your child's age, you could pick a number that your child is working up to counting to (i.e. if they count to 10 easily, try pushing it to 12 dandelions for each grid space).
Or, you could put 1 dandelion in the first grid space, 2 in the second, 3… and so on.
The boys raced around the yard to pick as many dandelions as their hands could carry and rushed back to the sidewalk to fill their column.
Carefully counting each dandelion for each grid space each and every time.
George lost interest after a little bit.
I was kind of surprised, because he's the one that really loves dandelions.
My husband got him back into it though by picking the dandelions with him.
He was on a mission then and ended up beating Henry in the race! But shhh… I'm not that one confirming that.
Henry wasn't too happy about that… so he added more spaces to only George's column…. he thought he was being smart.
George wasn't too happy about that!
Louis was going to join us in the race at the beginning, but he got sidetracked with the sidewalk chalk. I think he was excited to have it to himself. He happily played while the other two ran around crazy!
Why this race is awesome:
The boys are running around outside
They're counting, over and over again
The dandelions get picked.
If you do have a green thumb and don't have dandelions in your lawn, you could also do this with rocks, leaves, or any little items that you have a lot of in the house (buttons, beads, etc).
Have you seen the fine motor activity we've done with dandelions?