Gross MotorGrade SchoolKindergartnersPreschoolersUpcycle8 Comments
This is a super simple way to make a Cornhole game for kids! Jessica of The Leadership Notebook will show you how to make your own!
Need a great indoor-outdoor activity that bridges creativity with active play? I've got you covered!
I'm a big fan of repurposing items. My son and I recently found a great way to reuse cardboard boxes; so great, in fact, I think other parents should know about it!
Wait? What is Cornhole?!
Cornhole is a popular outdoor game that is most commonly associated with backyard BBQs and sports tailgating events. I won't go into all the technicalities now; you can read this super thorough explanation though it will tell you everything you need to know about the game.
Basically, cornhole is a bean bag toss game. You set up two elevated platforms (usually constructed out of wood). Each platform (called a board) has a hole you try to aim for. A bag that passes through the hole earns three points; a bag that lands on the board earns one point. Opponents take turns tossing four bags each. The first player to reach 21 points wins.
A word of warning for any die-hard cornhole fans out there: our cornhole game equipment is far from official. We didn't follow hardly any of the traditional rules. Sorry to disappoint you. We had to go with the flow. That's part of being a mom!
Don't want to make one? Click here to purchase your own Cornhole Game Set (affiliate link)
Creating Our Own Cornhole Game Set for the Kids
Cornhole is really popular where we live. It seems people are pulling out their boards everywhere we go. Our family has never purchased a set, but we've certainly enjoyed playing when other people have the equipment out. While watching the bags fly one day, I realized it would be easy to make our own cornhole game set out of cardboard boxes.
First, we gathered our supplies.
One or two cardboard boxes
A circular template (paper plate, bowl)
Something to trace the circle (marker, pencil, pen)
A box cutter (or knife)
Tape
Bean bags, affiliate link (or tossing alternatives like socks)
Art supplies (paint, glitter, markers, crayons, stickers, etc.)
Choosing a Box
Technically, a cornhole game set has two boards. The players alternate, tossing at each board in turn. I didn't want to try finding two identically shaped boxes. I also didn't want to worry about storing two boxes until we were ready to play again. So, we cheated and only made one.
The size of box you use will depend on the age of the players. Younger kids will like a larger target (meaning a bigger box and hole). Older kids could handle a smaller box with a smaller hole, making the game more challenging. However, a large box has a few drawbacks. Younger kids aren't able to pick up a large box and move it around. Plus, if it is too deep, they can't get their bags out after each inning.
Before cutting out the hole, tape all the flaps down securely. It would be ideal to make the hole on a side that doesn't have flaps, otherwise, you?ll have to cut through double the cardboard. However, this might be unavoidable if you choose a shallow box.
Making Bean Bags
I'm a fan of using what's on hand. We didn't have any bean bags and I didn't really want to buy any. One option I thought of was to put dried beans, rice or corn in socks to make our own bean bags. I figured I could just tie a knot at the top for an easy no-sew solution.
Once I got the socks out, I realized they were perfect for tossing as is, no filler necessary. We simply gathered up all the lone socks in the house and rolled them up into balls.
Customizing Our Cornhole Boards
Once we got the box taped up, we had to cut the hole. Choose a circular template that is the perfect size for your young one.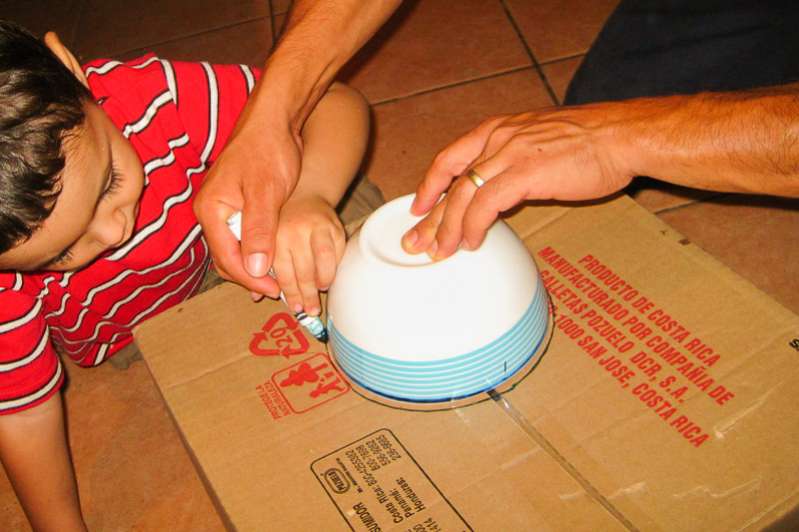 Traditional cornhole platforms are usually customized. Anderson is big into stickers right now. Rather than use all his favorites to cover the box, we decided to make 'stickers' by cutting out shapes of paper and gluing them on.
This ended up being a good learning opportunity as we talked about the shapes and colors. Another option would be to simply let their creativity fly. Give your kids all sorts of art supplies and see what they come up with.
Once the glue dried, we were ready to play!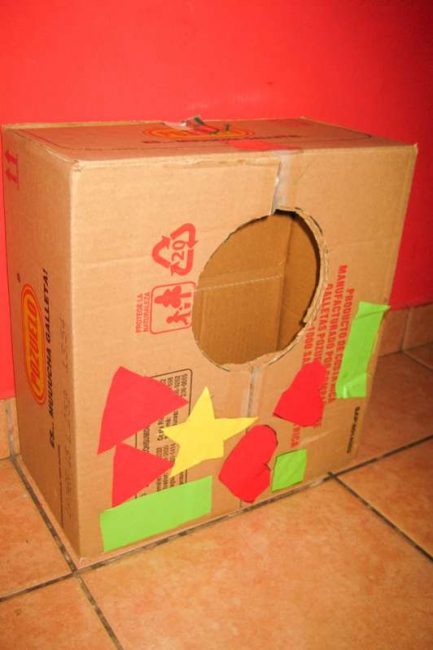 Putting Our Plan into Action
We took our cornhole board outside and got ready to play.
First, I used a rock to prop up one end of the box. Having it at an angle made it an easier target. If you play inside, just put a small toy under one end to make it higher than the other.
Next, we put a few rocks inside the box to weigh it down a bit. I doubt our sock cornhole bags were heavy enough to make it slide around much, but we wanted to avoid any game interruptions! If you use real bean bags and play on a slippery surface, you might need something to hold the box in place.
I also put a bat on the ground marking the 'foul' line. I intended Anderson to stand behind the line because I knew he would creep forward without it. But he creeped forward anyway!
Kids are naturally inclined to throw overhand. In fact, teaching kids to toss underhand is core curriculum concept for physical education classes in schools. Now would be a perfect time to start working on that skill with your child.
Find more gross motor activities here.
Because we chose to just toss balled-up socks, we had to stop every once in a while to roll them back up. Or maybe it was just Anderson?s exuberance!
Cornhole participants can be any age, toddlers to grandparents. Anderson let me play with him for a while and we both had fun!
Why I Love This Activity
As a former early childhood education teacher, I'm drawn to this activity for many reasons:
This activity opens the door for a conversation about recycling, the environment, and being eco-friendly. Not only did we avoid buying something that would someday end up in the landfill, we saved other things from the same fate by recycling both our lone socks and the cardboard box.
I love open-ended art projects. While Anderson was far more excited about getting out to play than customizing his cornhole board, this project has the potential to involve several different creative mediums. It's great to give your kids the necessary tools and watching what they come up with.
The game helps improve large-motor skills like hand-eye coordination.
Keeping score helps kids practice simple math.
Playing with other kids would teach teamwork, sportsmanship and healthy competition.
Can you think of any other benefits of a DIY cornhole game for kids?
Do you think this is something your kids would enjoy?
Jessica is a mom blogger who enjoys writing about subjects that are currently affecting her family. You can find her at The Leadership Notebook and on Twitter.