Art ProjectsGrade SchoolKindergartnersPreschoolersFinger Paint
Painting3 Comments
Get the kids painting in seconds with Rachel's connect the dot painting activity!
With three girls, I'm always looking for an art activity that is super easy to set up and flexible to fit multiple aged kids.
This was one of our favorite art activities that we have done recently, and we've done a lot! (Have you seen these 50 painting ideas, too?)
The set up for this project couldn't be easier!  I dropped blobs of paint randomly on each piece of paper and gave each kid a few cotton swabs.
I gave them some general ideas about what to do, such as connect the dots, mix the colors or use the blobs as a palette.
This is all about the process so I made sure to emphasize that they could do whatever they wanted with the paint.  Then they dove in!
It was so interesting to see how differently they each approached it.
Hannah (3) squiggled and swirled and mixed up her colors.
Emma (5) was more focused. She made each dot into a different shape depending on its color and even used some of them to write her name.
Izzie (7) carefully and purposefully connected all the dots.
She then examined the resulting shape from different angles until she decided what it was. Then she finished her picture from there.
While my oldest worked on hers, the two younger ones finished their pictures and asked to do another one. (One of my favorite questions!)
I set up their papers again with the random blobs of paint. This time, though, they wanted to finger paint!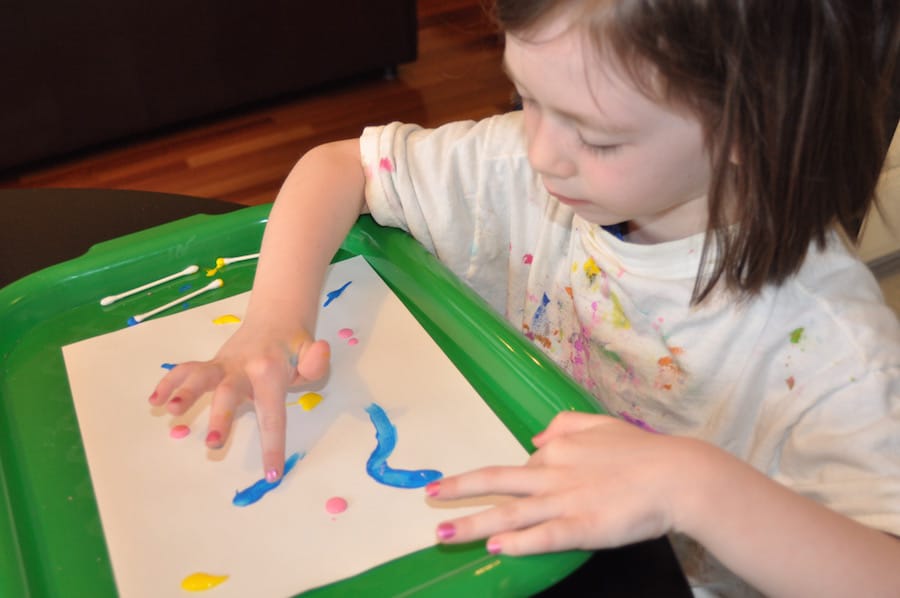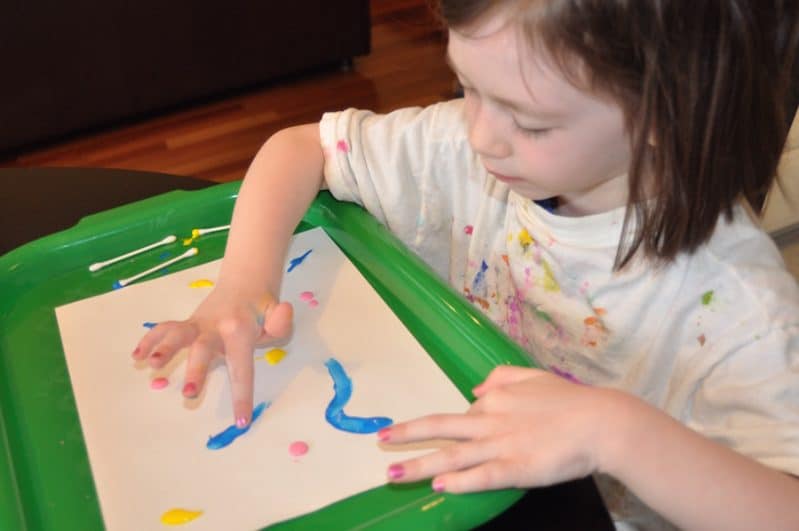 They had a blast exploring the texture of the paint and experimenting with all the different ways to use their hands in the paint.
After using her hands for a while, Hannah got a cotton swab and started swirling that through her painting.
I loved how much experimenting this activity led to!
In a super cool twist that really could be its own activity, Izzie came up with another experiment.
She asked to do the activity again, but she wanted her paint dropped on a paper towel.  She connected the dots again.  Then she took a piece of paper and pressed it on top of the completed paper towel.
Her face, when she peeled them apart and saw that it worked, was priceless!
I hope your kids enjoy this one and it gets their creativity flowing as much as mine did!
Do your kids like to do activities over and over, too?