Gross Motor
SummerAll AgesBeat the Heat
Obstacle Course
Outdoor
Water Activities3 Comments
Water play is year-round fun, but nothing beats playing in it outdoors when it is hot. So on a particularly scorching summer day, I set up this simple and fun water obstacle course in the backyard for my kids!
We also invited some friends over, and their mom mentioned that she had been searching for backyard water obstacle course ideas but everything seemed to require power tools and a trip to the hardware store.
But I have found that kids don't care about how much time you spend making something or how fancy it is: they just want to have fun.
This water obstacle course was simple to set up, required no special tools or supplies, and kept my kids (and their friends!) happy and cool!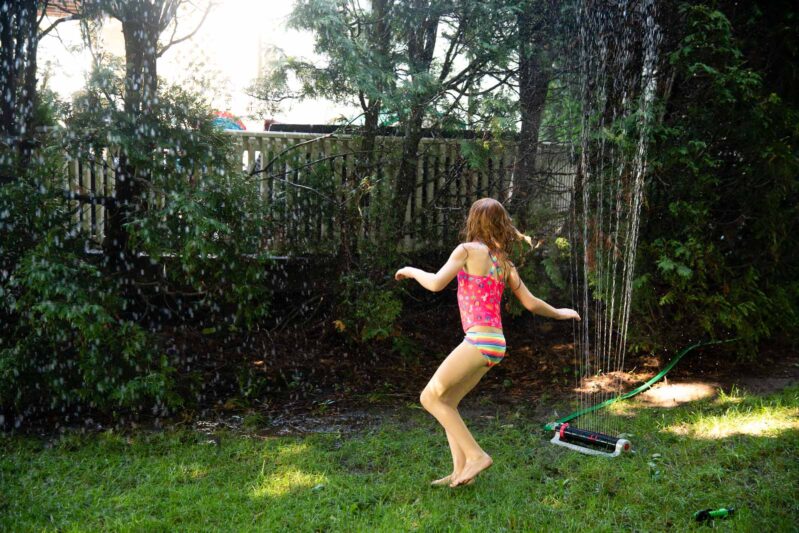 Not quite hot enough for outdoor water play? Check out these other amazing obstacle course ideas!
Simple & Fun Backyard Water Obstacle Course
To make your own simple outdoor water obstacle course, you will need:
stuff that holds water: buckets, cups, plastic storage boxes, etc.
plenty of outdoor space that can get wet
water (I get paid extra to include helpful tidbits like that.)
optional: plastic slide, hose, sprinkler, kiddie pool, slip-n-slide, strainers, ice cubes, and any other fun water-friendly toys and objects you may have around!
There are many things that you could have your kids do in a water obstacle course.
Below are just some of the things we tried!
As always, make sure all water play is supervised and that you dump out any water-filled vessels when you are done.
How we Built a Backyard Water Obstacle Course without Tools
First, the kids had to run through the sprinkler.
You could change this up by instead having them hop, crawl, or walk super slowly, for example.
If you don't have a sprinkler try this quick and simple DIY sprinkler idea from Housing A Forest
Next, they had to jump in a large bucket of water and make the biggest splash that they could.
They had to splash water out of the bucket in order to move on!
This of course was a blast and funny to watch.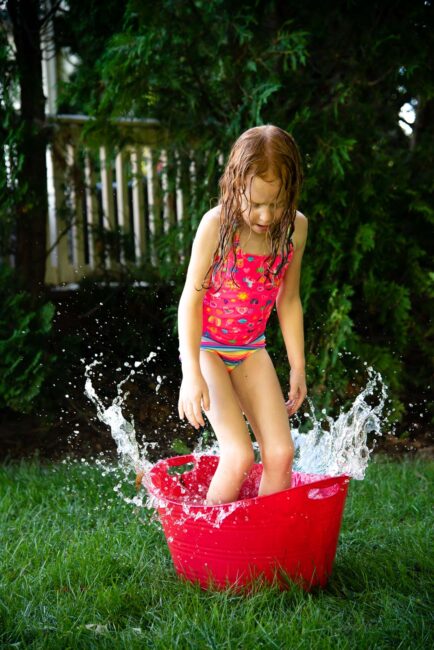 After that, they had to use plastic cups to fill our toy plastic wheelbarrow with water and wheel it over to the slide.
You could easily replace the wheelbarrow with a mop bucket or cup of water.
Whatever they use to carry water from one location to another doesn't matter as long as they get wet and burn physical energy!
Then, they had to then pour the water down the slide and slide down it.
I wanted to have something at the bottom to slide into but we didn't have anything quite large enough.
A kiddie pool would be perfect!
or you could lay a tarp there to DIY a slip n slide and extend the water slide effect.
At different points, they had to fill up a cup and dump it on their head.
You could also have them try to run or walk balancing a cup of water on their head!
This outdoor obstacle course uses only chalk for some gross motor fun!
I also filled a big plastic box with plastic food and balls.
They had to get inside and fish out all of the toys.
This added a little fine motor activity into the course.
For an added challenge you could also add ice cubes into the pool.
Really, you can make this backyard water obstacle course as simple or as complex as you would like.
As long as your kids are moving, staying cool, and having fun, you have a winner of an amazing activity on your hands!
How do you and your kids like to stay cool in the heat of summer?