Activities
Gross Motor
ParentingAll AgesFamily
Mom Tips2 Comments
Learn easy tips for practicing self-care with 5 easy ways to burn off energy as a family from Alison Marie of the Living Room Workout Club!
The number one obstacle that comes up with all the moms I work with is finding the time to fit in workouts.
Between taking care of the kids and their needs, managing the household, and whatever else that comes up each day it's hard to find time to get in any time for ourselves.
The fact that you are here following Hand on as We Grow, means you know your kids need to move too!
So why not get moving together?
It's not just about getting in a workout and burning off their seemingly limitless energy. It's about modeling behaviors, actively showing your children your health is important to you and creating an environment that supports that together.
To get you started, I've put together fun ways to burn off extra energy as a family
5 Fun Ways to Burn Off Extra Energy as a Family
Go for a ride or walk
The simplest way to get moving as a family is to go for walk or bike ride together. As springtime rolls in, the weather will be more inviting.
Consider creating a routine of getting out and moving at a similar time each day. It will give you all something to look forward to.
If you have a beginning rider I highly suggest investing in one of these bike trailers.
My son has his own bike but this allows for longer rides (and peace of mind for me that he's not veering off into the road).
Card game
This game is full of fun and all you need a deck of cards.
As a homeschooling mom, I love that it helps practice counting and pattern recognition too (win, win).
Practice pattern recognition with a fun Lego activity!
With my 4-year-old, I remove the face cards to keep it simple, but you can keep them in for older ones or an add them in once they've mastered the basics.
Prep work:
Assign an exercise to each suit and write down a key on a piece of paper or whiteboard.
You can choose whatever you want! The picture is just one example.
To Play:
Stand in a circle with the well-shuffled deck of cards in the middle, face down, in a pile.
Players take turns jogging to the center to pick a card and back to join the circle.
That player calls out the exercise for everyone to perform based on the key. The number on the card tells how many to do. For example: a 4 of hearts would be 4 squats.
All players perform the exercise with the set number of reps.
Continue going around the circle taking turns picking the cards until all the cards run out (or everyone is too tired to continue).
Dance Party
Dance parties are a super fun way to add some extra movement to your day and be super silly with your little ones.
No preparation necessary for this one and it works great for a rainy day!
Just crank up your favorite music and dance like crazy. The sillier that better. Move your whole body, laugh and have fun.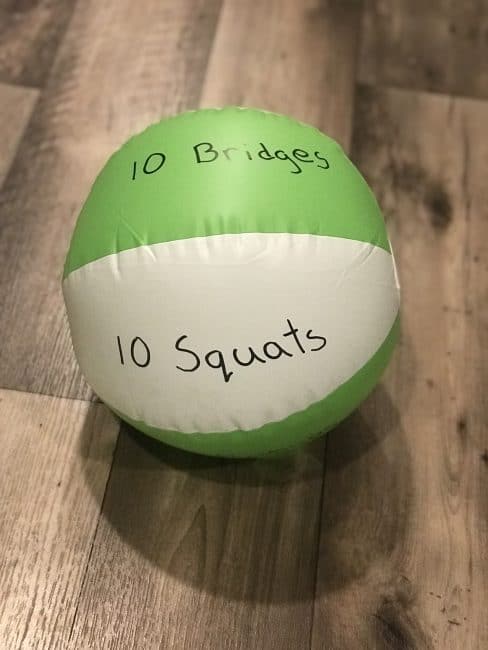 Thumb ball
This was one of my go-to review games with my students when I taught middle school.
For each learning unit, I had a soccer ball with different questions in each shape (a standard soccer ball has 12 pentagons, 20 hexagons).
Now that I'm a busy mom, coming up with 32 questions and painstakingly writing them all on a soccer ball seems insane to me but the beach ball is a simpler option with only 6 panels to fill.
Prep work:
On the ball write a different exercise with a certain number of reps or length of time. Here are a few examples:
10 squats
15 pushups
10 lunges (5 each side)
30-second plank
10 bridges
10 jumping jacks
The possibilities are endless!  I'm just keeping it simple here.
How to play:
Get some good tunes going.
Set a timer for however long you want to workout: 10, 20, 30 min…
Stand in a circle or across from each other if it's just two players.
Toss the ball to one person in the circle.
As a family, do the exercise closest to that person's right thumb
Then they toss to another person.
Continue tossing the ball and exercising until the timer runs out.
This "thumb ball" can be used for anything from exercise routines to learning new things!Try these ideas:
Number and letter recognition: fill the ball with letters/numbers and calling out the correct letter/number when caught
Math problems at their level: solve the problem closest to their right thumb; catch with two hands and use the numbers closest to each thumb
Communication with questions: What kinds of things make you feel happy? How does somebody who is sad act?
Icebreaker questions: Tell me something about your best friend. What's your favorite color? What's your favorite food?
Animal party
Kids love to use their imaginations! Pretend to be animals to burn off extra energy!
Crawl like a bear, clap like a seal, walk like a gorilla (my son's personal favorite), crawl like a crab, hop like a frog and stretch like an inchworm. Make the animal sounds and have some fun!
An image or description just won't do this one justice so click here to watch the video.
Whatever you chose, remember to have fun! Staying physically active should be a positive experience for all!
How do you move with your family?
Alison Marie is the founder of Living Room Workout Club. Her simplified and results-driven method helps busy moms stop the endless scrolling through Pinterest for the next best recipe or the next fad workout, rein it in, get back to basics, and simplify their health into less than 30 minutes a day.
Visit her at LivingRoomWorkoutClub.com.