Fine Motor
Math & 123s
SensoryPreschoolersToddlersButtons
Clothespins
Colors
Contact Paper
Counting
Recycle
Straws
Threading3 Comments
Here are 7 simple and fun feather activities for toddlers and preschoolers to enjoy while learning at home.
Our feather friends, the birds, are so intriguing and fascinating for all to observe. They bring so much joy and serenity to our lives.
My children love birds!
In fact, they are always collecting feathers from here and there to bring home.
Their biggest fascination with birds is the fact that their feathers are so soft.
So, I thought, why not embrace that excitement and create some fun feather activities.
Feathers, Feathers and More Feathers Activities!
Feathers here, feathers there, feathers everywhere!
All of the following activities, have feathers as the main supplies with an addition of one, maybe two, other supplies.
That's it!
7 super simple easy prep feather activities!
Feathers and Buttons Fine Motor Color Activity
My initial thought, when coming up this activity, was to have my child match the colors of buttons to the feathers.
Simple and easy!
However, when I first gave them to my child, she instantly started to sort them by colors but in a completely different way than I imagined.
I gave her one feather of each color and lots of buttons. So I expected her to place multiple buttons on each feather.
Instead she grabbed one button and placed the same color feathers in each of the button holes.
Definitely not how I envisioned this feather activity. But, hey, why not!
That's a great idea!
Since my daughter loved this activity so much, I then asked her if she could place all the buttons of one color onto a single corresponding feather.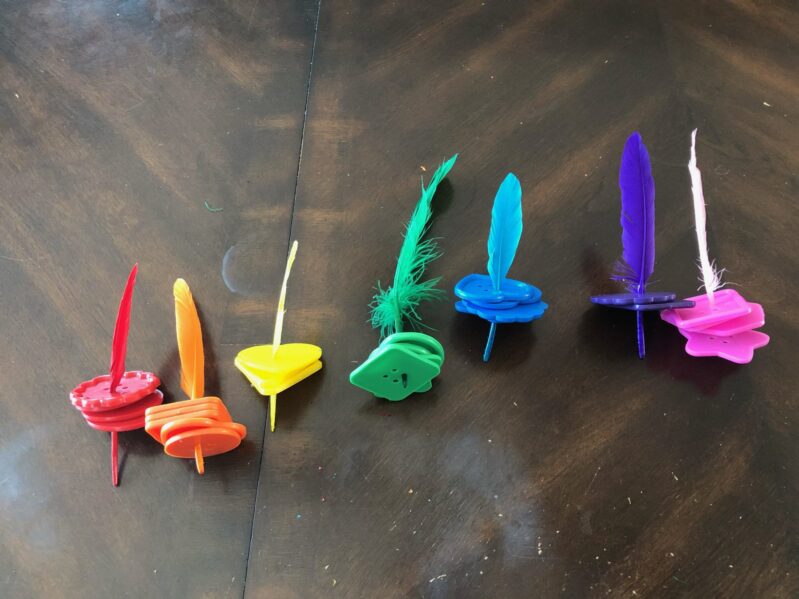 She was definitely up to the challenge and completed this feather activity the way I had envisioned it also.
Feathers and Straws Color Match Threading Activity
For this activity, all you need is colored straws and feathers.
Depending on the size of your feathers, you may need to cut the straws.
I cut ours in half and it was perfect.
Have your child thread each colored feather into each matching colored straw.
If you do not have colored straws then you can do this feather activity as a simple threading activity instead of a color matching activity.
Or if you have white paper straws you can always color one end with the matching colors to each feather.
Feathers and a Paper Towel Roll Poke Activity
For this activity, your child will push feathers into a paper towel roll.
You may choose to do this activity as is or you can make it a color matching activity, as well.
Use a skewer stick to make holes in the paper towel roll.
If you don't have a skewer stick a sharp pencil or pen work as well.
If you choose to do this as a matching activity, then color some dots onto the paper towel roll and poke your holes in the center of each dot.
Now have your kids poke the feathers into the holes to match with the colors of the dots.
Feathers and Clothespins Fine Motor Activity
For this activity, I gave my daughter feathers and clothespins and let her explore.
I did not specify how many or to match any colors.
Just play and have fun!
They may want to see how many they cant fit on one feather.
Or maybe they will use the clothespins to attach the feathers together.
Your child may decide to make something out of them or simply enjoy clipping them on and off.
Feathers and Packing Peanuts Craft
This activity, is another open ended, explore and play task with feathers.
So much fun!
What can you build with feathers and packing peanuts?
Let them lead the way with this feather activity and create whatever they can imagine.
This is great for developing imagination as well as fine motor strength.
If your child struggles in this area try giving prompts or challenging them to create something specific. A tower, robot, boat, bridge, monster, etc.
Maybe you will need to add markers to this feather activity like I did.
"Hey, Mom! I need to draw some eyes because I made a bird"
Feathers and Contact Paper Patterns and Play
I created a sticky wall by using painters tape to affix contact paper to the wall.
Contact paper is such an amazing activity supply. There are lots of activities you can do with it. Try these simple contact paper flowers. They are lots of fun to make.
Once I made my sticky wall, I gave my child a stack of feathers and let her play.
To my surprise, she was intrigued by making patterns and numbers.
What else can you build with feathers on a sticky wall?
You can also make this more directed and create the beginning of a pattern and ask your child to repeat or copy it.
Patterns are excellent early math concepts for preschoolers.
For a toddler they will just love sticking feathers to the wall!
Feathers and Egg Cartons Counting Activity
For this counting activity I used a styrofoam egg carton and feathers.
I used different colors of markers to write numbers on the bumps of the egg carton.
I left a few blank to allow space to put the the feathers in.
Then I asked my child to place the matching numbers of feathers into each bump.
In addition, I asked her to match the colors, too.
Who knew feathers could be so much fun!
Go ahead and give one or more of these a try! Your child is sure to love them!