Crafts
Fine Motor
Gross MotorToddlersGrade SchoolKindergartnersPreschoolersBusy Play
Indoor Activities
Pom Poms3 Comments
Here is a super simple DIY pom pom catapult activity for young kids that doesn't require any glue or wait time! You can pop this homemade catapult together and start to play in minutes!
My son loves anything that launches, flies, shoots and goes! The higher or farther the better.
One day he and I were blowing pom poms into a target and I thought to myself, "I wonder if we could make a launcher for these…"
I recalled seeing once that someone online did that with popsicle sticks.
So I grabbed some crafts sticks in different sizes and some elastic bands. I didn't want to use any glue in the process as I wanted to play with them right away.
I fooled around with the supplies a few times till I came up with the following results!
How to Make Your Own DIY Pom Pom Catapult Activity 
This DIY craft stick catapult is so easy and simple to make. Kids can make it with you. And you don't have to wait to play.
It's quick and immediately launch ready!
For Each Homemade Catapult You Will Need:
2 large craft sticks
4 rubber bands
8 small craft sticks
A bottle cap
Tape
And pompoms (or other safe launch items)
Following here are the steps I came up with for our DIY homemade catapult.
First take your 8 regular size craft sticks or popsicle sticks and line them up together.
Wrap a rubber band around one end of them to hold them together firmly.
Slide one large craft stick between the stack and the last craft stick perpendicular.
Wrap another rubber band around the other end of the stack to trap that large one in.
Now your diy catapult base is complete.
Set it down with the attached large stick on the bottom.
Take your second large craft stick and place it on the top and attach the tips together with another elastic band.
TIP: This is the tension elastic so you don't want it to be too too tight. Just tight enough to stay on. And not too close to the edge as you don't want it to pop off.
Now you want to attach the second large stick to the center where the smaller sticks are by wrapping another elastic band around the whole thing in a crisscross style.
This elastic is so that the top elastic doesn't move around or fall off.
Now to attach a bottle cap of some kind to the homemade catapult! You can use a hot glue gun but I just wrapped tape around mine.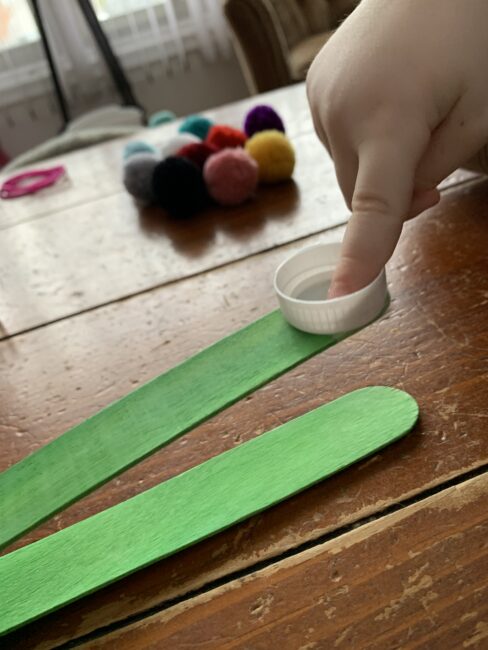 If you don't attach it at the very end of the tip stick it gives kids a little room to pull down easier for launching.
We actually didn't think of this at first, and that made it harder for my younger daughter to work with.
Thankfully it was just tape so it was easy enough to move for her.
That's it! Your homemade catapult launcher is now complete!
Ideas for Playing with Your DIY Catapult for Kids
Now that you have a DIY pom pom catapult what can you do with it. Here are 3 ideas of what we did to help get the balls rolling for you.
Freestyle Pom Pom Launching
At first we just went for a freestyle exploring time. This gave Charlie a chance to get used to his homemade catapult and have zero expectations of how it should go.
I set Charlie up facing our big window and let him loose!
He loved exploring with how high, far and fast he could launch his new DIY catapult.
The plus side to this option was that it was a big confidence booster for him.
Every single time Charlie shot his DIY catapult it was a win because there was no target or goal.
After a while of this he felt confident with his ne homemade launcher!
But then my wheels got turning again.
Launching DIY Catapult at a Wall of Cups
Next up was a wall of plastic cups.
I grabbed a stack of plastic disposable cups we often use for target practice and bowling activities over and over again.
I didn't plan too much but filled the other end of our coffee table with as many as I could.
This was a fun variation for our new DIY homemade catapult!
Sometimes the pom pom went into the cups.
Other times it knocked the cups off the table.
And some went way beyond the cups.
Each outcome made for laughs and changing techniques for the next launch!
This was great for critical thinking skills being developed as Charlie was examining how his actions were effecting the outcome.
DIY Catapult Launching at Hanging Target
When Charlie got board of the cups I started thinking of how I could make a hanging target for his homemade catapult.
I grabbed some spare wreathes, yarn and painters tape (which I make sure to NEVER be without!)
I looked for hula hoops but couldn't find them. So wreaths it was!
I simple attached the two wreaths together with two strings so they wouldn't spin around on us.
Then I added two stings to the top target and taped it above our window. (If you have a curtain rod you could just tie it on that.)
Charlie was immediately interested in this idea!
I made sure to hang them in the area where most of his freestyle DIY catapult launches had gone!
Wanted to give him the best chance at getting the pom poms through the targets.
I set it all up and let him go at it!
Charlie had a blast launching pom poms at these hanging targets with his new DIY toy catapult!
We used our homemade catapults with all kinds of items!
We launched marshmallows, cotton balls, bunch'em velcro balls, small foam blocks and Lego men!
Took them outside and launched a bunch of small pinecones at trees too.
Charlie also helped me make a second DIY catapult so we could compete.
What kinds of things will you launch with your DIY catapult for kids activity?
I'm thinking of mini plastic eggs and marshmallow peep candy for Easter… Or maybe we will turn our pom poms into monsters by adding googly eyes for Halloween.