Upcycling is free. Upcycling is versatile. Upcycling can be done with things you have on hand. Tin can crafts and activities are a great way to upcycle!
Tin cans… I have a lot on hand, at all times!
Here are 26 tin can crafts, activities, holiday ideas, as well as music makers that you can do- with the kids!
Tin can activities for kids:

Tin Can Telephone


Childhood 101

Stilts


The Mud Pie Makers

Tin Can Races


Tip Junkie

Magnetic Robot


The Chocolate Muffin Tree

 Tin Can Towers:
Teach Preschool
Paint with Tin Cans


Toddler Approved

 Rolling Tin Cans Painting:
Playfully Learning
Magnetic Play Set


Teach Preschool

Kids can make music with tin cans:

Tin Can Xylophone


Busy Bee Kids Crafts

Drums with balloons:
hands on : as we grow
Tin Can Drums


Red Ted Art

Wind Chimes & Sharpies


Dilly-Dali Art

Noise Makers


Greening Sam & Avery

Painted Wind Chimes


hands on : as we grow

Tin can crafts for kids:

A Tin Can Robot


Living at the Whitehead Zoo

Upcycled Robot


P

laid Kids Crafts

Tin Can Caterpillar


hands on : as we grow

Tin Can Lantern:
Jolly Goode Gal
Tin Can Planters:
Whip Up
Forest


hands on : as we grow

Tin cans crafts for the holidays:

 Halloween: Luminaries
Not Just Decorating
Halloween: Totem Pole
Child Central Station
 Thanksgiving: Scarecrow


Taloola Kids

Winter: Luminaries
Life at Willow Cottage
Winter: Tin Can Snowman


hands on : as we grow

 4th of July: Windsock


Random Thoughts of a Supermom
I have an ongoing list of tin can ideas found on my Tin Can Pinterest Board. There are ideas for adult crafters too!
What other tin can crafts and activities can we do?
Click the image below for what to do with crayons! They're not just for coloring!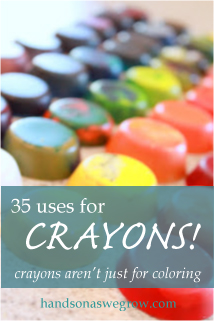 More collections of play ideas!