Art Projects
CraftsPreschoolers2 Comments
This is my preschooler's idea of what to make with craft sticks. Completely child-led and made and I couldn't be more proud.
After playing with colored crafts sticks with Louis, George took on a craft stick project all by himself.
He asked if we could glue the craft sticks together.
Sure! Why not?
I set up the table with some newspaper while George got the glue out.
We just used colored craft sticks and basic school glue (affiliate links)  for this project. These are two things I almost always have in my craft cupboard!
I wasn't sure how it would hold up with just school glue, but its stayed together just fine!
Putting the newspaper on the table was the only part I took in this project.
George began creating with craft sticks.
Maybe he had something in mind. Maybe he knew what he wanted to make.
He took complete control of his project. Which makes me so proud to watch him do.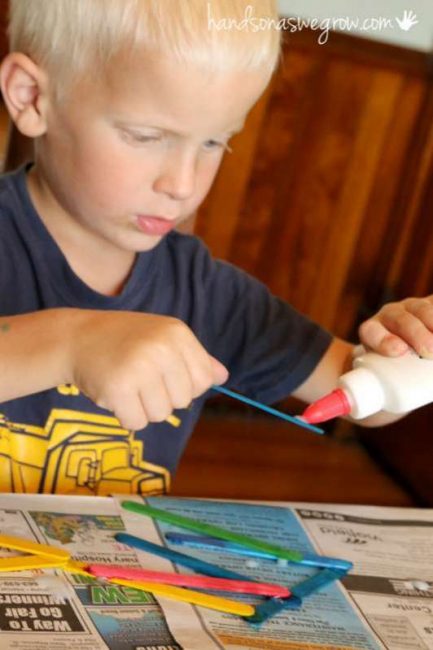 A dab of glue on the end of craft sticks to stick onto another one.
Overlapping them just right.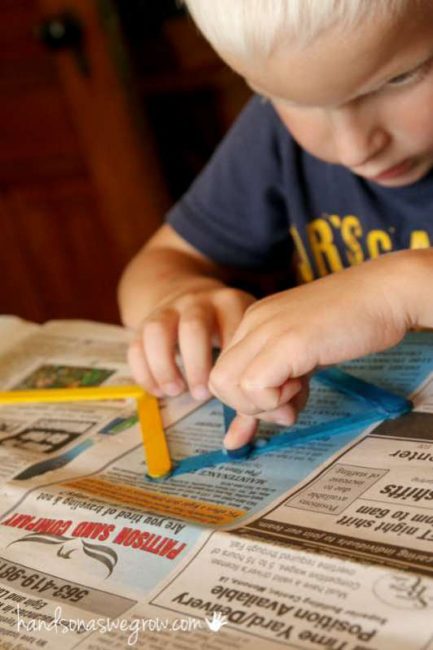 And then we let them dry.
I think he could have kept going, but when we ran out of craft sticks (I had only a few of them out from playing with Louis) he declared his project done.
We left it to dry overnight. I turned it over on the paper a few hours later to try to keep it from sticking too much. It did stick a little and I had to rip off newspaper in places.
I didn't need to touch up any glue. It stayed completely together the way George did it.
The next day, we found a place in his bedroom to hang it up.
He told me he wanted it pointing up .
I think it looks like a rocket ship, blasting off.
George has yet to tell me what he created with the craft sticks. But whatever it is, I'm amazed by this kid.
An idea, or three, of what to make with craft sticks: