Fine MotorToddlersChalk
Chalkboard
Painting
Water Activities
Writing Activities30 Comments
Painting with water was a blast! George has a little thing for water, so I knew he'd get a kick out of this activity.
George and I have a great time while Henry is at school most days. We're starting to work many more toddler appropriate activities into our mornings. I really enjoy watching George getting a kick out of these, too!
I colored in our chalkboard completely with sidewalk chalk (affiliate link).
MORE ACTIVITIES YOU MIGHT LIKE
George helped as only a toddler can help.
Find 50 activities for toddlers to do! They're simple and perfect for your toddler! And find even more ways for toddlers to get creative!
I set out a little dish with just a little water to fill the bottom of it.
Handed George a few paintbrushes and showed him what happened when you got the water on the chalkboard.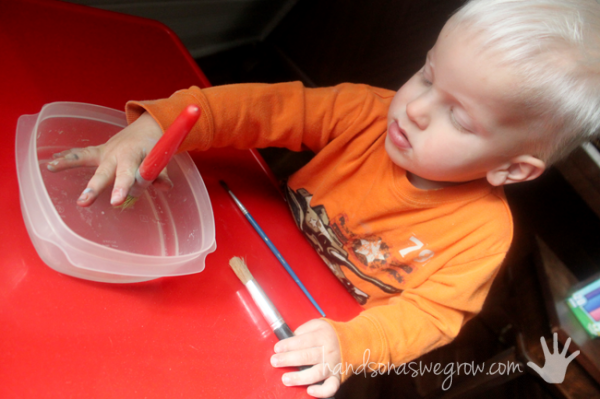 He really got into it and it was fun painting along side of him.
He really acted like he was an artist busy as work. Showing me what he did as he made marks with his wet paintbrush.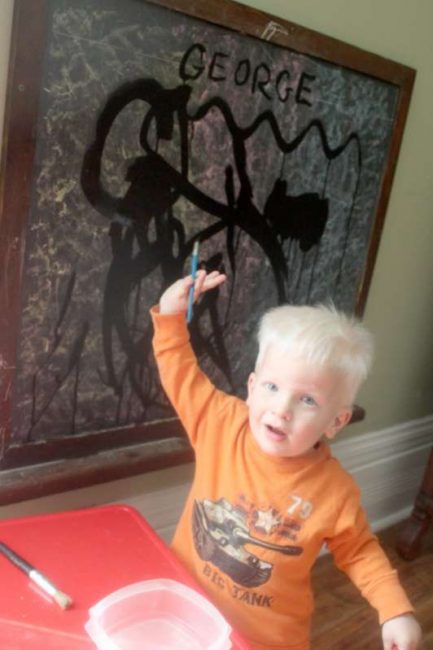 How can an activity be much simpler than that?
And with a happy kid, can't beat that either.
We've done lots of painting with water, check out some of our other activities below: