Fine Motor
The Activity RoomPreschoolersToddlersBusy Play
Member of the Month
Pipe Cleaners
Threading2 Comments
Check out Jessica's beaded pipe cleaner stars activity at the end of this post. It's quick and simple fine motor fun for your kids to try at home!
Getting to Know Your Child Through Simple Activities
"The biggest reason I want to do activities with my son is just to have him learn through playing, because that's the big way I know that children learn."
"I'm learning a lot through doing activities. About him, about his personality and what he likes. And that's a lot of fun."
Make sure to check out Jessica's threading pipe cleaner stars activity at the bottom to start getting to know your kids through activities too.
Jessica, our Member of the Month, was disorganized and completely overwhelmed. With all the options for activities on the internet she struggled to pick which one her son would like. Not to mention trying to plan it and pull it together left her discouraged.
Stay at home mom of 2.5 year old, Kaledon, she discovered The Activity Room and figured she would give it a try.
She Joined The Activity Room
"One thing that I like about The Activity Room is that it has just one idea a day that I can focus on. And that really helps organize my brain and helps me get things ready."
Having just one activity a day to focus on took away all the guesswork. Jessica finally felt she could really handle this and start having fun learning with her son.
You can take the guesswork out today too with her simple beaded pipe cleaner stars threading activity at the end of this post!
Her hope of finding simple activities to do with her son was fulfilled.
"It's helped me by getting organized. My favorite part is actually doing the activities. Especially when he's really into them. I mean, how could you not love that?"
Jessica reflected to us what she imagines life would have looked like if she had never found The Activity Room.
"Without The Activity Room I probably would have tried to plan things way too much. I'm not a very good planner. It stresses me out a lot. I think I'd be a lot more stressed. In a lot of the groups they have schedules where you're planning activities at certain times of day. And I probably would attempt something like that and fail miserably."
Be Flexible and Connected
This is what she considers to be her biggest tip for doing activities with your young kids.
"Just try the activity. And being flexible."
"I mean, a lot of times my child doesn't want to do the activities exactly as the directions are. But there's always something that he likes about it. I'll focus on that one thing. Like with this sweeping thing we did earlier this week, he wanted to sweep the leaves out of the square not into it, but he was still sweeping. I went with it."
More to Love Than the Activities
She also tells us how important she feels it is to be involved in the member community of Facebook.
Jessica loves to share her experiences there and her own ideas like the threading pipe cleaner stars activity she shares below. She gets ideas for changing an activity to better suit her son. And enjoys reading about the other parents' experiences on the daily activities with their kids.
She shares with us how much this community has helped and encouraged her.
Jessica tells us she doesn't always do the activities daily but loves that she can do a bunch in one day and then do more a few days later.
"I've been really enjoying it and we're having a good time. At first we did a whole lot of art and stuff so we have like an art wall. But now we're able to branch out, and that's been fun. We don't do all of the activities because he is only two and a half, so he can't do all of them. He really likes the activities that we've been going to lately."
Let's Meet Jessica
How many kids do you have and how old are they?
1, 2.5 years old
Why do you love doing activities with your kids?
It's fascinating to see what he's interested in and watching him learn. I've done activities I thought he wouldn't like but loved and vice versa. It's always good to try. It reminds me he's learning and is becoming his own person with his own interests and preferences.
How long have you been in The Activity Room?
June 2020
What is your favorite activity you've done in The Activity Room?
Blowing soapy water with a straw
(And of course we love our beaded pipe cleaner stars activity too!)
What's your favorite thing to do with your kids when you get a few moments?
Go on walks around our neighborhood.
What's your best tip for doing activities with your kids?
Just try it, and follow their lead. It's pointless trying to predict what a toddler will do.
If you were to tell a friend about The Activity Room, what would you say to them?
The Activity Room has been a useful tool for me. Whenever I'm blanking on ways to entertain my child I can reference the weeks activities for ideas. I used to have to sort through tons of activity ideas to find the right one that I think he would like and do, but activities in the Activity Room tend to be simple and easy to set up, while encouraging me to try new things in the social media group. Nothing is overwhelming.
Share your favorite quote
"Give a man a fire and he's warm for a day, but set fire to him and he's warm for the rest of his life." Terry Pratchett (I used this in my wedding vows as a humorous metaphor for the burning fire of love, so it has a special place in my heart)
Beaded Pipe Cleaner Stars Fine Motor Activity:
We have been getting a sensory bin of the month.
And included in it the last two months has been pipe cleaner and beaded activities.
My toddler loves them!
I realized I could make beaded pipe cleaner stars into a color and counting activity as well.
For the Beaded Pipe Cleaner Stars Activity You will Need:
Beads with large openings
First I take three colored pipe cleaners (chenille stems), line them up together, fold them in half, and twist at the middle.
Then you you can spread out the pipe cleaner stems so it's like a six pointed star.
I give my toddler a little handful of beads and he threads them onto the pipe cleaner ends and pushes them towards the middle.
We are working on colors, so I ask him to name the colors of the pipe cleaners he's beading and the colors of the beads.
I think older kids could sort colors on the different stems or count the number of beads, and even make patterns. Or they could use buttons and make a tree.
Younger kids could practice beading pipe cleaner stars with Cheerios instead of beads.
The activity could be extended in other ways too!
Pipe cleaners are great for making letters and shapes, and when my child was younger he liked sticking them in the colander.
I was really surprised how much he liked this activity and it's one of your go to ones now! Because he keeps going back to it and it occupies him a long time.
He celebrates when he gets a bead on his pipe cleaner star and is so proud of himself!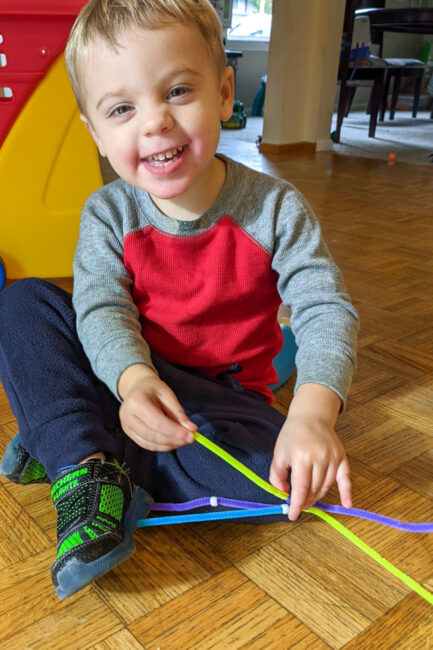 I have a lot of fun on the Facebook page, posting our activities and seeing others. I feel like a lot of mom groups are overwhelming and have a lot of unrealistic content but the Activity Room Facebook group stays focused on activities and encouraging others to try them.