Art Projects
Big Art
Learning
Math & 123sPreschoolersGrade SchoolKindergartnersAddition
Numbers
Painting4 Comments
Erin can't think of anything more fun than combining early math skills with this super fun painting activity for kids! 
A few weeks ago our household was experiencing a never-ending plague of fevers and coughing. Despite this, my six-year-old daughter came downstairs in the morning and asked my husband to give her a math problem to solve.
Isn't that what you do when you are feeling under the weather?
When my kids are interested in learning, I like to capitalize on it!
This giant painting activity for kids is the perfect way to engage them in their math skills. No illness required.
Super-Sized Math + Painting Activity for Kids
To make your own giant painting activity for kids (with bonus math learning), you will need:
large sheet of paper
paint and paintbrushes
pencil
Check out these fun hands-on math activities!
First, I asked my kids what they wanted me to draw for them. Mercifully, they asked for a pretty simple robot and unicorn.
Did I mention that we'd all been sick for a few weeks? Yup, that includes me.
I would have been sorely out of luck if they had requested something like a map of South America or a replica of the endocrine system.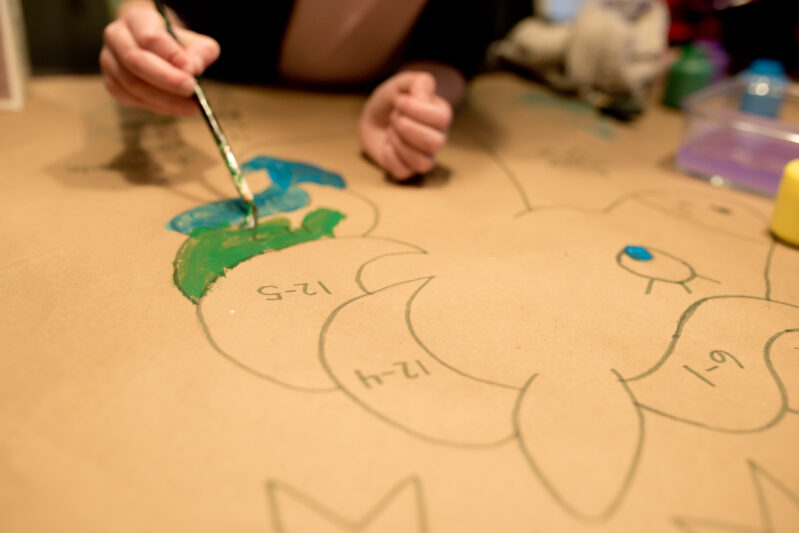 I drew the pictures in pencil, then traced that with a dark marker.
Next, I made a key and filled in each piece of the picture with a math problem. Make sure that the solution to each problem matches up with one of the numbers in the key.
My daughter is in first grade and working on subtraction, so that is the math I chose for her. For my four-year-old, I chose basic addition.
This fun addition game is another way to reinforce early math skills!
Mix-Match Other Skills in Your Own Paint-by- Activity!
I'm really glad that my daughter asked for this fun painting activity for kids. It's totally sparked my imagination for future giant art activities, too.
We can't wait to turn this into even more big art and learning fun!
There are several ways you could modify this giant paint by math activity:
For kids working on number recognition, you could turn this into a classic paint by number by skipping the adding or subtracting and just using single numbers.
Make it a paint by alphabet or shape and insert letters or shapes for kids working on these skills.
A large paper isn't necessary; it just makes for a unique painting project. This painting activity for kids could totally be done on a smaller paper if that's all you have!
These activities make learning math facts fun–without worksheets!
Paint + big paper + math = kids having fun AND learning something.
I think that last sentence gets me at least an A+ in lame jokes, right?
How do you make math fun for your kids? We would love to hear your great ideas!