Art Projects
AutumnBabyLeave a Comment
This high contrast stamped apple art from Julie is such an easy way to engage your baby during daily tummy time!
We recently had fun with a fall apple-inspired baby tummy time activity.
Tummy time is so important for babies. It encourages muscle growth and helps them engage with the brand new world around them. Newborns and infants see high contrast images best since their eyes are still in development, so we made some fun apple-stamps for baby!
It's also a great way to let older siblings get involved in baby's development. Just have big brother or big sis lay beside the baby and talk about what they see!
Tummy Time Art Materials:
white paper or cardstock
black paint
apples
a blanket and a baby :)

Making The Stamped Apple Art
Cut an apple in half. Be sure to leave the stem complete on one half of the cut. Next, paint the apple with black paint. I put the paint on pretty thick to make sure I would get a nice stamp.
If you have a baby at home, try this baby fabric scraps activity, too!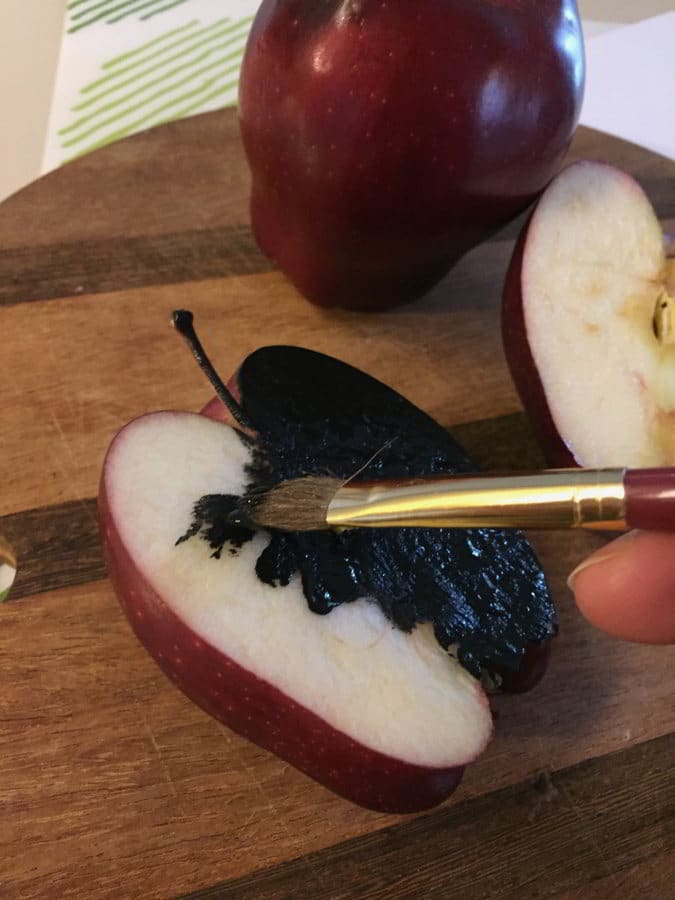 Then press the apple onto the white paper. I repeated the process three times to make a pattern.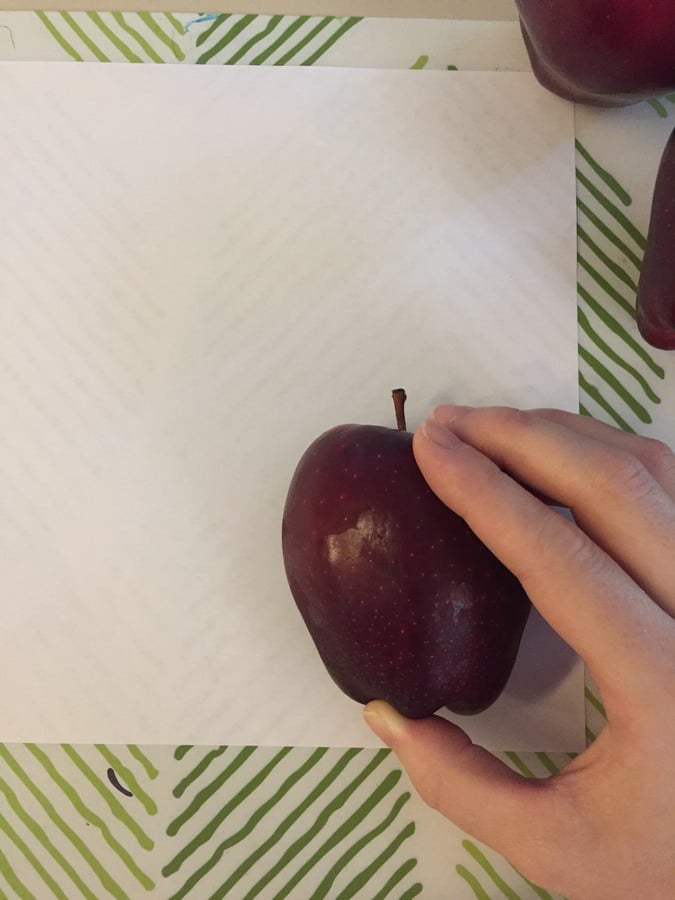 For another variation for baby to explore, you can simply use your black paint to paint simple apple shapes on the white paper.
Big kids might even enjoy painting their own apple shapes! Can they look at your stamped apple art and copy it in their painting?
Looking for more baby activities? Try this ice sensory activity with your baby!
What to do During Tummy Time:
Once your high contrast art is ready, it's time to get the baby involved!
At the beginning, babies will engage mainly with their sight and hearing senses. Don't worry that your baby won't understand what you say. Babies really do soak in all that language and enjoy hearing your voice! As they grow, they'll develop the ability to grasp and touch objects as well.
I love this textured sensory wall for babies on the move!
I used these ideas for this apple-themed tummy time activity.
Place your baby on her back on the blanket. Gently roll her onto her tummy. Help position her arms underneath her chest if necessary. Or use a rolled up blanket under her chest.
Fold the paper in half and set the patterns within eyesight of your baby.
Point to the apples and talk about the shapes you see.
Sing a little song: "One little, two little, three little apples. One little, two little, three little apples. One little, two little, three little apples. Three little apples I see!"
Make up a simple story about apples for your baby. "Once upon a time, there was a very tiny apple who lived in a tree. All of a sudden the tree began to shake…"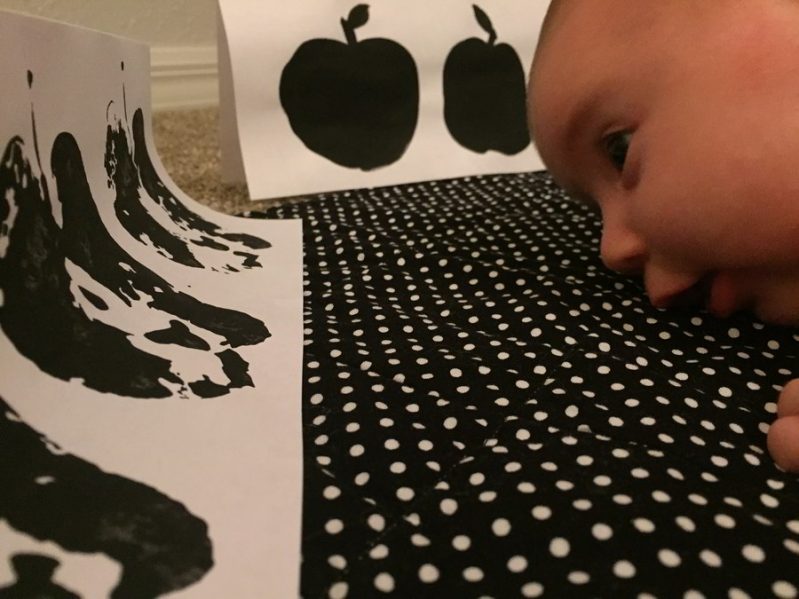 You really can't start hands-on play too early. It begins so simply with a blanket and tummy time!
If you want more hands-on activities for your baby, check out these simple baby activities to try!