Gross Motor
The Activity RoomMember of the Month
OutdoorLeave a Comment
Try a super quick, easy rock tower activity that's perfect for when you're stuck! Our Member of the Month Gabby shares her creative, no-supplies independent activity.
Ever feel like you just get stuck in a rut? So did our Member of the Month, Gabby!
"Before I joined The Activity Room®, it was a lot of sitting at the table or just around a story," shares Gabby. "It kind of became monotonous. It was the same thing."
Last fall, Gabby felt ready to bust out of the same old, same old and try something new. That's when she found The Activity Room® and a whole new world of cool hands-on activities!
"I wanted to find something that would get them more engaged and moving and learning," she says.
As a teacher, Gabby definitely has a lot of great educational background to draw on. But she felt like her activities routine was more "school" and less "fun."
"We tried to do a lot of stuff at home, but we'd fallen into the same kind of activities," explains Gabby. "Paper and pencil, from stories, the same coloring books. It wasn't a lot of hands-on stuff, things that got (my kids) moving and engaged."
Now, Gabby and her kids love doing fun, educational hands-on activities every single day.
"The Activity Room® has diversified what we do at home!" Gabby says. "These activities help mix it up and (my son) looks forward to them. We enjoy that the activities from The Activity Room® are not what we normally do."
Being a teacher, Gabby knows the value to engaging, hands-on learning. The Activity Room® makes it easier for parents to actually do all of these cool activities with their kids.
"There are so many opportunities to learn if you're doing stuff with your kids," she shares "If you're not then you're missing out as a parent and they're missing out learning and growing."
Just a peek inside of The Activity Room's members only Facebook group helps hands-on Moms find new creative activities. It's one of Gabby's favorite parts of The Activity Room®!
"It makes it more accessible and it reminds me just how easy it can be once you've started," she explains. "I like to see that flexibility of it (in the ROOM group)."
Most importantly, Gabby and her kids have found creative, hands-on activities that they love. They find themselves repeating favorite Activity Room® ideas over and over again!
"We look forward to the activity of the day and often will repeat activities because they were so much fun!" she explains.
With all the wonderful resources in The Activity Room® at her fingertips, Gabby feels closer with her kids and loves seeing how engaged the whole family has become!
"If you're stuck in a rut, The Activity Room® is a great place to start," Gabby recommends. "It really just brings your family together!"
Let's Meet Gabby
How many kids do you have and how old are they?
Two kids, 5 and 3 years old
How long have you been in The Activity Room®?
Less then a year, I joined in September 2018
What is your favorite activity you've done in The Activity Room®?
What's your favorite thing to do with your kids when you get a few moments?
Read stories together
What's your best tip for doing activities with your kids?
Be patient, and enjoy it.
If you were to tell a friend about The Activity Room®, what would you say to them?
The Activity Room® is a valuable resource to engage in quality experiences with my kids. Before the activity room I struggled with diversifying activities, but now with The Activity Room®, we enjoy all kinds of various activities that keep my children interested in learning.
Share your favorite quote
"Unless someone like you cares a whole awful lot, nothing is going to get better. It's not." -The Lorax


Build Teamwork and Rock Towers with a Simple DIY Activity
I love a nice, simple activity that needs almost zero materials. Which makes this simple rock tower activity absolutely perfect!
I love that this doubles (triples?) as an exercise in teamwork plus gross motor skills, too!
To build your own rock tower, you'll need:
medium sized rocks
bucket (optional)
I provided each of my kids with a bucket to collect rocks around our yard. Once the rocks were collected, I explained that they would need to work as a team to create a tower using the rocks.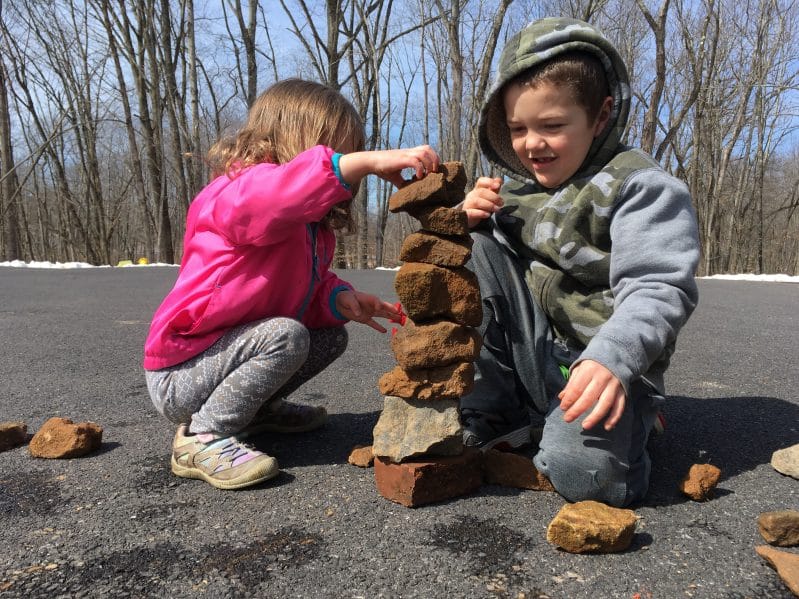 At first, I let them experiment with strategies and figure out how to work together on their own. They got frustrated a few times!
After a while, I ended up giving them hints about how to make a better tower together. I still let them work mostly on their own though.
You could point out that it may help to start with the biggest rocks. Flat rocks work well, but jagged and rounded rocks can add complexity.

This is such a great, easy activity that's simple to take on the road with you. We've done different variations of this at the beach and on hikes, too.
Add in some extra learning opportunities for your kids. Challenge them to see how high they can stack their towers, then measure it with a ruler.
You could also see if they can stack biggest to smallest or all one shape and size of rocks, too. Get creative!
What are your favorite on-the-fly activities to do with your kids? We'd love to check out your cool ideas!