Fine Motor
ScienceToddlersGrade SchoolKindergartnersPreschoolersExperiment
Mixing Colors1 Comment
My kids love science experiments! And they also love outer space and stars. So what better idea then a shooting stars in a jar space experiment activity for kids?
We have talked a lot about shooting stars and the galaxy but they have yet to see one.
So I thought it would be fun to try a little space science experiment in a jar and make our own shooting stars with the kids.
Shooting Stars in a Jar Space Experiment for Kids
This science experiment is so easy my toddler daughter was capable of doing it too!
If your little scientist is curious like mine here is the basic and simple science of this shooting stars space experiment.
This experiment relies on different density (weight) liquids.
The water and food coloring are equal density where as the oil is much lighter.
Gravity will bring the colors down into the water as they pull away from the oil.
The food coloring will push down inside the oil until it pulls away completely and sinks into the water.
This was a perfect science experiment for my preschooler who is all about planets, rockets, outer space, nasa, solar system, stars, astronauts and general stem activities!
To Make Your Own Kids Shooting Stars in a Jar Space Experiment Activity You'll Need
Food coloring
Water
Small Jar with lid (one per child)
Large clear glass jar, bottle, or vase
bottle of vegetable oil (or any oil really)
Step-By-Step Shooting Stars in a Jar Kids Space Experiment
First take your big glass jar or vase and fill it at least 2/3 full of water.
Next you want to put about a 1/2 cup of oil from your bottle in the small jar or fill half way depending on the size.
Now I called my kids in and put the tray in front of them.
Immediate intrigue!
Next invite your kids to drop food coloring into their little jars.
I suggest having older kids keep changing colors to make this part of the space experiment last longer.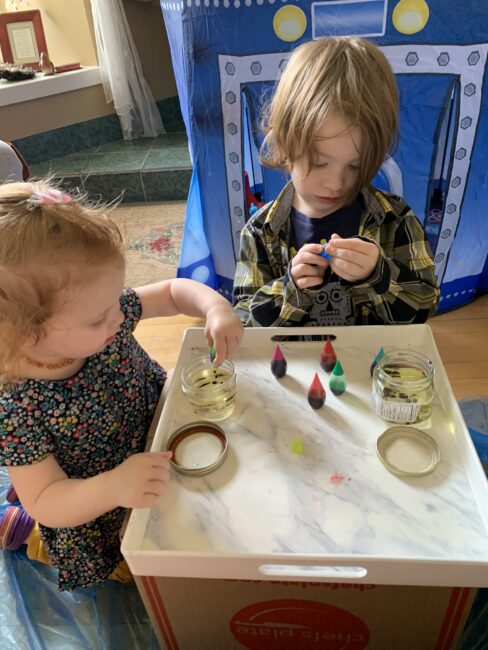 This part is great fine motor practice for little hands.
For Maisie who isn't even 2 yet it was about building strength while she used her pincer grasp to squeeze out some drops.
For Charlie who just turned 4 it was more about control of how hard he squeezed the drops. He wanted to make it come out in just single drops so had to control how much pressure he used.
Charlie loved making his little bubbles! He said they looked like planets in outer space floating around in the solar system.
Can't argue there.
Once you have a good bottom layer of color bubbles for your stars seal the lid on tight.
Now for a little gross motor fun!
Get your kids to shake up the small jars for their space experiment!
This is an easy task that any age can do and can't get wrong.
I had my kids take turns shaking it up.
Had them jumping with it too.
I challenged my preschooler to try jumping around like an astronaut on the moon!
He loved that. And my toddler tried to copy him of course.
Got them switching hands to keep things interesting.
Shake up high, shake down low, blast off like a rocket ship, but don't let go.
You want the drops of color to be nice and small so it will look like little shooting stars in a big sky!
Watch Shooting Stars in a Jar Kids Space Activity and Science Experiment
The final step is to pour the contents of your small jar into the big one.
Both my kids were able to do this.
Though I made sure to have my hands helping as we were indoors.
Now watch and wait for the stars to start shooting inside the water in your jar!
It's like your own little galaxy or Milky Way in a jar!
My kids were absolutely fascinated!
It starts out slow with a few little stars.
Then it gets faster as more and more colors shoot through the jar!
Honestly we could have watched our little outer space experiment for hours!
But unfortunately it doesn't last quite that long.
Its a quick and easy kids science experiment and the results kind of blow your mind.
A total #outofthisworld activity win for our little astronauts!
This would make a great science project for kids learning about the solar system and working on space themes in preschool and kindergarten too.
Eventually it gets to be so many tiny colors swirling around that it all turns dark.
But even at this point you can still see the stars shooting around and the water seems like it's swirling and moving around like a galaxy deep in space.
Expect the Unexpected
If your kids are anything like mine there are always the expected unexpected twists.
I've learned to prepare myself mentally ahead of time for "something" to happen that I have to deal with on the fly.
This really helps me stay positive and engaged with them without having as much of a freak out.
Knowing there was potential for this space experiment to get really messy with my kids I make sure to lay down a plastic bag on the floor.
I used a blue one to add to the outer space theme and told them they were in the sky.
I also made sure everything was done on an easy to wipe off tray.
And I dressed my kids in dark clothes so I didn't have to worry if they got food colouring on them.
Being prepared for the mess ahead of time takes away so much stress!
As expected, Maisie decided she really didn't like color on her fingers and requested constant cleaning.
Easy enough to handle.
Charlie on the other hand decided it would be fun to fill up the cap with food coloring instead of putting it in the jar!
This resulted in some spills.
No problem! I was prepared.
A quick wipe of the tray and then back to our space experiment!
Though his fingers and his sisters fingers were green for a few days.
Give Your Shooting Stars in a Jar a Glow in the Dark Twist!
That space experiment was so much fun for my kids that we decided to give it a try with a glowing twist!
Why not make the stars glow and turn out the lights like real outer space is!
Simple use glow in the dark paint or glue instead of food colouring.
Use flash lights on it after you shake it up and before pouring into the big jar to charge up the glow.
Pour it in.
Turn out the lights.
And watch the space experiment magic with your little scientist!
Do you have a favorite space activity you love to do with your little kids?
Tell us about it in the comments! We absolutely love new ideas here.