Crafts
Fine Motor
Move & Learn
ScienceToddlersGrade SchoolKindergartnersPreschoolersBusy Play
Experiment
Indoor Activities
Outdoor2 Comments
A simple fun kids balancing stick sidekick activity that's an easy center of gravity experiment for toddlers and preschoolers to do at home.
My son, Charlie, is 4 years old and absolutely obsessed with balance beams!
We do them in the backyard with scrap wood on the grass.or propped up on milk crates, tree stumps or buckets.
We also have a wood frame around our front wall and he asks every day to go out front and walk the balance beam.
I was reminded of this little center of gravity balancing stick sidekick science experiment and knew this activity was meant for my kid!
Balancing Stick Sidekick Kids Science Activity
This experiment teaches about gravity and the pull on the center of gravity.
I have written out how I simplified this complex concept for my preschooler if you are interested in going into the scientific side and doing a kids experiment.
However, this is also just a super simple and mind blowing balancing activity that kids can just have fun with for play time too.
To Make Your Own Balancing Stick Sidekick Kids Activity You will Need:
2 pipe cleaners
2 clothespins
Marker(s) (optional)
Prepare Your Gravity Science Experiment for Kids
For this balancing activity for kids prep all I did was color the clothespins to match the pipe cleaners I chose.
Charlie helped me color them. He also decided his face needed a bit of color.
I also cut one of the pipe cleaners to about 1/3 for the arms. I didn't want the arms to mess with the experiment so a small piece worked great.
If you are doing this with younger kids you could also pre-draw the little happy face on the top of the craft stick.
Kids Balancing Stick Sidekick Gravity Experiment Activity
I brought all my supplies outside to my son and daughter.
I told Charlie we were going to make the sticks stand up tall and balance on his finger.
Charlie was intrigued right away.
Maisie just wants to do absolutely any activity and anything her big brother is doing.
I drew faces on the sticks and handed one to each of my kids.
I handed Charlie the stick and asked him if he could make it stand on his finger.
It was clear he didn't think he could but he tried anyways.
Of course it fell off his finger right away.
Charlie was invested in this activity for kids once I told him I knew a way to make it balance of his finger!
How to Explain Centre of Gravity to Preschoolers
We talked a bit about gravity and how it pulls on everything until it can't go any further down.
Gravity is what keeps dirt on the ground instead of floating in the air. It stops us from floating away like a spaceman.
I also explained how the very middle of something isn't always the center of gravity. But actually it's the place where the weight or heaviness of the item is the same on all sides.
A ball is just as heavy all the way around so the middle is the center of gravity. That is why a ball will roll until it reaches the very bottom of where it is.
But people aren't just a heavy everywhere!
Our head is heavier than our feet for example. So I used that to explain that the top half of our body is heavier than the bottom. That's why we fall over when we lose our footing.
This puts our center of gravity higher than our waist and closer to our belly button or just above that.
So where is the center of gravity (where gravity is tugging most) on the stick.
It's half way up the stick so that is why it falls over at this point in our kids balancing activity.
Gravity pulls on the middle of the stick, not the bottom.
We need to move the center of gravity down farther on the stick so it won't fall over in our kids experiment.
What if we make the legs longer than the arms? Is that enough to stop it from falling over?
Moving the Center of Gravity So it Balances
Now we added legs and arms.
I twisted the small one around the top half and the full pipe cleaner around the bottom.
I asked if he thought it would stay standing on his finger now.
Charlie just answered, "I no know. Let's try."
And it fell.
At this point he wasn't so sure we could make it stay.
We talked about how light the pipe cleaners are and if they might not be heavy enough to move the center of gravity all the way down the stick for our kids balancing activity.
I suggested he try adding feet.
Adding the clothespins to the bottom of each leg (pipe cleaner).
"Do you think the clothespins are heavy enough to move the center of gravity down?"
By doing this we created equal weight to each leg but also much more increased weight to the bottom.
The center of gravity has now moved all the way down the stick to the bottom.
Or bum as Charlie called it.
For this activity your balancing kids stick sidekick is now complete.
I challenged him to try balancing the stick sidekick on his finger again.
His mind was blown! It didn't fall.
Not when he stood up or wiggled around!
Not even when he was balancing on the balance beam.
We made one for Maisie too while Charlie was doing his experiment.
Both my kids were having fun with this balancing activity in their own ways.
Explore and Play with Your Balancing Stick Sidekick Kids Activity
Charlie was immediately attached to his new balancing sidekick.
He was taking him everywhere. And he named him "Kicky Sticky".
Both kids ran around the yard holding them and walking the balance beam with their sticks balancing on their fingers.
They also gave them lots of kisses!
We took our stick sidekicks into the backyard to see where else they might balance!
The kids balanced them all over.
We put them on the handlebars of the scooter and Charlie was amazed they didn't fall off when he rode around the yard.
And we balanced them on the swing set and play structure.
Of course they fell off when Charlie swing the trapeze!
Mommy even balanced him on a stick!
Both my kids took their stick sidekick everywhere making this activity a whole day event.
And a couple days following.
Even Nanna and Papa had a kick out of the the kids balancing stick sidekicks activity!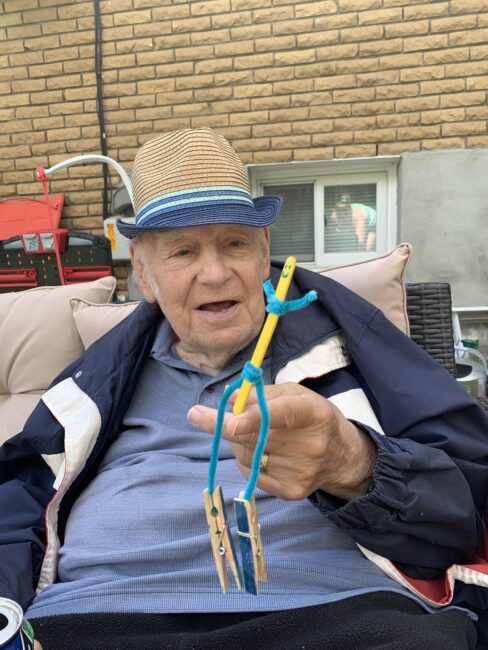 I hope you give this super easy balancing stick sidekick activity a try with your kids at home.
And even if you don't want to make it a whole gravity experiment, kids love to play with them!