Art Projects
Sensory
WinterToddlersIndoor Activities
Painting12 Comments
Toddlers will love to make an icy painting scene using salt paint!
This wintery sensory activity came about after an epic "Craft Fail" of trying to frost my windows with Epsom Salt. I had an entire box of it leftover and wasn't sure what to do with it.
I did find one thing to do with it so far.
George made some icy salt pain with just glue and salt. He used the glue as a sensory material. It was a sticky, gooey mess! (And I loved it just as much!)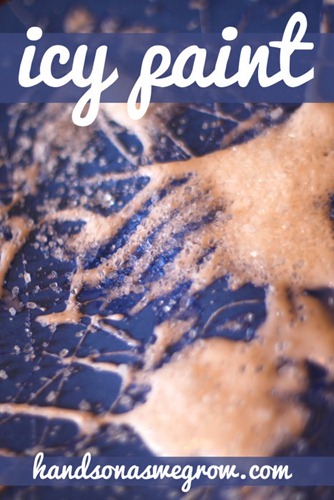 Make Sensory Icy Salt Paint
To be honest, I actually intended to use leftover spaghetti as a painting tool for this. George wouldn't touch the spaghetti.
Instead, he dipped his hand in the bowl of glue I set out and used that as his paint tool.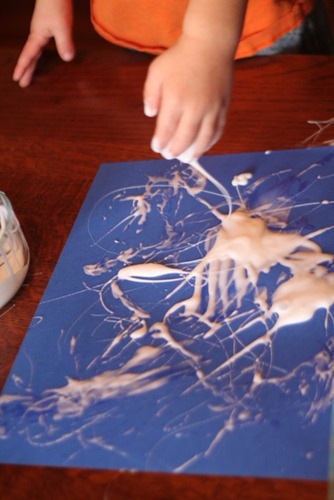 What was really awesome is that the glue doesn't just fall off his hands. He had to shake it off. Which made really cool designs on the paper.
The faster he shook, the thinner the lines it made. If he just let it fall, it pooled up in a spot.
Then he sprinkled some Epsom Salt on the glue.
And since George had glue on his fingers, the salt stuck to him, too! (He really didn't like that too much.)
I loved the effect of the Epsom Salt as compared to regular kitchen salt. It's much more crystallized when it dries.
In this case, bigger is better!
It was fun winter painting activity, and it will be nice to have on display for the next month or so.
Adding color to the salt paint can be an added bonus too! One Perfect Day has some gorgeous colored salt painting!
Explore more with your toddler with these sensory activities!
How have you recovered from a Craft Fail? I'd love to see your story in the comments!