Campaign
Gross MotorToddlersKindergartnersOutdoor
Scavenger Hunts14 Comments
After getting the opportunity to have a sneak preview of the new Disney Super Buddies, we were inspired to go on a scavenger hunt for our very own super power rings.
Get ready for an epic tail!
Just a little background on the movie first. From the creators of Disney Buddies, Disney Super Buddies (you can buy it on Blu-ray Combo Pack August 27th), is a tail (hehe, tale…) perfect for the family, and even young kids, about 5 puppies discovering rings that grant them each their own unique super power! Of course, anything as exciting as that turns up a bully from outer space and the puppies have to save the planet with their new-found super powers! They discovered super heroes have rules too:
You don't have to have super powers to be a super hero.
A super hero must always conceal his identity to protect the ones they love.
A super hero is a friend to any being in need of rescue.
A super hero does good for good, not for glory.
While our rings didn't hold true super powers, the kids could still be super heroes and save the day by finding the super power rings that I hid around our yard.
I had rings from a ring toss game (affiliate link) that we have.
It would be fun to make your own super power necklaces, or the Rings of Inspiron bracelets that Pink Cake Plate made. It would also be pretty cool to add super hero capes too, Mama Smiles has a no-sew cape that would be easy and quick!
The boys were watching the movie and as it was finishing up, I snuck outside to hide 5 rings.
And then they were off to hunt for their hidden 'super powers'!
After they found them all, they took turns hiding them for each other, creating their very own scavenger hunts again and again.
A bunch of fun and I loved seeing how the boys did in hiding the rings themselves.
Keep going on scavenger hunts again and again! Go on a spy game scavenger hunt or find one in the list of 32 scavenger hunts for kids.
It was also hilarious to see that the kid that hid the rings mostly forgot where they hid them and they ended up joining in the scavenger hunt themselves to help find them!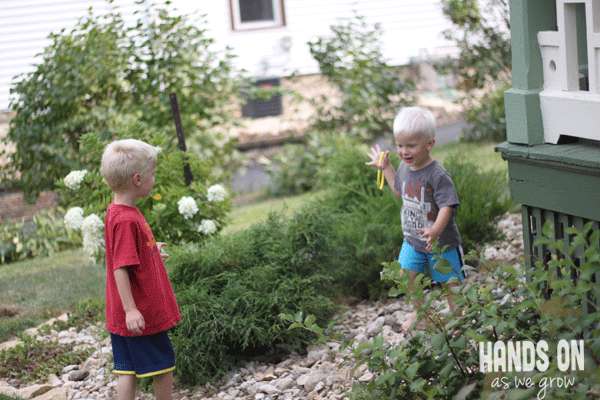 Don't miss out on the release of Disney Super Buddies! Check out the Disney Buddies Facebook page and their Pinterest board!
Here are some more Disney Super Buddies crafts, recipes, and activities:



Disclosure: This  post has been sponsored by Disney Super Buddies. However, the activity and opinions are 100% my own.