Art ProjectsPreschoolersPainting8 Comments
Have you ever let your kids paint with Q-tips?
Letting them paint with objects that are out of the norm is quite fun for kids to do! They kind of think they're breaking the rules. And its a fun way to get kids that aren't normally interested in art projects to have an interest. At least that's my trick for my boys that aren't always into it.
This is an oldie activity we did last year that I want to share. Its a simple idea and all about the process of trying something in a new way.
I set out several different colors of paint. I love Crayola Washable Paints (affiliate link) the best for kid art projects. They wash up easily (and out of everything I've ever had to wash them out of).
I also set out several Q-tips. Lots and lots of them. Because I didn't want George to use the same Q-tip in different paints.
For some reason or another I didn't dump out the paints. I'm not sure why looking back. It seems like a rookie mistake. Because paints did inevitable get mixed.
I always use a cheap sheet pan or this egg holder is a perfect paint palette.
Setting out the supplies along with a piece of paper or two was all I did to take part in this activity.
How George used the Q-tips was totally up to him.
I expected dots. A stipple effect.
But George had rolling in mind and that's what he did.
He rolled the paint on the paper and mixed the colors.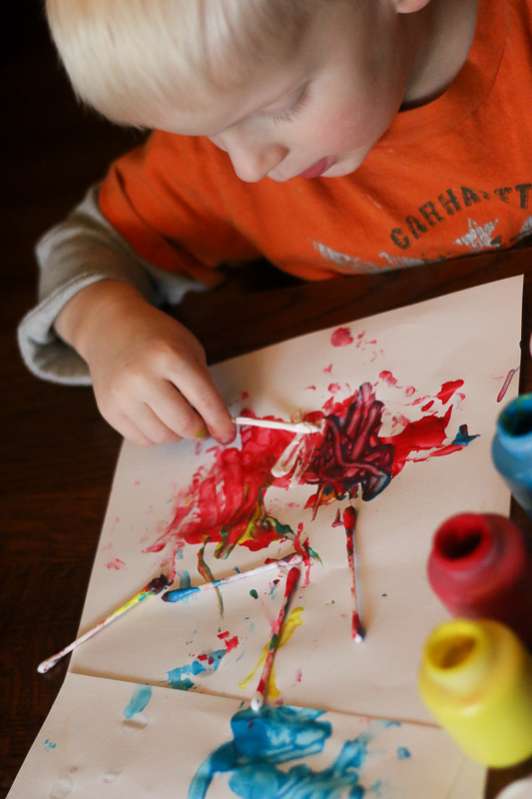 Not exactly what I had in mind, but that's why this is about the process and not about any sort of end product.
He explored a new way to paint and found his own ways to do it.
And in all honestly, I absolutely loved the finished product! Its gorgeous with so much texture!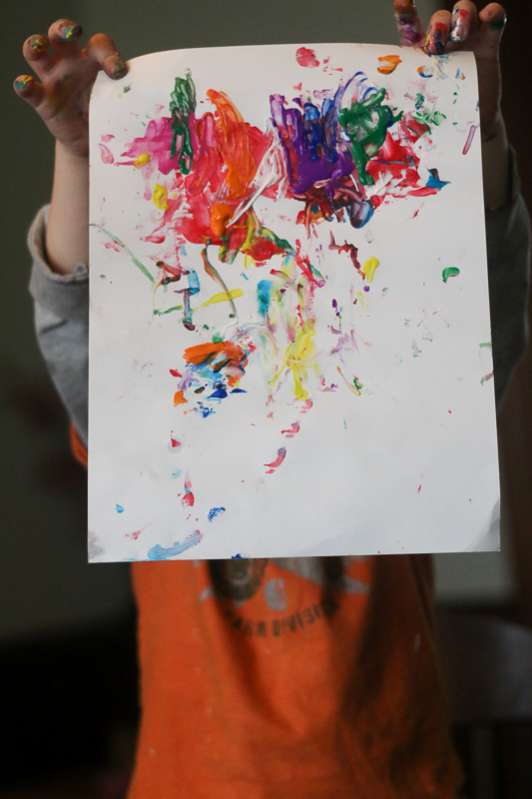 Other ways to paint without a paintbrush: