Valentine's DayPreschoolers4 Comments
These heart valentines for school are a wonderful way to reuse your child's art — or a reason to make art! Anything goes with these!
Their art is the sole focus of these cute valentines! But it doesn't matter how it looks! Which is why this is perfect for younger preschoolers and toddlers.
You could try some of these "Big Art" art projects to get started.
These valentines are an oldie that we made for Henry's classmates a couple of years ago. I shared them with Red Ted Art's readers last year, and thought I'd pass them along here to you now.
After putting together one of my favorite collections of crafts, 33 Super Cute Valentines for School, I was inspired by Scrumdilly-do's puffy heart valentines and made them a quick, goody bag version.
They boys started by painting large pieces of paper (we use butcher paper – affiliate link – all the time for painting).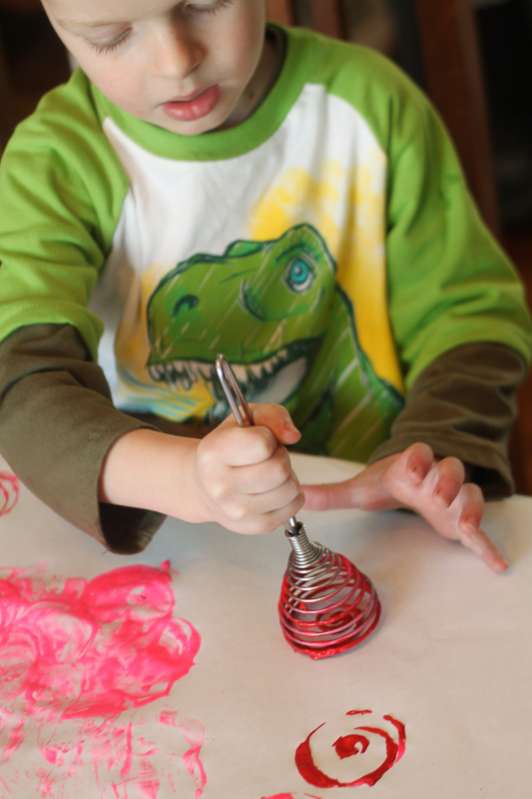 The boys used red and pink shades of paint along with a couple kitchen utensils to see how they could paint using them.
I set out a rubber whisk along with an egg beater.
The boys covered their papers with paint.
Seeing what designs they could make by rolling or bouncing the paint onto the paper.
After letting the paper dry, my husband and I did most of the grunt work by tracing hearts onto the backside of the paper and cutting them out.
Hand over the scissors to your kids if they're up for the challenge though. My kids weren't quite ready to cut hearts really well when we made these, and we were in a rush to get these done.
We cut enough hearts from the artwork the kids made to have one for each of his classmates.
And then cut that many hearts again from just plain paper.
With the hearts cut out, Henry wrote his name on each of the plain hearts. I wrote From: and To: 'Kids Name'.
When we did these, Henry was just getting the hang of writing his name, so this was great writing practice, as well as for spelling his name.
How to assemble heart Valentines:
Next, we assembled the hearts to make it a stuffed valentine!
We paired two heart cutouts on top of each other, right sides out (one artwork, one plain).
I stapled them together. I started at the bottom and went to the top of the curves on each side.
Before finishing though, Henry would stuff it with his Valentine treats to give his friends at school.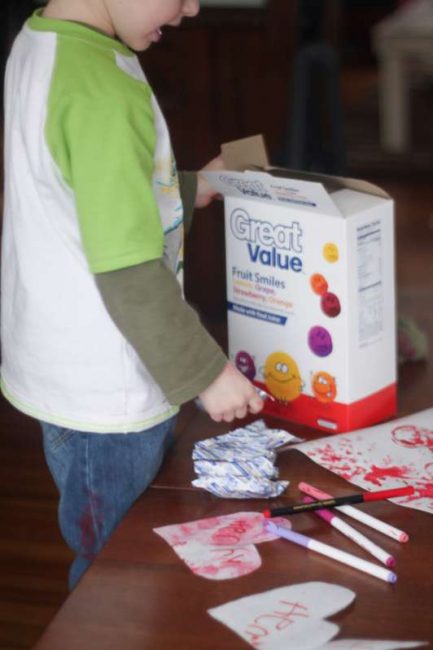 Then I stapled a ribbon to the top of each curve and finished closing the hearts.
Stuff the hearts in a bag for your child to take to school to hand out as valentines, or give to Grandma! So sweet!