SpringPreschoolersOutdoor3 Comments
We've been getting outside every day so far – staying true to the challenges*!
Not much for activities yet – as its still pretty cold.
Although, today it hit 70(!!) and all I did was go for a walk!
Henry went with Dad to the farm and played in the tractors all afternoon.
Henry and I have been working on raking the lawn for the most part.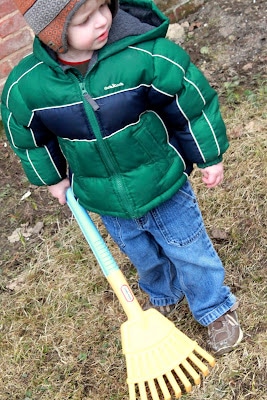 Henry has been digging in some planting beds as well.
Transferring dirt to his Mule (he has renamed the Jeep to Mule).
And then to the GARAGE!
(which I, in turn, sweep it back out…)
George joined us outside one day so far (besides when we go for walks).
He happily watched from the stroller.
After working for awhile, we moved to the porch and brought the toys out and played.
I think George enjoyed the sunlight – as did I.
*I've joined two challenges to get outside in April :
Will you join too?