Fine Motor
Learning
Math & 123sKindergartnersPreschoolersCounting
Numbers
Paper Rolls
Upcycle4 Comments
Math is one of the easiest subjects to take off the worksheets and turn into a hands-on activity, and Julie shows us how to do it with objects you have right at home!
We recently had fun with another hands-on math activity by creating a toilet paper tube number chain.
Recognizing numerals and placing numerals in the correct order are a few of the most essential skills for preschoolers to learn. This number chain activity tackles both at the same time! As an added bonus, your little one will get to participate in some fun painting and fine motor practice.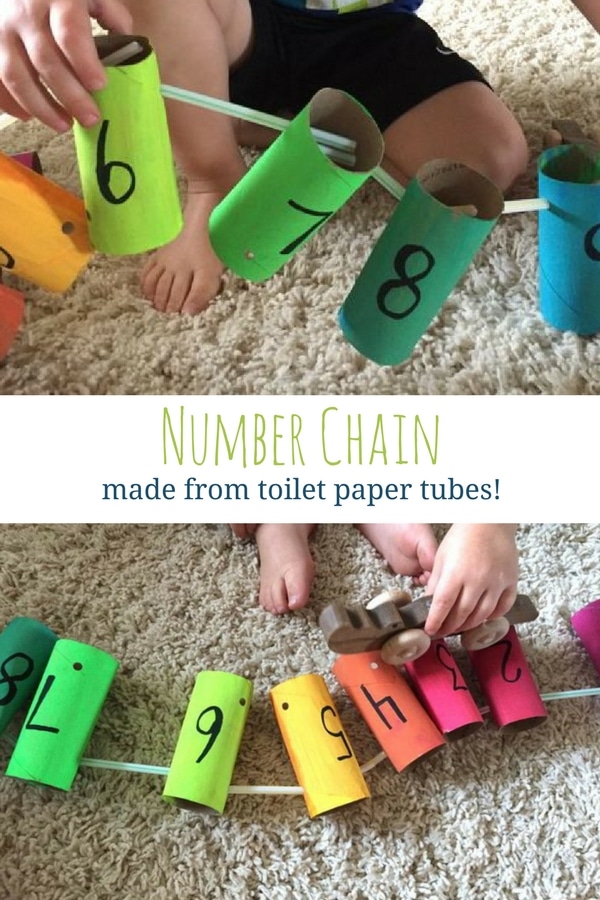 Number Chain Materials:
Activity Prep:
Prepare your paint colors on a plate along with a few paintbrushes.
Line your table with paper or washable plastic mats.
Line up your 10 toilet paper tubes for painting.
Directions:
Paint your toilet paper tubes in rainbow shades. Let dry completely! (If you're impatient like us, just blow the tubes with a hairdryer for a few minutes.)
Don't those colors just make you smile?
Write the numerals 1-10 on the sides of the tubes. Have your preschooler help you identify each number as you write!
Cut a handful of straws, leaving some sections with the bendable part intact. You'll want a few different straw shapes to make unique joints in the chain. (As an alternative, you could use some pipe cleaners or a sturdy string to thread the tubes together.)
Use the hole puncher to punch a few holes in each toilet paper tube. I placed the holes randomly so that my son could have more options for connecting his chain together.
Your preschooler can certainly help punch holes, but I found my little guy needed a little extra pressure to punch through the thicker cardboard tubes (this hole puncher is great for punching through thick paper! [affiliate link])
Now, it's time to link the number chain together!
Spread out the number tubes randomly on the floor. Start at number one, and let your child hunt for the next number in the chain.
As he finds the correct number, just hook it in the correct order with the straws. (Those plastic bendy straws fit perfectly into a standard hole puncher hole, I promise!) Continue on until you have the whole chain linked in order.
Next, we practiced more numeral recognition. Call out numbers at random and have your child point to the correct number in the chain. My son wanted to have his wooden alligator "chomp" the number, which worked out to be so much fun!
Help your preschooler's math skills with these 16 counting activities.
Enjoy your colorful toilet paper tube number chain! You can use the toilet paper tube block for so many things, from teaching math to plain old imaginative play, too! Just throw all the tubes and a few straws in a gallon plastic bag for easy storage.
This is a great activity you can pull out again and again for no-prep learning fun!
What's your preschooler's favorite way to play with numbers?