Crafts
HolidaysToddlersGrade SchoolKindergartnersPreschoolersPaper Rolls
Pretend Play
UpcycleLeave a Comment
Here is a super easy microphone craft your kids will just love that they can use to share their dreams on Martin Luther King Jr. Day.
January is often bitterly cold here in Iowa. It's the perfect time to do some indoor winter activities!
January also offers a lot of special days to celebrate!
New Year's Day (January 1st), Penguin Awareness Day (January 20th), and Martin Luther King Jr. Day (3rd Monday of January) are just a few of those special days.
And all of them can be celebrated indoors if desired.
Celebrate Martin Luther King Jr. Day with a Microphone Craft
What do you think of when you hear the name Martin Luther King Jr.?
The first thing that pops in my head is his "I Have a Dream" speech.
So, I thought simple handmade microphones would be the perfect craft to commemorate Martin Luther King Jr. Day.
Read a Book about Martin Luther King Jr.
Reading children's books can provide so much information and insight.
Before beginning our microphone craft, my daughters and I listened to Martin Luther King Jr.'s speech in the children's book I Have a Dream.
There are some big words such as "sweltering", "oppression", and "curvaceous".
So, this book will require additional explanation.
It is definitely one way to improve vocabulary!
Gather Supplies for Your Microphone Craft
You can use markers, crayons, pens, pencils, or whatever else you want to decorate your own microphones.
Supplies We Used to Make Our Microphone Craft:
toilet paper tubes
foam balls
paint brushes
paint
stickers
hot glue
glitter (not originally planned)
How to Make Your Microphone Craft
My daughters know what speeches are.
They also know Martin Luther King Jr.'s dream was not just something he had while he was sleeping.
His dream was something he wished would happen some day.
With that in mind, it was time to make our microphone craft.
I stood a toilet paper tube on a table.
Then, I pushed the foam ball on to the toilet paper tube as I held it.
The foam ball stayed attached to the tube very well which impressed me. Even when I held it upside down.
But I know kids can be really rough on things, so I hot glued around the edges.
Next, my daughters decorated their microphone crafts.
I'm used to my daughters trying to do their own unique twist on crafts we do together.
When they both painted their microphones the same colors it surprised me.
Black for the toilet paper tubes and silver with a black line for the foam ball.
Having the exact same looking microphones didn't last for long, though.
One chose to add stickers to her microphone.
I loved that she chose star stickers and a sticker that said "Dream".
Perfect touch to a Martin Luther King Jr. Craft!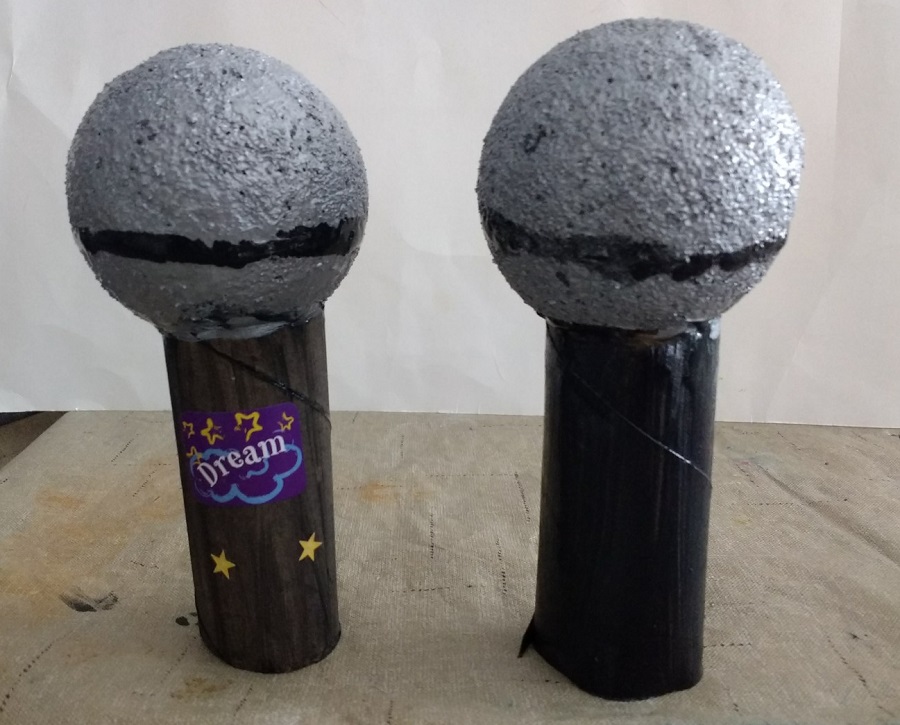 They said they were done.
But then my daughter noticed a small bag of glitter in our paint tote.
It was what she needed to really finish her microphone.
Of course, that means glitter ended up on her hands, the table, floor, her sister's face, and her microphone.
It was messy fun!
Then, we cleaned up our mess and let the microphone crafts dry.
Once they were dry it was time to do a little dreaming of our own!
We held them as we told our own dreams (wishes).
"I have a dream…"
What is your dream?