Campaign
ParentingAll AgesFamily
Resources1 Comment
This summer, I am making it a goal to do have a summer family adventure once a week with the kids.
These adventures can be super simple, close to home, and free adventures… but they all have to be fun and get us going and doing something. Bonus points if it's something we've never done before.
I'm thinking of these family adventure days as little field trips to do with the kids… but they can be more activity related too, and not just destination oriented.
And bonus! These adventures don't have to be out of the home. You can take field trips right in your own home and explore parts from all over the world with our sponsor, Reading Rainbow! Read on to find out some places you can "go", or check it out here.
I've been writing down ideas we can do in our area and I even have a printable that I've created to have a place to jot down these ideas and keep them handy.
On the printable, you can jot down outdoor adventures, like going to a water park or going canoeing.
There's also a place for indoor family adventures because unfortunately, rain happens and the weather can get too hot sometimes to even be outside (even with water activities). Reading Rainbow Skybrary Family has brilliant field trips you can take right online, in your own home, these are perfect on rainy days to take an indoor adventure.
I really like having this virtual adventure option, because the kids can explore the world on over 250 educational Video Field Trips. From nature excursions to space explorations to globe-trotting adventures. The beloved host from our own childhoods, LeVar Burton, guides them through a seemingly endless array of fun and fascinating learning journeys.
With Skybrary Family, your child can Go Anywhere and Be Anything — right from your preferred device!
And then I included a place for just quick, anytime adventures. These might overlap with the others, but they're meant to be ones that you don't plan for. Just spur of the moment type of activities. If you're looking for something to do right now these are the activities I'd look to. (Whereas the other activities might need a little planning to block off an entire day.)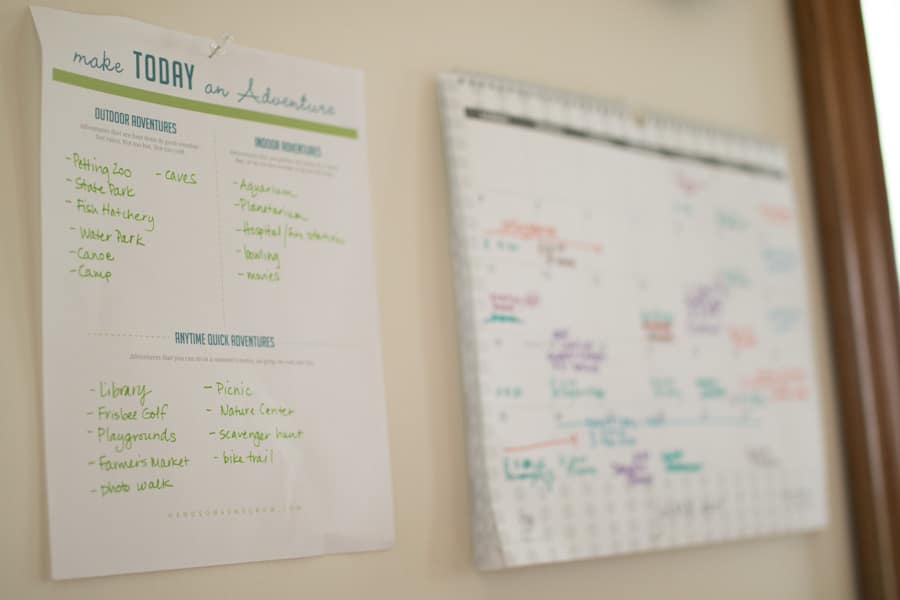 I'm hanging our ideas to "Make TODAY an Adventure" by my calendar so I remember to look at it and make a plan. Ideally, I would put these on the calendar each week, but I know stuff comes up, so I can't set a day of the week to do it, nor do I want to say that we're doing Adventure B this week because it might depend on the weather.
That's where this printable it going to come in handy. The ideas will be there when we have a day open for an adventure!
25 ways to make today an adventure:
A few adventures on our list…
Go to the library – and not just the one in our town!
Walking and playing at a local national park
Explore state parks
Nature center
Fish hatchery
Petting zoo
Frisbee golf
Aquarium
Planetarium
Go fishing
Go to a bike trail and ride for a morning
Playgrounds/parks in neighboring towns
Have a picnic
Go canoeing
Explore local caves
Go camping
Go geocaching
Head to a strawberry patch or other 'pick your own' garden
Farmer's markets
Go on a photo walk
Have a 'big art' day with friends
Go bowling
Water park
Visit a hospital, police station or fire station
What kind of summer family adventure days will you plan?
The perfect thing to do on rainy days, or days that you just can't make it out of the house, is to explore with virtual field trips on Reading Rainbow Skybrary Family!
The field trips will take you all over the world!
Check out these virtual field trips included in Reading Rainbow Skybrary Family:
Go to the Grand Canyon
Explore Panama
Go scuba diving
Go on a submarine tour
Learn about medieval times
Head to the Hoover Dam
Attend the Macy's Day Parade
Take a field trip to the Dentist
Check out a Dewali celebration
Look at the Mexico Pyramids
Explore Dolphins
Go to a Pet Show
Feed the Giraffes
Attend Memorial Day at Arlington
Attend story times
and so much more…
A few quick facts about Reading Rainbow, because it's so much more than just their virtual field trips.
Get unlimited access to over 600 high-quality books—from classics to award winners to undiscovered gems. Each one has been hand-picked by celebrated authors and publishers.
Skybrary features interactive animations that add to the fun, and help with reading comprehension. You will reward your young reader's natural curiosity and sense of discovery.
Skybrary keeps your kids safe in a secure, kid-friendly environment that we can trust as parents.
You can create customized profiles for up to 3 children. Plus, you'll only need one login for multiple kids to use the service. And you can sign into Skybrary on any of your devices.
Receive new books and videos every Friday and discover new book recommendations each week.
Reading Rainbow is offering Hands On As We Grow readers one month FREE to try their Skybrary Family subscription for one month. You can cancel at any time. Then you can choose a simple $4.99/month subscription or save 33% with a full year subscription for $39.99.