Autumn
CraftsPreschoolersToddlersContributor5 Comments
Let the kids take part this Autumn and make their very own scarecrows, kid size! Sugarsnips shows us how to make these easy scarecrows for the season!
So a few weeks ago we had multiple plumbing "issues" which resulted in not 1 or 2 or even 3 visits from the plumber but the inevitable getting the city involved, not my favorite time, best day ever for the kids. Why? Because we had an entire construction crew in our front yard which ended up looking a little like this.
Right. Hizzah we rent! I would say just about the only upside to this entire fiasco, aside from now functioning plumbing, is that we ended up with straw all over our front yard (I assume to avoid the muddy pit that my kids are hellbent on creating).
And what do you do with straw?  Yup, make scarecrows.
I hadn't made one in years and then two years ago I was inspired to restart the tradition. We normally make super easy full grown scarecrows (and if I happen to be inspired to make a full grown scarecrow in the near future I'll write about it, so be sure to check out Sugarsnips for the tips and tricks!) but this time I decided since the kids were making them, we should make kid scarecrows and they are even easier!!!
The first step is have your child pick out their most least favorite set of old onesie pajamas (don't go with favorites, because from experience I have learned they will instantly want them back….). Zip up the one leg and fill both up with straw. I found it's easier to stuff if you grab a bunch of straw and fold in half then jam it in there.  Once the legs are full (don't feel the need to overstuff) zip up the jammies the rest of the way and fill the rest the tummy with straw.
Now here is where the nylons come in. Grab a pair with a run in them because you aren't seeing them ever again.  Then again, who actually has any without a hole in them that aren't brand new? Just me? Rats. I actually turned my nylons inside out and tied knots in both of the knees since the arms of my kids pj's are clearly shorter than my legs (you could just fold over the nylons or cut them off) and then turned the nylons right side in before filling with straw. The legs of the nylons will become the arms of the scarecrow and the bottom of your nylons will become the scarecrows head. Once full, knot off the top.
The beauty of this is that by jamming the arms through the pjs the head will stay in place.  And there you have it a child-sized scarecrow!
Note: If your scarecrow looks a little lumpy just smoosh that hay into place!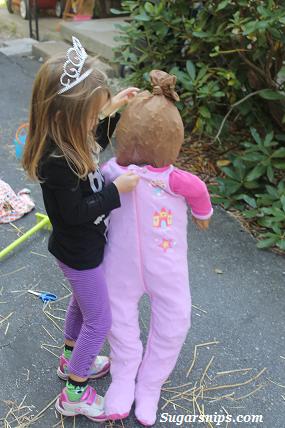 You can stop here for sure. I know plenty a scarecrow with no face (well not personally, but I've seen them). But not ours. I gave my daughter (who is 4) multiple options for how to decorate the face and she chose none of them. Instead she chose to cut shapes out of foam and then pin them to the head (with long hat pins).
You could also use buttons for the features which you could pin on or potentially you could draw on the nylon. Or do what we did for scarecrow number 2 (because when you have two kids you make two scarecrows, right?), and use a pumpkin. In this case we skipped the nylon entirely and just jammed straw into the sleeves and then plopped a pumpkin on top for a head.  My daughter then drew on a face with marker while consulting my son (who is 1.5) about what he wanted. I feel compelled to point out that the unibrow is actually hair….
Now if you place said scarecrow in your front yard be prepared for numerous people to slow down in front of your house to either stare at the scarecrow because:
They have to determine that there is not in fact a small child just hanging out solo in your front yard and…
Once realizing that it is not a small child in your yard (at midnight) they will eventually come to think it is adorable and/or hilarious and drive away laughing.
Note: DO NOT buy hay at craft stores.  It is $12 for a small bushel.  Even with a 40% coupon it's not worth it.  Go to an orchard if possible then you can pay $6 for a huge stack like the one seen in the background of some of the pictures
---
Hi I'm Mary!  I started Sugarsnips as a way for me to share all the creative, fun, and educational (shh) things that I do with my kids, "M", who is now 4, and "J", who is almost 2.  I'll admit that when I started staying home with my kids a little over a year ago  there was a steep learning curve, for all, to figure out how to be a stay at home mom.  I share what we do as a way to not only keep me motivated to do new and fun things but hopefully help other moms keep their sanity!  I'd love for you to visit my site and I always welcome comments and suggestions.