Fine Motor
Science
The Activity RoomToddlersGrade SchoolKindergartnersPreschoolersExperiment
Indoor Activities
Member of the Month
Shaving Cream1 Comment
Your kids will love doing this no-prep color changing cloud experiment in a jar! And you only need 3 simple supplies from around the house.
Shelly, our Member of the Month, is a busy Mom and Grandmother who is a full time caregiver to her two year old grandson. She also has other neighborhood children who come to her home for care regularily.
Before joining The Activity Room Shelly felt so disorganized. Trying to find activities for the kids that were both age appropriate and realistic for her to prep. Always scrambling to find supplies. She would get frustrated and just say, "Forget it. I'm not doing this activity."
"Before I joined the activity room, it was just a mess. I was so frustrated, so confused. It took forever to find an activity that was age appropriate for the kids that I have. And then after that, it was frustrating finding all the materials and supplies to complete the activities." She tells us.
Don't miss out on the Cloud in a Jar Experiment Shelly shares at the end of this post!
Shelly Found Organization in The Activity Room
Shelly found the activity room through one of our challenges on Facebook and after two days she said. "Oh, gosh, where have I been? I should have joined this a long time ago… You know, I have to do it. I just fell right in love."
There was no question about joining. When she shared with her husband her plans to join even he responded with. "Yeah, do it. You know, if it helps you and it frees up some of your time and you're more organized and he's feeling more accomplished. There is no price that can go for that."
Now, she tells us her life is so much easier. Using the calendar and the supply list has made it so easy to stay organized. And having access to the list of supply substitutions has led to plenty of financial savings.
"I'm so organized. The activities are well planned. The supply list helps me greatly. I'm happy and relieved and it's fun."
Gaining So Much Through the Easy to Use Technology Available
Being "an older grandmother" has left her "technically challenged" as she puts it. But through the activity room Shelly is now using all the tools at her fingertips that ROOM has to offer. And she has found so much support and tips through the Members Only Facebook Group.
"Some of the challenges that we do force me to get more with technology… like syncing my calendar… I look at it. Even when I'm outside and I'm not by my computer, at least I have my phone. I can look at the calendar. Say, 'oops, we're doing this wrong.' Or 'Oh, let's try this little twist.' And sometimes looking at other people's pictures, like, Oh, what a great idea. Thanks a lot. It really helps visually seeing what other people have done."
If you enjoy the Cloud in Jar Experiment at the end of this post, then you will love our Hidden Colors Experiment for Preschoolers!
So Many Great Reasons to do Activities with Your Kids
"The reason I want to do activities with my grand-kids and the other kids that come is just to give them a boost up in school and their self-esteem. And have them feel well accomplished and loved. And if they do something fun and they're proud of their projects, I think that that will rub off once they go into the public school system. Just to give them that good base of love and self-worth."
Shelly so appreciates how encouraging the other members are in the Members Only Group. Reminded that it's okay if your kids aren't into every activity, every time. Leave it out, maybe they will come back to it. Kids aren't going to do everything at 110% every day. It's okay to just move on.
"I want to say to other parents or grandparents or guardians that are working with children, you know, just let them be kids. Offer it and if they choose not to do it, that's okay. They'll come back some other time. But they're always going to remember that you provided the opportunity to do those activities. And you were always there and willing to do it."
You can start right now by trying the super simple no-prep Cloud in a Jar Experiment at the end of this post!
Let's Meet Shelly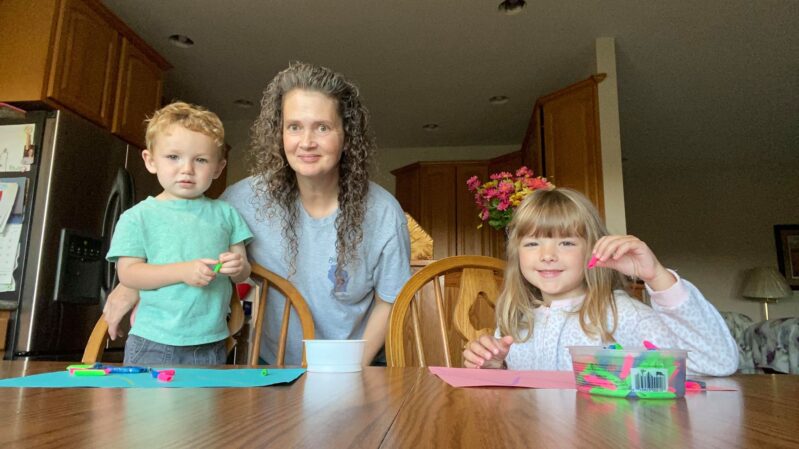 How many kids do you have and how old are they?
3 adult children, 2 step children, 3 grandkids and 2 like grandkids
Why do you love doing activities with your kids?
I love seeing them using their imaginations :) I also want to provide an opportunity to build up their self esteem.
How long have you been in The Activity Room?
Since January 2020.
Searching for activities online took up so much time that I felt it was well worth the money.
What is your favorite activity you've done in The Activity Room?
Recently creating our junk robots was so much fun for the older girls. Caleb loved touch and feel shapes and we are going on a bear hunt.
What's your favorite thing to do with your kids when you get a few moments?
Reading and Rocking
What's your best tip for doing activities with your kids?
Let them walk away if they say done … leave it out in case they change their mind. Let kids be kids don't force the activities.
If you were to tell a friend about The Activity Room, what would you say to them?
a support system and like family , I felt overwhelmed planning and gathering the supplies, I have the time to explore for more if I so choose to :)
Share your favorite quote
Messy play is work but so rewarding.
Shaving Cream Color Mixing Cloud in a Jar Experiment:
Supplies Needed for Color Changing Cloud Experiment:
First, I used a vase filled 3/4 with water.
Next, have the kids spray shaving cream almost to the top.
TIP: leaving room as it does expand!
Then drop various drops of food coloring and watch it run through the shaving cream.
Try mixing colors nearby to create a new color. For example red and blue to make purple.
My kids just love doing this cloud experiment!
"I have gained friendships with The Activity Room and I am look forward to everyone's daily posts."